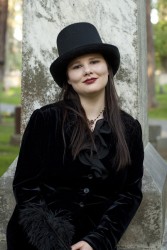 The book world has a tidal wave of amazing and entertaining independent writers out there. With the help of social media, these authors are getting their due recognition, and their books are being enjoyed everywhere, making independent authors more popular than ever.
One such author is, Brooklyn Ann. Brooklyn Ann has been a very successful independent writer for quite some time now. Her success comes with her unique style of featuring several different series of books, which are a combination of horror, entwined with romance. Her series, Brides of Prophecy, Hearts of Metal, and Scandals with Bite, have been very successful. She has a huge fan base, and from time to time you can find her at the odd convention promoting one of her new series.
In April 2019, Brooklyn started a new book series called, B Mine, with the first release in the series, entitled: HIS FINAL GIRL.. which is a love letter to the 1980s Slasher horror genre, full of scares and romance. Then in October 2019, the second book of the B Mine series, HER HAUNTED HEART was released. I had the opportunity to read her latest book, and the pleasure of speaking with Brooklyn about her latest B Mine book, HER HAUNTED HEART.
Tony Northrup – You went from the 80s Slasher nod in your first book with The B Mine Series, to haunted houses. What inspired you to transition from killers to ghosts with this second installment?
Brooklyn Ann – The reason I named the series "B Mine" is because I plan to play with many B Movie tropes. The summer camp slasher was first, the haunted house story was next.
TN – What can your readers expect in the third book in the B Mine series?
BA – The third book in the series, HIS SCREAM QUEEN, will be set in 1984, and will be prom themed, so expect shout-outs to Carrie, the Prom Night films, and other 80s high school horror films.
TN – What were your inspirations for this installment?
BA – I spent an entire month watching haunted house movies and reading haunted house novels before starting HER HAUNTED HEART. So there are shout-outs to The Witching Hour, Rose Red, The Changeling, Poltergeist, and so many more.
TN – Will we ever see a character crossover again in future B Mine books, or possibly a future book with cameos of all of your B Mine characters?
BA – The main setting of the series, the fictional town of Amteep, Idaho, is not very big, so I imagine we'll catch glimpses of characters from previous books. Also, in HER HAUNTED HEART, all of the occult books disappear from the public library. Well, you'll find out what happened to them in the next book.
Posted in Interviews by Tony Northrup on December 7th, 2019 at %I:%M %p.