RANK: 8/10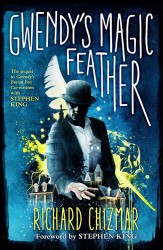 GWENDY'S MAGIC FEATHER is the sequel to the 2017 book Gwendy's Button Box, co-written by Richard Chizmar and fellow author, Stephen King. This story is about a preteen in 1974, Gwendy Peterson, who meets a mysterious man in a black suit, who gives her a magical box with colorful buttons, and levers on it.
Gwendy uses the box to solve a mystery in Castle Rock, Maine. This second book is written solely by Richard. The story takes place several years after the first. Gwendy has gone forward in her life, and is quite successful. When she gets a call from the Sherriff of Castle Rock, he ask for her help in solving the case of 2 missing girls. Gwendy returns home to Castle Rock, and so does the magic box. Gwendy's Magic Feather, is exciting, intriguing and entertaining.
RANK: 8/10
Tags: GWENDY'S MAGIC FEATHER
Posted in Giallo/Thriller by Tony Northrup on November 23rd, 2019 at %I:%M %p.