RANK: 8/10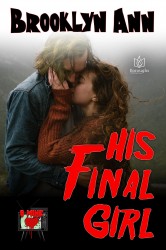 Brooklyn Ann has taken her love for 1970s and 80s slasher horror to the pages of her newest book series entitled… B MINE. HIS FINAL GIRL is the first book in this new series.
This story takes us to summer camp, where senior high schoolers are counselors for ten days. While there, Wes Carpenter, a computer nerd falls in love with farm girl Linnea Langenkamp. There's more than love in the air however, as terror abounds throughout the camp. A serial killer is on the loose, and it's up to all the counselors to end this ten day reign of terror…if they can survive.
Bottomline: The horror genre has had its ups and downs. From Universal Studios horror monsters, to aliens of the 1950's, ghost stories, horror in the 1980's and more, it seems that slasher films have remained a constant. Characters such as Jason, from the Friday the 13th series, Michael Myers from Halloween, Freddy Krueger from Nightmare on Elm Street, and several others, have become horror icons. Brooklyn Ann's newest book HIS FINAL GIRL, is an enjoyable read full of nods to the 1980's horror films. With her own characters, named after famous horror film actors, and character names, it's a lot of fun, scary at times, suspenseful, and of course romantic. Brooklyn takes the reader on a rollercoaster ride through the horrors that lurk in the woods, yet keeps it light, before terror strikes. Full of pop culture references, horror, romance, enjoyable characters, and twists and turns to keep you wanting more, HIS FINAL GIRL has something for everyone. If Friday the 13th was a love story, this would be it.
RANK: 8/10
Tags: Brookyln Ann
Posted in Nonfiction by Tony Northrup on July 9th, 2019 at %I:%M %p.