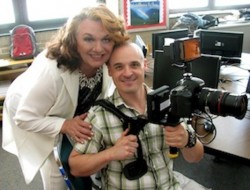 Tales of Poe comes from two very talented filmmakers, Bart Mastronardi & Alan Rowe Kelly. Both with education in the arts and both with the desire to make films. Bart is originally from Queens, New York. With titles such as, director, producer, screenwriter, cinematography – he also teaches Cameras, Lighting, & Directing at the New York Film Academy. Alan Rowe Kelly is originally from Wharton, New Jersey.
He began his career as a make-up artist/hairstylist in Manhattan, worked in fashion, and began working in horror films in 1999 with an award-winning debut in I'll Bury You Tomorrow(2002). Alan was also named Best Director & Writer for I'll Bury You Tomorrow as well. With as many titles and talent as his filmmaking partner, Bart Mastronardi, these two filmmakers have the love, desire, passion, talent, and hunger for making films with style, flair, and visionary eye-candy that truly keeps the audience wanting more. And now, here is my interview with Tales of Poecreators Bart Mastronardi & Alan Rowe Kelly.
(Q) You teach film making at New York Film Academy, where did you study filmmaking and how soon after your education in that field did you get your first film making job?
BART: I studied at a few places. Hunter College in Manhattan where I received my B.A. and the Maine Media Film and Photographic Workshops in Rockport, Maine. I am a bit of a late bloomer in my field as I truly started when I was about twenty-eight years old. I started making my own shorts on video when I was in my teens and worked for the Spotlight Players Theater in Ozone Park, Queens here in NYC. I then began venturing out on to short films and commercials with filmmaking. When I met Alan Rowe Kelly is when all hell broke loose – LOL.
(Q) You said you had a "life changing experience" after seeing FRIDAY the 13th Part 4: The FINAL CHAPTER with your dad when you were 12yrs. Explain what it was specifically that attracted you to film making by seeing that film?
BART: I have a had a love affair with horror movies since I was about 5 years old. I would watch all the Universal horror classics of the 1930s and 40s. Growing up I had this small black & white 19″ TV and I would watch them on PBS every Saturday night. They had great mood and atmosphere. As I grew my taste in horror began to expand, but I was frightened of the horror films of the late 70′s and 80′s because I hadn't broken my cherry just yet with the visceral type of horror films. I wouldn't even watch the coming attractions to the Friday the 13th films let alone attempt going to the movies to see them; however, I was fascinated by what people were saying to me. I remember almost every week a new horror film was opening up and I would be fascinated by the movie posters. Particularly the slasher films. When I turned twelve I got the nerve up to ask my dad to take me to see Friday the 13th: The Final Chapter. He took me on Saturday the 14th of April 1984 to the Elmwood Movie Theater on Queens Blvd. The film broke my cherry in many ways. For the first time I was watching my first color horror movie in a theater. This was the most popular slasher movie of its time and still is. I had never seen anything like it. This was my venture into horror movies. I loved every second of it. It wasn't a small TV I was watching it on. I was seeing horror on a big movie screen in a dark theater with a large audience screaming their heads off. I fell in love with the film and the power the film had on its audience. Jason was larger than life on the screen. The music, the visuals, the nudity, the violence, the acting and of course Jason Voorhees and his iconic hockey mask. It was a moment in my life that really changed me. I felt it in my bones that I was going to be a part of the filmmaking venture after seeing the film in the horror genre. Jason popped my cherry.
(Q) You worked on Crystal Lake Memories: The Complete History of Friday the 13th. What was it like working on a documentary of the most famous horror film franchise in film history and was there anything you discovered about the series that was new to you by working on this documentary?
BART: Receiving the job on Crystal Lake Memories: The Complete History of FRIDAY THE 13th was an honor to do. To be honest I actually cried when I saw my name on the credits because it is prominent at the end credits. I knew it was going to be great documentary as the other one was poorly done, but the filmmakers on this one wanted to give more and they did. I shot the New York footage and to meet and hear the stories the actors told only fascinated me more about the making of the series. I was getting their first hand accounts behind the scenes of a series that had changed my life and now I became, to a degree, a part of that series. My career will always go to back to the FRIDAY THE 13th films.
(Q) You have said FRIDAY the 13th Part 4 inspired you, you've worked on a FRIDAY the 13th documentary, and worked with TWO "Friday" franchise vets (Adrienne King and Amy Steel) for your film TALES OF POE. How excited where you to get them on board 'Poe' and how did that come about?
BART: First off, having all of the actors on board in the entire TALES OF POE film has been quite exciting. Alan and I were now moving up in our careers and the talent that came on board was inspiring to have. For me to have Adrienne King and Amy Steel from FRIDAY THE 13th Part 1 & 2 just blew my mind. I still pinch myself. They are wonderful actresses who are part of a movie series that inspired me. So having them on board to direct them was a wonderful opportunity. Now how I was able to get them on board was really about having my work back me up. VINDICATION was given a beautiful review from Clive Barker, which then opened doors for me with talent wanting to work with me. Adrienne and Amy needed to see my work and saw the cut to THE TELL TALE HEART. Actors want to ensure that what they are getting involved in is going to be something special. It's their business. I had a lunch meeting with both ladies with DREAMS writer Michael Varrati. They both loved THE TELL TALE HEART and were eager to know about DREAMS. After a few talks and assuring them how it would be filmed they came on board. I remember thinking how did this 12-year old kid get two of the lead actresses from the best horror series in the genre? But I wasn't 12 anymore, I was in my thirties and I was now their director. The excitement was still there working with them, as I am still the fan boy, but I had to be their director once filming began. They are wonderful women and dedicated actresses of their craft. It was a dream.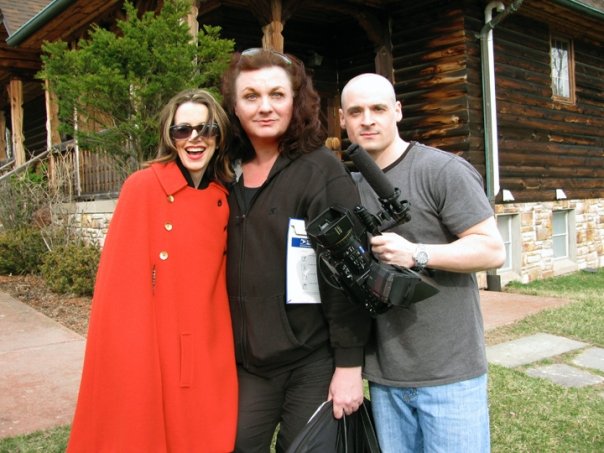 (Q) Adapting the works of Poe for the big screen is a big risk. How did you decide on which stories would make it in the film considering the large body of work to choose from?
ALAN ROWE: For me it was simple. Since TALES OF POE was Bart's brainchild and he wanted a specific film, I asked him assign me certain stories to read which he liked and felt would suit my style of story telling and directing. So I hunkered down and read Masque of the Red Death and The Cask of Amontillado.The Masque of the Red Death is a fantastic tale but from a production standpoint I knew it would be more expensive and elaborate than our available budget. After I read The Cask of Amontillado a bell immediately went off in my head. I had been struggling with a script for another anthology that I was writing for myself and Randy Jones (The Village People). I just couldn't get it to gel. After reading Poe's tale I realized this was the story I was meant to adapt and I had a finished screenplay within a month. Bart loved it, Randy was crazy about it, and we went into production in July of 2012. You can take many liberties with Poe's writings to expand and update. My main goal was to remain true to the tale's essence and add my own aesthetic to give it a new feel. The story has been adapted to film many times over and I did not wish to rehash the same setting and become just another carbon copy.
BART: I truly wanted to create an anthology film that was different than many of the other anthology films that were out. Going into a more classic style of movie making and having it feel like a great classic Hollywood film and book of literature is where my mind was when thinking it out. By bringing on different directors to the project it would allow us to do just that. Since I was creating TALES OF POE I thought it be a great idea to be the first to make THE TELL TALE HEART and the rest would follow after me. Alan then went on to make THE CASK. Once the other directors were unable to make their Poe adaptions, only due to budget constraints, did DREAMS come about. The film will always tell you what it needs and TALES OF POE only wanted these 3 pieces for this film. Looking at what Alan and I were able to produce I can say it is a beautiful film. Since I was able to read I have been fascinated by stories of the macabre. I was introduced to Poe's writings in high school and I remember I couldn't read enough of his work. His writing is vivid and artistic in his approach to the dark gothic style. Poe is much more psychological and character driven. When I wanted to make a new movie – a short film – I wanted to adapt from a source of literature.
(Q) How long did it take to film each segment and were there any difficulties on the locations you chose?
ALAN ROWE: We shot THE TELL TALE HEART in a month and editing took about 3 months. Then another month for Tom Burns to score and record Debbie Rochon's voiceovers. THE CASK was shot within a month as well and we took an extra 4 days a year later for one more scene and all of our insert shots. I spent about 8 months with THE CASK in the editing room and about 2 months on the music and sound design with Tom Burns. DREAMS was an entirely different animal! Lol! Filming was shot over a 2-year period. Mostly because 2/3rds of our actors lived clear across the country and we had to arrange shoots to work within their busy schedules. Plus DREAMS was something we never attempted before. Costumes had to be elaborate (I was sewing up a storm months in advance) and the locations and time of year had to be just right. Our locations were wonderful. We were able to find a lot of amazing places locally to shoot and with myself being a member of the local film commission I was allowed a lot of great areas for a minimum rate. Bart, being a teacher at New York Film Academy was granted a lot of free access to parks and locations in New York and it's outskirts. We also designed and built a lot of sets for all three segments (this is one of my favorite parts of production). Each scene throughout the film had to be treated as a film itself. We took our time and never rushed. We spent 8 months editing DREAMS full time – it was worth it!
(Q) Out of all the Edgar Allan Poe stories, what attracted you most to these three?
BART: I had worked with actress Debbie Rochon and I wanted to direct her in something. THE TELL TALE HEART was the perfect story to do work with her in. THE TELL TALE HEART is my favorite of Poe's work. THE CASK was something I thought would be great for Alan, but I gave him two of Poe's stories to decide on. The other being MASQUE OF THE RED DEATH. With budgetary constraint Alan chose to do THE CASK, which fell so much in style with TALES OF POE. Poe's poem DREAMS is a beautiful poem that he had written and it is so unknown by many. It contained all of the aspects Poe was know for in his writing and is so lyrical. I knew it would be a challenge to make it into a short. It is rare filmmakers make movies based on poems, but working with Michael Varrati's adaptation was a dream.
(Q) What changes did you make to make this your own as opposed to Poe's original text?
BART: When writing an adaption to any writer's work I feel that you have to keep true to a degree. The skeleton of the story must be there, but making a movie you have to remember the movie is a visual story for the audience. Keeping it cinematic is the challenge. When I began adapting THE TELL TALE HEART I knew so many times this story has been done cinematically, theatrically, radio etc. I needed to bring something that others had not done. I read a great book on Martin Scorsese and he happen to discuss adaptation and his exact words were: "Keep it cinematic!" I kept Poe's story but began putting my own muscle on the skeleton: 1950′s, Old Hollywood, silent aged film star, insane asylum, deranged nurse. All this just layered what Poe had already written. I embellished for cinematic purposes to tell his story visually. On DREAMS, Michael [screenwriter] had the task of creating an original story out of a poem, which is quite challenging. Michael wrote a beautiful script. Once I was started directing DREAMS it just spun itself through the costumes, sets, performances, editing, sound and all great ways to visually bring it to life. "Keep it cinematic!"
ALAN ROWE: For THE CASK I stuck with much of Poe's premise using a winery during a gala event as the location background and kept the dialogue very close to the original source material with some of his more noted lines. I even used names of Poe's personal friends and some character names from his other stories to keep it all in the family. But I had to make it my own. Instead of two main characters, I wrote three and placed them in a sordid love triangle. I also wanted it to look and feel like a giallo with quirky lighting and color blocking reminiscent of Argento and Bava films. I also added some bits from Poe's Premature Burial and used the tune of Molly Malone to give it a more authentic feel. At one point I considered re-dubbing the entire film to give it that off-beat Euro feel but quickly nixed that when I realized it would not blend well with the other two stories. It's definitely a new interpretation but the baseline of the original story has remained intact.
(Q) So many Edgar Allan Poe fans want adaptations to be as close to the book as possible, how do you handle the pressure to keep the fans happy?
ALAN ROWE: You can't think about that and have it hang over your head while you're filming. To me that's a death sentence for any film. I believe Poe's writings work for all generations. He writes about our fears, our foibles, our greed, our loves and losses – even our insanities. I think the reason his works, much like Shakespeare, Mary Shelley, H.G. Welles and Bram Stoker have survived the passage of time is that they speak to everyone on a basic human level. Emotionally, our species has not changed much in 150 years and that is why Poe's works are still relevant today. His writing is very contemporary and he draws much from his personal inner pain and torment throughout many of his tales and poems. He was probably almost too honest for his time with this open approach. And I think Poe fans would love a revamp on the older materials to bring a new light and perspective to it – why not?
BART: I think as an artist, filmmaker or musician you have to do what is best for the piece. Staying true to the source, particularly Poe, will satisfy the audience to a degree, but Poe is great in that he gives the reader a strong source of literature to work from. I was nervous adapting THE TELL TALE HEART as it is one of his most iconic shorts he wrote. That nervousness filled my work to make the film something greater. Having Alan with me as my producing partner helped me to know I was not alone on the ride. The cast and crew believed in my work and felt secure with the script. Once Alan and I edited the piece we knew it just felt right. Pleasing an audience is not easy as you cannot keep everyone happy. Those of us who get these opportunities also need to respect the artist's work we are working from too.
(Q) What was your main goal you wanted to achieve about this film?
BART: I can say that Alan and I both agreed that in making the film we strived to make a classic piece of independent filmmaking in the horror genre on a limited budget. I knew going in that Poe was a great source to adapt from. It was a four year journey, but the end results are now showing the success and artistry of the film from all involved. If anything, it was to help us all get to another level in our careers with a new body of work. Challenging myself as a filmmaker, making another movie, and continuing to add something special in the horror genre has always been the intent while making TALES OF POE.
(Q) Where were the castle, pond, and woods scenes filmed at and were there any difficulties filming on location such as that?
BART: Much of the film was filmed between New York City and New Jersey. The castle was Lambert Castle in Paterson, NJ. What a beautiful location to film in there. Alan works on the NJ Film Commission board and was able to tap into his resources for securing the castle. We had 5 hours to film main indoor scenes for THE TELL TALE HEART. The castle tower in THE CASK was also a part of the Lambert Castle property. Much of the pond and woods were in NJ and NYC. Alan is a great location scouter. Getting the locations was not difficult at all. You just ask and work out business with the party you intend to work with and if not, STEAL IT! LOL.
(Q) Horror Legend, Clive Barker raved about your film, VINDICATION. How did it inspire you for your next project hearing such praise from a film legend?
BART: Clive Barker has been and continues to be a major influence in my life. He is a true artist in every sense of the word and I have so much respect for him. To have been given the review he gave VINDICATION was beyond words. Having his approval, and certainly many discussions with him, helped me to understand myself more as a filmmaker and as an artist, too. It is important to know that to be true to our craft we have to dig inside to the foundation of who we are as filmmakers and artists. I felt with Clive's praise I had done something right for a change. LOL. His praise made me feel a bit more confident with myself and his praise helped with talent to look at me and say, "If Clive approves then something must be special." It adds pressure, too, but in a good way. LOL
(Q) Alan – You play a very mean villain in TALES OF POE. What film actors or characters inspired you to help prepare for your role?
ALAN ROWE: Characters that lie, deceive, betray, coerce and eventually kill for selfish gain have always been so entertaining for me to watch. As inspiration for "Gogo" in THE CASK I went to film noirs of the past and studied Barbara Stanwyck's contained and controlled black widows in DOUBLE INDEMNITY and the STRANGE LOVES OF MARTHA IVERS, Bette Davis' sociopathic mystery novelist who resorts to double homicide in ANOTHER MAN'S POISON, and Simone Signoret's outstanding performances as the cool murderess school matron in LES DIABOLIQUES and her deceptive con artist from Curtis Harrington's GAMES (which inspired me to recreate the 'wine glass' killing of Marco Luchresi / Brewster McCall). Shirley Stoler's cold and ruthless Martha Beck in THE HONEYMOON KILLERS is also a thrill for me to watch. It's the type of dark role I've always wanted to play. I would love the opportunity to delve even further into the gender reversal of the Femme Fatale role in a feature. I think it suits my acting style and type and they are such fun to play.
 (Q) Tell us what it was like working with such a large cast for TALES OF POE? Do you see yourself working with any of them in future projects?
BART: Of course I would work with them all again. If the project is right for us to work with one another, I would certainly do so. When I work with actors I work with talent first. All of these actors come from great performances that want me to cast them. But I do not want them repeating performances that audiences have become too familiar with . They are actors first and I respect their craft and approach in their ability to act a character role. TALES OF POE will be known for its strong performances from all of the cast involved. I, like, Alan am most proud of our cast. We've been fortunate enough to have worked hard enough in our business to be able to reach out to dedicated actors and have them say yes to TALES OF POE. Second, many of these actors are considered to be the horror's genres finest and very well respected veterans of the genre. There are many new actors involved, too, Broadway actors, up and coming actors etc. For THE TELL TALE HEART, which Debbie Rochon is my muse for this one, Debbie is a most respected actress in our genre. To have the opportunity to work with her on a piece such as this was such an honor. Debbie is a professional and we would talk on the phone and email each other what we thought was going to work best for her role. In a heart beat I would work with her again as she is a strong actress in our genre. I knew that when I went into making TALES OF POE, as did Alan, that we wanted the performances to be top and above the hole that horror always seems to get criticized for. I always enjoy working with actors on the set and rehearsing with them because they are why the films are alive. It is performance. To work with Lesleh Donaldson, who is in my opinion a major force of performance in THE TELL TALE HEART, was a great experience because Lesleh does her homework. She truly brings it when she creates a character. These are actors I enjoy working with. ALAN ROWE KELLY – I wrote Peggy Lamar just for Alan. I knew with he and Debbie working together it would be a tour de force performance for them both. In my first film VINDICATION, Alan played Urbane a blind prophet and he took home a BEST SUPPORTING ACTING AWARD for at The TERROR FILM FESTIVAL. Alan can get into a role. A great character actor who knows how to take the role beyond the page. The same is true for Desiree Gould, David Marancik and Joe Quick. Everyone on board knew we were making something more than just a stereotypical horror piece. We all wanted greater. DREAMS' cast was simply a dream. This is where TALES OF POE separates itself from THE TELL TALE HEART and THE CASK. DREAMS is a silent film – no dialogue – so much emphasis was placed on eyes and performance art. DREAMS lead actress, Bette Cassatt, carries the entire film and, God bless her, she stood with DREAMS for the two years it took to create. She is just beautiful and has such subtlety to her approach to the character of the Dreamer. A very strong actress. and I am blessed to have her. Cartier Williams, one of the most talented tap dancers today, delivers a very haunting role. As does Brewster McCall, Andrew Glaszeck and Collin Cunliffe.
ALAN ROWE: Because of our lead actor's busy schedules and availabilities we did a lot of wrangling in order to fit them into scenes – but our cast was also VERY accommodating to us. A prime example would be the Queen's Court Banquet scene in DREAMS. We had Adrienne King come in for a week. The first day we would shoot the scenes involving all the characters around the table and wrap their close ups and insert shots. We also had Broadway dancer Colin Cunliffe (as the Dreamer's suitor/boyfriend) and his show and matinee schedule performing in EVITA was very tight. We would shoot him for 3 days and use a stand-in on the days he wasn't available. Other days we would focus on our leads Bette and Adrienne and when visible hints of other banquet guests in the background were required we had writer Michael Varratti, Azmi Mert Erdem (our 2nd cinematographer) and myself don wigs, hats, masks and costumes to fill in the frame. Bart had it all arranged very wisely. In other scenes, such as the laboratory scene, we inserted Bette and Caroline Williams standing alone on the set as if watching the actual scene that was filmed 2 weeks prior. In the hospital scene we managed a simliar set up. We covered shots of Amy Steel and Bette together and then shot Adrienne later to insert her seamlessly into the edit. For THE CASK we had only one day to shoot the wedding reception scene and I called in all my buddies to fill the guest spots. Filmmakers Brian Dorton, Douglas Conner and actor Rodney Horn (TRASHOLOGY) drove all the way up from Kentucky just to act as extras and we also get few glimpses of director Thomas Norman at the party as well. For THE TELL TALE HEART we only just one day at the asylum location and had to cover everything with the main cast and the inmates. THAT was a very long day! lol! But again, we planned and mapped it all out weeks ahead of time so everything would go off like clockwork. Sure, you always run into glitches but we don't loose our minds over it. We just solve the problem and keep moving and then take a deep breath once its all wrapped.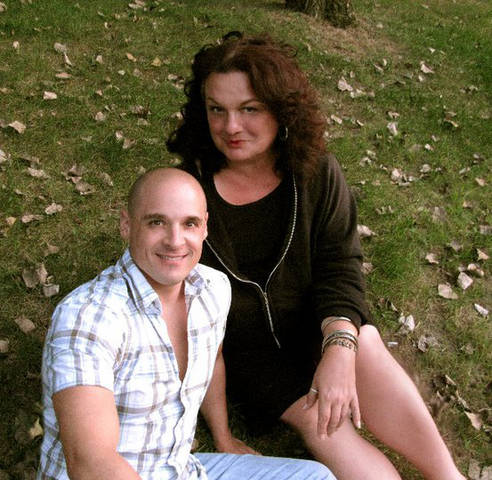 (Q) For me, I was amazed at the locations and costumes in the film. Tell us how you chose these particular locations and who designed those amazing costumes in the film?
BART: So much credit I must give to Alan for the majority of the costumes along with Cathy Palmer Wenzel. Alan is a genius with sewing, dying and gluing! We would talk for hours about what I had in mind and he added his ithoughts. Alan 's background is in fashion, so he really knows his fabrics. He is an artist at taking a small piece of material and creating into something even more. The sets were designed and built by us both with much consideration to our limited budget – but this didn't stop us! You can spend very little money with a big imagination. Movies are illusions, smoke and mirrors. It's not magic. Just a lot of creativity. Alan knows how to work a budget and this taught me about inexpensive costume making, set design and how to light and photograph it correctly for film. It is like a Merchant-Ivory production with no budget. Of course, the challenge of working with period costumes and sets is stretching it into a very limited budget – but imagination doesn't cost a thing.
(Q) Both of you worked very hard on this film. Tell us how you both met and the inspiration to adapt Poe's works for the big screen?
ALAN ROWE: I met Bart at a Horror mixer in Manhattan back in the spring of 2005. I saw him sitting across the bar speaking with filmmaker Adam Barnick and I thought, "Who is that?". So I boldly saddled up next to them and completely invaded their conversation. I was immediately captivated by Bart's presence and the moment I discovered he was a cinematographer (And I just happened to be searching for one!), I began stalking him! Lol! I sent him the script for my second feature THE BLOOD SHED, he really enjoyed it and we were shooting by March 2006. Bart completely turned the filmmaking experience around for me because my debut film was a nightmare to produce and complete. Bart showed up at our table reading and I saw his script was literally covered with notes from page to page. I was elated. I had finally found someone creative, intelligent, CALM, insightful, and who truly cared about his work. THE BLOOD SHED was a fantastic shoot due mostly to Bart's commandeering his crew and his easy going attitude. No ego. No temper. No time wasted. He turned the filmmaking experience completely around for me. I gave him full reign with his shooting to be as creative as he wished – and he did! That following summer we joined up again to shoot A FAR CRY FROM HOME for my GALLERY OF FEAR anthology and his work just shines in every frame of this frightening segment. *Bart also shot Anthony Sumner's BY HER HAND, SHE DRAWS YOU DOWN segment for the same film as well as the chilling wraparound tale CRITIC'S CHOICE starring Debbie Rochon. He then cast me in his first feature VINDICATION and I also came on board for a few days to assist him in production. We worked together on Jeremiah Kipp's CONTACT as producers and starting doing the horror convention and festival circuit together to promote our films. By this time people had seen us together so often at events and in press that we became tagged as a team. The concept for TALES OF POE soon came up in Bart's mind and we embarked on an entire new journey once again. So I'll let Bart take it from here….
BART: Well all that Alan just said – LOL. First off working with ALAN is one of the great pleasures in this business. This man works! And he works damn hard. In this business that is a rarity to have with a collaborator and business associate. I am truly blessed. I love making movies the same way Alan does. That creative passion we share to make TALES OF POE comes from our love of movies, art and our strong work ethic. Whether the budget was high or low, we would figure out how to create the visuals and use cinematic techniques to tell our stories. Alan and I have worked together for over 10 years on each others projects and projects of other fellow filmmakers. We understand one another's needs and wants on our projects. We also listen to what the project itself needs. I may come up with something and he'll transform it into something better and vice versa. A director's job is easy: "yes" or "no." We are there to serve the needs of the project. The best thing about us is that we balance each other out creatively on the project. There is no ego between us. We want what is best for the project and not for our individual careers. We know if the project is successful, then we've moved forward. We are going to make movies regardless, so to use each other's strengths we can only benefit our work. Working on Alan's film as cinematographer while he directed and acted is a great experience because he trusts me. With Alan there is no ego involved to crush the work. He simply wants what is best for the project. As myself a director, he too trusts me to offer any performance advice I can give since I am also behind the camera seeing the role form. When I direct, Alan does the same for me when challenges arise. At the end of the day we walk away laughing and totally satisfied with what has been wrought for the day's work.
(Q) Tell us who it is & how you discovered the AMAZING tap dancer for the DREAMS segment in the film?
BART: Cartier Williams is one of the most respected tap dancers in the industry. Cartier LOVES horror movies and is a joy to work with. You would think this young tap artist was only interested in dance, but we go see horror movies when we have the chance to hang out. Working with Cartier is an incredible experience. I admire dancers so much. His warm ups alone are like watching a performance piece. Cartier was a student at the New York Film Academy and heard I was a horror fan and filmmaker. We became friends in the process and when I was making DREAMS I had this idea to include him. So I had a tap sequence written into the script. We rehearsed for 3 months, once a week for 3 hours each time. He is truly dedicated. His work as a tap artist is one of the most memorable moments for me as a director. It was so fascinating to watch Cartier work and bring so much love to the genre with dance. It has never been done before and I am so proud of Cartier's performance in DREAMS. Thank you for asking that question. Tony. Cartier deserves that recognition.
(Q) In the film, you work with horror film legends Adrienne King, Amy Steel, & Caroline Williams. Tell us what your experience was like working with these "scream queen" legends?
BART: In a word – WOW! Like many of us, I grew up watching these magnificent ladies in some of the greatest horror films to date. Amy Steel, where do I begin? She hasn't been on screen for many years and to have her say "yes" to DREAMS was a boyhood crush come true! Amy's role is the Mother of Dreams in two ways: that of the reality mother and that of the dream mother. She also performs as the film's only spoken voice. Amy brought her motherly instincts to her roles. In real life, she has two beautiful daughters and I knew she would always go to them for reference. It is an emotional role and she certainly is credible here. I kind of thought it was Ginny from FRIDAY THE 13th Part 2 – all grown up! Caroline Williams plays the Angle of Dreams. For five years Caroline and I have been searching for a film to work on with her and DREAMS was it. Caroline's performance is totally opposite with what most would expect from her give her iconic role as Stretch in TEXAS CHAINSAW MASSACRE 2. Here she gives a much more subdued performance. Caroline has the most beautiful eyes and delivers by simply looking at you. She and Bette worked so well together. Adrienne King is truly a most dedicated actress and, like Amy and Caroline, a total pleasure to work. Adrienne reached out to me upon hearing about TALES OF POE and asked if there was a role for her. Well of course I am not going to turn her down. Michael wrote a part for her that anyone looking for Alice from FRIDAY THE 13th will only see the opposite – here she is more Mrs. Voorhees! The Queen of Dreams is a role that required a lot of attention as the main antagonist to Bette's character. Anything that character needed, she went for it. Adrienne's character is driven by pain and anger and watching her work inspires me. She was such a joy to work with that I brought her back for another role in DREAMS as an evil nurse. I can go on with praise for all these ladies. The entire cast worked damn hard. I am happy when they are given such deserved credit for their performances.
(Q) What is your greatest moment so far with the success of TALES OF POE?
ALAN ROWE: Without a doubt it was our world premiere at Grauman's Egyptian Theater in Hollywood last August. It was a lovely red carpet event with everyone all dolled up. We had over 400 people in attendance (most whom I didn't even know, but that made it even better!) and the response to the film was lovely. We had a poster signing the evening before at Dark Delicacies with most of the cast and crew and that really solidified the film as complete! Also our screening at the New York Horror Film Festival at Tribeca Cinemas was a most fabulous evening and a great way of bringing the film back home.
BART: I am like a very proud father on the birth of his little girl. Signing posters at Dark Delicacies was such the honor. By far, the Hollywood premiere at the Grauman's Egyptian Theater last August remains one of the proudest moments of my life. Starting at the Hollywood Roosevelt Hotel, taking a limo with the company to the premiere, the photos, the red carpet, the after party and all the talent who came out to see the film was such an honor. That being all said, there was also something quite special about the New York City Horror Film Festival at Tribeca Cinemas this past November. We were on home turf and the amount of support that came sold out the entire screening. People were turned away. Between Hollywood and NYC something changed. TALES OF POE succeed beyond expectations. Audiences wanted to know what TALES OF POE was about. I am so proud of what Alan and I were able to accomplish. It is a great success story of two individuals who simply had a love for horror movies and took it to the next level. It is something I know many people, including Alan and myself will never forget. I'm so damn proud. I sat in the back of the Egyptian Theater watching the film. Over four hundred people were in attendance including some of horror's greatest talent. To watch the film on a screen that large with a sound system so great in one of the classiest movie palaces in Hollywood made quite a statement. The hard work we put into the film was now being celebrated and shown to people who really wanted to see it. TALES OF POE has now taken on a life of its own.
(Q) What Edgar Allan Poe story would you like to adapt on a large scale? Will there be a "sequel" to POE? And would you consider doing the same anthology film of Stephen King's works?
BART: On a large scale I would say that TALES OF POE V.2 will certainly go into production once TALES OF POE V.1 goes into distribution. I have no desire to make a feature film out of his short stories. But to go back and do an anthology again with Alan and Michael? I am certainly ready to do that route again. Two stories are already nailed down for the film with quite a few surprises. So yes, we are excited about a Volume 2. The amount of requests from actors and now fans is truly wonderful. As for Stephen King, I wouldn't mind adapting his work. He has some truly great shorts to put into an anthology film.
(Q) When and where can the general public see this film?
BART: Right now TALES OF POE is on the film festival circuit, so Alan and I have decided to let it play to more festivals and let it have some fun. Once 2015 begins to end, I think the distribution will be in place. We are allowing the film to gain an audience and build some momentum for itself. It is a slow burn. Always check out our Facebook page and the films web site as we are always making announcements and posting material for fans to read.
(Q) Final question, What's next for Bart Mastronardi and Alan Rowe Kelly?
BART: Surviving this cabin fever winter is putting us through here on the eastern sea board. LOL. Working with Alan is always a definite. I am currently in the beginning stages of my first photographic coffee table book, which many horror genre talents are a part of. Alan and I are each writing our TALES OF POE V.2 scripts along with a great slasher film set during the Christmas holiday. But in all honesty, you make plans and God laughs at them, so who really knows what is next.
ALAN ROWE: We each have features in mind that we want to make and a TALES OF POE II is certainly one of them! We're also discussing a very fun idea for a Christmas horror movie in the vein of BLACK CHRISTMAS. But who knows what will happen after TALES OF POE is released? We'll just have to wait and see.
Main links are: Website, Official Trailer & Twitter and we could certainly use a lot more likes on our Facebook page. Our goal is to reach 10,000 to ensure potential distributors that we're doing our marketing and promotion correctly and the more numbers we can raise, the better our chances for more widespread placement internationally. So please give us a Like!
I want to Thank both Bart & Alan for their time, patience, and this amazing opportunity to see their film and answer my questions for this article. If you are a fan of Edgar Allan Poe and Independent films, please go to the TALES OF POE Facebook page & 'Like' to help this wonderful film come to a theater near you and thank you for your support.
Posted in Interviews by Tony Northrup on March 5th, 2015 at %I:%M %p.