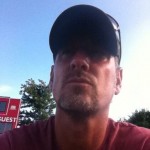 Richard Chizmar was born in Maryland, on December 21, 1965. After grade school, he attended Edgewood Senior High, and continued his studies at the University of Maryland. Richard has received many accolades thus far in his career. He has been a contributing writer for the New York Times, USA Today, Wall Street Journal, and Publisher's Weekly newspapers.
In 1988, Richard was also one of the founders of Cemetery Dance Publications. He's also serves as a contributor, editor, and publisher. He has edited more than 20 anthologies, and his fiction has appeared in Ellery Queen's Mystery magazine, and The Years 25 Finest Crimes & Mystery Stories. Cemetery Dance has published dozens of authors in their 31 years since opening their doors and is one of the longest running independent magazines around.
Richard has also stepped into the arena of film, with adaptations from well-known authors such as, Stephen King, Peter Straub, and Bentley Little. Along with Johnathan Schaech, Richard founded Chesapeake Films and the two have co-written many screenplays together. He has also written screenplays for some of the biggest studios in Hollywood. Richard seems to always have something in the works, whether it be a new novel, film, or working on other media projects, his natural talents manage to keep him busy and in demand.
With all of this to his credit, Richard has received several awards in various categories. This includes two World Fantasy Awards, four International Horror Guild Awards, HWA Board of Trustees Award, as well as four Bram Stoker Award nominations.
Tony Northrup – What was it like growing up in Baltimore, and when did you first discover the world of writing?
Richard Chizmar – I actually grew up in the suburbs, a small town called Edgewood, about 30-40 minutes north of Baltimore. Think the Wonder Years kind of neighborhood with sidewalks and trees and houses, with yards and garages and a really nice sense of community. But the town also had its shadier areas, a wrong side of the tracks. And it had its big haunted house and its stories and legends. It was a wonderful place to grow up. I grew up in a big family of readers. My father devoured paperback novels. My mom preferred magazines. All my siblings enjoyed reading. So I was surrounded by books. Couple that exposure to a variety of reading material with my overactive imagination, and writing my own stories was a pretty natural progression. I started when I was probably seven or eight. Mostly war or monster stories. My mother was my earliest and most appreciative audience.
TN – When did your first break as an author come about?
RC – I sold my first short story when I was in college. It was called "The Sniper" and sold to a California publication called SCIFANT. That early success encouraged me to keep trying.
TN – Who were your inspirations as a writer when you were growing up?
RC – Stephen King was my main inspiration. When I first read his short story "The Monkey" in my high school English class, I was transported to another place and time — it was truly Magic — and immediately knew what I wanted to do with my life. Before that it was mainly horror comics and movies that inspired my dark imaginative side.
TN – How did you first get involved with Cemetery Dance magazine and publications? How does it make you feel that it still is going strong after 30 years?
RC – I'm very proud of what we've accomplished with Cemetery Dance magazine. I'd love to publish on a more regular schedule but the economy of the magazine market today makes that a bit difficult. Thirty years is a long time for any business venture but for a magazine, it's an eternity! Still, we will keep plugging along, trying to get better with each subsequent issues. It's the only way to do it. As for the magazine's beginnings…I was in my final year of college and once I found out that publishing a magazine with high quality contents was possible for a one-or several-man crew was possible (I owe that realization and much more to the late, great David Silva of The Horror Show fame), I decided to go for it. What came next were many years of struggles and learning from my mistakes, but also a lot of happiness and gratitude. It was the best decision I ever made career wise.
TN – Lets talk a little about Stephen King. In 2017, you collaborated with him for the book, GWENDY'S BUTTON BOX. Tell us how that collaboration first came about, and your first impression of King? And what was your first Stephen King book and film?
RC – Well, Steve has always been my literary idol (he would probably hate me calling him that!), so meeting him for the first time was pretty surreal. It was at the 20th anniversary party of the publication of CARRIE in New York City. He thanked me for sending him lots of good books, and I thanked him for…well, everything. We had corresponded via the mail before that and spoken on the phone once or twice but that was the first face to face. My first impression of him remains in place today: very smart and funny and generous. He's truly one of a kind. I believe my first SK novel was 'Salem's Lot, and first movie was Carrie. That's still one of the most disturbing movies I've ever watched. I emailed Steve one afternoon out of the blue asking his opinion about collaborations and round robin stories. In the course of trading emails, he mentioned that he had a story he hadn't been able to finish and I asked if I could read it. The next morning, GWENDY showed up and the rest is history.
TN – Tell us a little about the sequel, GWENDY'S MAGIC FEATHER and what readers can expect? Why wasn't Stephen King more involved? Will there be a part 3?
RC – GWENDY'S MAGIC FEATHER takes place 30 years after the end of the first book. I woke up one morning with a very clear picture in my mind of exactly what Gwendy was up to in her life. I emailed Steve later that morning to tell him my idea, with no intention at all of pitching him a second book. He wrote back and said that he was busy working on his latest novel, but that he loved the idea and I should write it. So I did. He actually edited the book a couple months later. A once in a lifetime experience for me. As for a third book in the series…stay tuned!
TN – I had the privilege of reading not only GWENDY'S MAGIC FEATHER, but also two more of your latest books: THE LONG WAY HOME (a collection of scary short stories), and THE GIRL ON THE PORCH. I really enjoyed 'The Witch', 'Dirty Copper', 'The Association', but in particular, I really enjoyed 'Widow's Point,' in your short story book THE LONG WAY HOME. Tell us a little about these stories, and the adaptation from book to film of WIDOW'S POINT.
RC – "The Witch" was my attempt at writing a non-traditional Halloween story. I wanted the falling autumn leaves and the glowing pumpkins, but I also wanted a more human, non supernatural storyline. My favorite detective duo helped me achieve that. "Dirty Coppers" started as an Ed Gorman short story before we collaborated and turned it into a novella. Ed was another of my literary heroes and one of the nicest, most gracious men I've ever known, so it was a dream to work with him. Speaking of dreams, writing WIDOW'S POINT with my son, Billy, is as good as it gets. We had a blast writing what we called our "everything but the kitchen sink", ghost story about a haunted lighthouse. In fact, we have both a prequel and a sequel in the works. And, yes, there is a feature film version of WIDOW'S POINT directed by Greg Lamberson and starring Craig Sheffer making the rounds with distributors. Billy also had a small role and we couldn't be more excited about the project.
TN – Your latest book THE GIRL ON THE PORCH, had what I would refer to as a Twilight Zone (ish) rollercoaster mystery story. What inspired you to write a story that asks the question: Do you REALLY know who your neighbors are?
RC – A lot of my stories and books feature "human monsters", and THE GIRL ON THE PORCH is no exception. I'm fascinated by the masks some people wear and how they are able to move around in society undetected. With this book, I also wanted to write a more traditional "who-dun-it" for my youngest son, Noah, who loves that type of story.
TN – You have won so many awards including four Bram Stoker Award nominations. What is the greatest achievement in your career thus far?
RC – Greatest achievement is honestly just having people excited about my books, and willing to spend their hard earned money to buy them. When I was a kid walking around with a paperback in my back pocket and a million story ideas bouncing around my head, that was the ultimate dream. To be living it every day now is something I am immensely grateful for and still amazed by. Awards have never meant that much to me. I appreciate the recognition but I've always been super aware of how subjective those things are. It's just someone's opinion, usually a very small group of folks. Awards look nice when they're listed in your author bio but that's about it for me. I've never even shown up at a convention or conference to accept an award. Not even once. Not out of any sense of disrespect, but mainly because I've always been busy doing the kind of work that got me nominated for the award in the first place.
TN – Tell us about the WIDOW'S POINT film, when and where can we view this? And will there be film adaptations of the GWENDY books, or other Stephen King books?
RC – I mentioned the film version of WIDOW'S POINT up above. It's currently on the festival circuit and has won numerous awards for both the director and cast. We are waiting to hear back from distributors and should know something very soon. As for GWENDY, it has indeed been optioned and is out with a screenwriter, but I'm not at liberty to share the details quite yet.
TN – Lastly, What is next for Richard Chizmar?
RC – As for what's next for me…I'm working on a new novel right now. A dark thriller/suspense book. Then Billy and I plan to get to work on the WIDOW'S POINT sequel and another movie from our independent film company. We currently have two short films on the festival circuit: TRAPPED directed by Billy and based on a story idea by me and Stephen King, and MURDER HOUSE, which Billy and I wrote and directed together.
Tags: Richard Chizmar, Richard Chizmar interview
Posted in Interviews by Tony Northrup on November 23rd, 2019 at %I:%M %p.