RANK: 9/10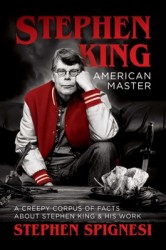 In September of 2012, I had the honor and privilege of interviewing author Stephen Spignesi, who is known as "the world's leading authority on Stephen King", according to Entertainment Weekly magazine, and several other reputable publications. My interview covered Mr. Spignesi's life growing up in Connecticut, his school years, becoming a college professor, his writing career, and his love for The Beatles, and of course, writer Stephen King. The interview was truly memorable for me, and a friendship was born.
Now, 7 years later, Stephen and I come together once again for our second interview, and this time in celebration of his new book, Stephen King: AMERICAN MASTER. This book is a fascinating collection of trivia, fun facts, essays, and interviews with those who have worked with Stephen King, adapted his works to film, written of him, or as I do, run a fan page surrounding the goings on, regarding author Stephen King. It was truly an honor to have been a contributor in this book, and I am very pleased to bring you my book review of, Stephen King: AMERICAN MASTER , followed by my exclusive interview with its author, Mr. Stephen Spignesi.
As one of the greatest storytellers of our time, Stephen King has a loyal following, and continues breaking more best-seller records than ever before. It stands to reason that fans want to know more about Stephen King, and world renowned author Stephen Spignesi is just as pleased to bring them what they want.
I have reviewed many books, and a good handful of them are about Stephen King, the master storyteller of horror and the macabre , and I assure you, this newest book by author Stephen Spignesi is a must read! It consists of two separate volumes, of which the first is available, and is already in second print! That's not too bad for a book released just a few short months ago.
The first book includes interesting essays such as, "Will People Still Be Reading Stephen King in 2068?", to discussions about the new IT remake film (2017) , and King's epic book series, The Dark Tower. It also takes a look into the phenomenon around the world that is known as, Stephen King. This first volume also includes essays about King's television and film adaptations, collecting his works, and interviews, including my interview by Mr. Spignesi discussing, All Things King: A Stephen King Fan Page, that I am webmaster of, and I am proud to say has been going strong for nearly 7 years.
The second volume includes complete, accurate, and detailed lists of Stephen King's entire catalogue of work already available, and works that have never been published for general release, including stories from his high school and college years, to his days as a struggling writer, and his early work as a contributor to magazines in the late 1960's, into the 70's.
At over 400 pages, this first installment is sure to please. There are several well known contributors that Mr. Spignesi has interviewed, such as Director Mick Garris, Stephen King's former assistant, Robin Furth, author Bev Vincent, Dollar Baby filmmakers, and my interview as well regarding ATK, and the perspective of a fan page. This book is a must-have for anyone, fans, and collectors alike.
I found Stephen Spignesi's, Stephen King: AMERICAN MASTER , a truly fun, entertaining, and informative book, that everyone can enjoy! Mr. Spignesi's style of writing makes the reader feel like they are right there, listening to a lecture, or discussing with other fans. This book delves into Stephen King's past, the early years, the struggles, and the rise of a great storyteller/author. Stephen Spignesi goes into great detail with each subject he covers, including interviews, and even the back stories he tells.
Stephen King: AMERICAN MASTER, at times feels like you're sitting amid friends, having a great conversation. It is a must-have for all King fans, and those interested in his works. This book is in-depth, fun, and leaves the reader wanting more! Stephen Spignesi respects King fans, and writes as a fan would , with passion. He is part of the tribe, so to speak. It's as though he gave us a backstage pass to the event, and brought us all along.
RANK: 9/10
Tags: Stephen King: AMERICAN MASTER, Stephen King: AMERICAN MASTER REVIEW