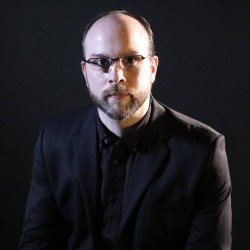 Dave was born in Logan County, West Virginia on August 3rd, 1974. He attended Logan County High School and graduated in 1992. From there, he moved on to attend the West Virginia State University, where he majored in Communications, and graduated in 1998 with a Bachelor's in Science Communications.
Dave took a couple of years off, and once again continue his education at Ohio University. He graduated there in 2004, with a Masters of Fine Arts in Film Production, and Screenwriting. Dave currently teaches at the West Virginia State University, and lives in Mount Gay, West Virginia.
1. What inspired you to major in film production and screenwriting?
Oh, that's been a lifelong dream, to either make movies or be involved with the production of movies in some capacity. I'm from Southern West Virginia, so back in the late 80s/early 90s there weren't a lot of outlets for anyone who had the itch to make movies. Equipment was cost-prohibitive and it certainly wasn't as available (or portable, or budget-friendly) as it is now. My brother Matt, my sister Becky, and myself would instead write and produce plays throughout high school and my early college years, and I think that was probably one of the best ways to learn how to work with actors, since performance can make or break any film. It was also a good primer in learning how to maintain a composition for two hours; I always pretended as if I was composing a two-hour long master shot whenever I directed plays. Anyway, once I got into college, I transferred to West Virginia State University, which was the only university in the state at the time that offered any sort of courses in filmmaking. From there I went on to the School of Film at Ohio University in Athens, OH, and it was there that I really became interested in screenwriting; it was during my training there that my eyes were really opened, and I discovered that there was a lot more to film than cinematography and directing. Once I started tinkering around with narrative structure, a whole slew of filmmaking possibilities opened up.
2. How did you get the nickname "B-Rock"?
You know, that was given to me by some friends of mine in film school. It just sort of stuck. I consider it a gift by my peers, so I wear it like a badge of honor.
3. On the films credits, Rebecca and Matt Brock were listed. How are they related to you, and how did they first get involved in the film?
Becky is my older sister, and Matt is my twin brother. I can't think of a time when I didn't work with them in some capacity in whatever film project I happened to be doing. I've written a lot of stuff with Becky (who is an exceptionally talented writer; I'm not just saying that because we're related), and I cast Matt in pretty much everything I do. He's my good luck charm. I know some filmmakers like to cast themselves in their own films, but I could never do that. I'm too camera shy. Matt is my cameo-by-proxy. He's also the monster in the Road Virus paintings, one of which I have hanging in my apartment. I gave another one as a gift to my mom.
4. How many paintings were used for the film and who painted them?
There were a total of seven paintings used in the film, and there were two that were made but we didn't use because we felt like it would have been too much. We also had two stunt paintings that were destroyed by either water or fire. They were actually photographs that were blown up and digitally altered by a talented artist by the name of Ocean Eiler, and my insanely brilliant production designer Krista Thomas applied a sort of lacquer to the finished "paintings" to give them texture and then mounted them onto canvas before framing. We shot the images in the middle of a large field, and Ocean added in the rest of the scenery for each painting digitally.
5. What did you think of the 2006 version on the Nightmares & Dreamscapes TV series?
I loved the cast, but my biggest gripe was how they handled the paintings. One of the creepiest parts of the original story to me was that Richard Kinnell never actually saw the paintings change; rather, they changed in some form while he wasn't looking. That kind of lead the reader to believe (for a while, at least) that maybe the whole thing is in his head. That was really important to me while we were shooting, that we never see the paintings change. The audience sees the change when Richard does. Also, the Road Virus needed sharper teeth. That was the thing that drew Richard in at the yard sale: the TEETH. The ending was also a little bizarre, but the ending to the original short story was also bizarre; I had trouble adapting that myself when I was doing my own version.
6. Out of all the STEPHEN KING short stories, what attracted you most to this story?
The idea of paintings or photographs that change, that's always been something that's traditionally given me the heebie-jeebies. My sister Becky is actually responsible for the whole thing: she called me back in 1999 and told me about this creepy story that Stephen King wrote for an anthology called "999" (before it was published in "EVERYTHING'S EVENTUAL") that dealt with a n evil painting that changed. She sent me a copy and I read it at, like, 3 in the morning and was completely creeped out by it. I knew I had to do a film version of it.
7. What changes did you make to make this your own as opposed to King's original text?
I'm not the type of filmmaker who feels the need to put his "stamp" or "mark" or "signature" or whatever you want to call it onto a film. At the end of the day, the film isn't about me; rather, it's for the audience to hopefully enjoy. That was one of the larger concerns I had when I sat down to try to adapt it: will the fans like it? Stephen King has a loyal fan base for a reason, and it's because of the way he tells a story. I felt that it was my responsibility to try and be as faithful to the source material as possible, because I thought it was terrifying enough as it was without me putting a flourish or whatever on it. So aside from some necessary alterations (the indoor estate sale as opposed to an outdoor yard sale, for example, because we shot in December), I tried to stick as close to the original story as possible. I added the nightmare sequence at the end as a way of introducing Bobby Hastings into the fold and visually establishing the mess he made of things when he dabbled with things he shouldn't have dabbled with, and the ending, well…I just had to end it. I think the story ended with Richard naked right out of the shower, which I understand that it makes the character seem more vulnerable toward the end, but I thought it would have been too gratuitous to film that as it was originally written. Since the ending of the story was a little open-ended, I decided to leave the ending to the film a little open-ended. Originally, we were going to end the film with an estate sale at Richard's house, and a little girl comes across an odd painting of a muscle car with Richard's head as a hood ornament (I actually have that painting, by the way), but we never shot it because it just seemed too much.
8. So many STEPHEN KING fans want adaptations to ppbe as close to the book as possible, how do you handle the pressure to keep the fans happy?
Well, I think it helps that I'm a HUGE fan of Stephen King myself, so I have my own barometer of what I think makes a good Stephen King adaptation good and what makes one…not so good. I put a lot of pressure on myself to try and deliver something as close to the source material that I can, so if I can somewhat satisfy my own needs as a lifelong fan, then hopefully others might enjoy the work as well. I always love to hear what other fans think of the work as well, and I consider every comment that's made, good or bad.
9. What was your main goal you wanted to achieve about this film?
I wanted to go for the creep out, first and foremost. If it's something that gets under your skin after you finish watching it, then I've done my job! I think there's a larger message about dealing with the inevitability of death, but I didn't want to get too heavy-handed with that. I've had people take away different things from the movie after they screened it, which I think is great. Audiences should draw their own conclusions about the meaning of any given work. I feel like talking too much about the reasoning behind the making of something takes away from it somewhat.
10. Where was the movie filmed specifically and were there any obstacles to overcome while filming there?
We shot the entire film in Athens, OH, which is just a filmmaker's dream, really. The locations are so diverse that you could substitute Ohio (and West Virginia, for that matter) for any other location in the country. We shot the nightmare sequence in the basement of an abandoned lunatic asylum, believe it or not, so that was fun. We left the insane scribblings of Bobby Hastings on the wall where we filmed with the hope that a tour group would walk through later and think an actual patient had written those things. Other locations included a local park (the lake shots), a rest stop, a university-owned alumni center that was based in an old, historic house (the estate sale), and for Richard's home we rented an empty house that was on the market for a few days. Interesting thing about that location is that we had to cheat and shoot all of the coverage for the living room scenes across two rooms to get the onscreen layout that we wanted, and that was again due in no small part to the brilliance of Krista Thomas (the production designer) and some tricky editing.Since wanted actors who were either SAG or SAG-eligible, we entered into a low-budget film agreement with SAG in order to make it legal all-around. The downside to doing that was we then had to adhere to SAG union rules in order to have professional actors for no pay. That meant we had to strictly adhere to an 8-hour shoot day,, meals had to be called within a certain time period after shooting started each day, actors had to be signed in and out etc. It was an extraordinary amount of paperwork that my wonderful producer Vicente Cinque handled every day without complaint. The paperwork had to be filed by a certain deadline, and if we violated any of these rules, then the salaries of the actors we used would have been due and payable, along with penalties. It was a little stressful, but we were super organized and got it done. The biggest obstacle we had to overcome was having to reschedule and redesign the entire shoot because we had managed to cast a very well-known horror personality – who shall remain nameless because my ears feel like they'll burst into flames every time I hear his name – for the part of Richard, and he had committed; we had the financing set and his deal was in place and everything was ready to go, and then he simply decides to not return our phone calls after he explicitly agreed to do it. We tried to get in touch with him up until a week before we were scheduled to begin shooting, but we heard nothing. This was in summer of 2003, so luckily I had an AMAZING crew and an awesome cast that we had coming in from New York City who took everything in stride and agreed to shoot in the winter instead. That meant Krista had to redesign EVERYTHING from scratch, which meant several more months for her in Athens instead of back at her home in New York. Meanwhile, the big shot horror guy who screwed us was off on another project, but in retrospect he did us a huge favor because I can't imagine anyone else in the role of Richard other than the one that we cast, the wonderful Denny Dalen, who taught acting for years at Ohio University. It really was a blessing in disguise.
11. How long was the film shoot and the process from start to finish?
The film was shot over seven consecutive days in December 2003; I remember the last day of filming vividly because that was the same day that Saddam Hussein was captured. Not counting the false start and redesign thanks to Big Shot Horror Guy, we spent about two months in pre-production and I edited the film over a period of four months during my last quarter of graduate studies. So all in all, maybe about six months, not counting the year it took to contact Stephen King for the Dollar Baby rights. Another Dollar Baby filmmaker by the name of Justin Zimmerman really helped me out with that one; we were both at the Ohio University School of Film at the same time, and he was pretty active with the project during its early stages. We originally planned to shoot in Maine and even went up and scouted in Bar Harbor and the town where STORM OF THE CENTURY was shot. Justin went on to do his own Dollar Baby adaptation of THE MAN WHO LOVED FLOWERS, which I hear is really good.
12. What is your greatest memory so far with the success of ROAD VIRUS HEADS NORTH?
You know, I think it has to be the day that I found out that it was nominated for a Student Academy Award, and it was exciting because I couldn't wait to share the nomination with everyone who had worked so hard on the film. I'm really proud of the film, but I'm more proud of the incredible effort that everyone put into it. Also getting to screen it alongside the premiere of a Tobe Hooper film at the 2005 New York City Horror Film Festival was pretty great, too!
13. What STEPHEN KING story would you like to adapt on a larger scale?
Well, I would say THE LONG WALK, but I think George Romero has the rights locked up on that one. I've had Dollar Baby rights to THE LIBRARY POLICEMAN for a while now (I requested it right after I finished ROAD VIRUS), which I'm dying to do, but I'm having trouble adapting the story. That would be the one I'd love to do, and I think it'll happen at some point. It's looking like NONA will be next; after we wrapped, THE WOMAN IN THE ROOM a few weeks ago, I had students in my Stephen King class do presentations on other potential Dollar Babies, and NONA was selected by popular vote (I AM THE DOORWAY and REST STOP were the other contenders).
14. Where/When can fans see this film at film fests?
I'd like to get ROAD VIRUS back out there, though I seem to keep missing deadlines for some of the Dollar Baby fests. I have a terrible memory. With any luck, THE WOMAN IN THE ROOM, will be finished in October, and I hope to hit the festival circuit shortly after.
BONUS: What is next for Dave Brock?
NONA, then a feature project that I'm currently writing, and hope will come together over the next few months (also based on a well-known horror story), then, the Adaptation Gods willing, THE LIBRARY POLICEMAN. If I could make Stephen King movies for the rest of my life, then I would die a very happy man!
Tags: Dave Brock, DAVE BROCK interview
Posted in Interviews by Tony Northrup on August 14th, 2016 at %I:%M %p.