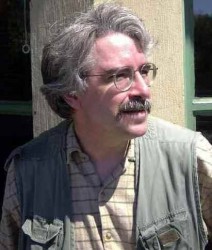 The world of Stephen King goes way beyond his books and films. There are also many books about his works, written by some of the very best in the literary world. Writers such as Bev Vincent, Robin Furth, Lee Gambin, Andrew J. Rausch, and of course, Stephen Spignesi, who has written more books about Stephen King than anyone.
However, we can now add talented writer and teacher, Mark Dawidziak to this impressive list. Mark is the author of the book THE SHAWSHANK REDEMPTION REVEALED, a 25th Anniversary look behind the film. Before we talk about the book though, let's get to know a little bit about Mark.
Mark was born on September 7th, 1956, in Greenlawn, New York. He has worked as a television critic, television columnist, and film critic. Before all this he attended Harborfield high school, graduating with the class of 1974. Mark continued his studies at George Washington University where he graduated with the class of 1978. From there, Mark worked at the Akron Beacon Journal from 1983-1999. Mark also teaches at Kent State University, offering courses about television and film. He has been a critic for the Cleveland Plain Dealer since July 1999. Mark has written a wide range of books regarding several television series such as Colombo, The Night Stalker, Dracula, The Twilight Zone, and has written many books about famous author, Mark Twain. When Mark isn't writing books, he travels with his theater troupe, or you can find him taking a well deserved break relaxing at his home in Cuyahoga Falls, Ohio.
Now I'd like to introduce you to this wonderful author even further, Mr. Mark Dawidziak.
Tony Northrup – Tell us what it was like growing up in New York and Ohio, and when did you first feel the passion for writing, which eventually brought you to becoming a published author?
Mark Dawidziak – I grew up in New York, in Greenlawn, part of the Huntington township on the north shore of Long Island. It was a great place to grow up – suburbia but still not overcrowded, close to beaches but just an hour's ride on the Long Island Railroad into the city. The New York TV stations were ideal training grounds for a Monster Kid in the 1960s. My first love was comedy, specifically comedy teams, because those TV stations gave us a steady diet of Abbott & Costello, Laurel & Hardy, the Three Stooges, and the Marx Brothers. In fact, it was following Abbott & Costello that led me to the monster realm. When I was seven, WPIX Channel 11 showed "Abbott & Costello Meet Frankenstein." I was there for the Abbott & Costello half of that title, but I fell good and forever under the spell of Bela Lugosi's Dracula, and I was hooked. That turned me into a horror fan. From that point, I scanned the TV listing for any scary movie or TV show coming up, and I became a regular visitor to Rod Serling's "The Twilight Zone," as well as Collinsport, Maine, the haunted town on "Dark Shadows." I was getting each issue of "Famous Monsters of Filmland" and "Castle of Frankenstein." Never lost my love of comedy teams, by the way, and, around the age of 12, a close encounter with Sherlock Holmes, as played by Basil Rathbone, turned me into a mystery fan. So it's probably fitting that I ended up writing the history of "The Night Stalker" and the Carl Kolchak character, because the first film works on all three levels: as a horror story, a comedy and a mystery. I knew in high school that I wanted to be a writer. I guess I found out in high school that I was a writer and wouldn't be happy doing anything else. Funny thing. When uncles and aunts would ask the inevitable question of what I wanted to do, I would say I wanted to be a lawyer. I didn't. But when I said I wanted to be a writer, it seemed to confuse them. How did you do that? Could you make money doing that? I felt as if I was telling them I wanted to go to Mars. I realized they just wanted an answer that would satisfy, so I started saying I wanted to be a lawyer. They seemed pleased with that. They never asked why. They never asked what kind of law. So I discovered writing (and writers as heroes) in high school, particularly Mark Twain and Rod Serling, who, the more I learned about them, the more heroic they became. I got to Ohio in October 1983 by following the newspaper trail. I started my journalism career at the Knight-Rider Newspapers bureau in Washington, D.C., in August 1977. After a stint as a city editor at the Associated Press in D.C., I cut my salary by two-thirds to move to the Bristol Herald Courier in January 1979. Smartest move I ever made. I moved to Bristol (Tennessee-Virginia, since the state line runs right through town), as that newspaper's arts editor (primarily theater, film and TV critic), and that put me on the track to writing about movies and television. Later that year, I jumped to the Kingsport Time-News (in east Tennessee), as that newspaper's arts editor, and in 1983, the Akron Beacon Journal asked me to become their TV critic. I spent 16 years at the Beacon Journal as TV critic, film critic, and critic-at-large, before moving to the Cleveland Plain Dealer in 1999.
TN – You've written for many newspapers in your career, which do you find more challenging: newspaper articles or writing books?
MD – I tell my writing students at Kent State University that writing is like running. There are all kinds of writing and all kinds of running, but each is challenging in its own way and requires different kinds of discipline and training. Both the 50-yard-dash and the marathon are running, aren't they? But you don't train the same for both. Writing a newspaper column on deadline is like the 50-yard-dash. Novels are marathons. I enjoy both, just as I enjoy all types of writing. If there's a way to make money by pushing nouns against verbs, there's a good chance I've done it: newspaper columns, magazine pieces, plays, non-fiction books, novels, short stories, comic book scripts, liner notes, history, journalism, criticism, horror, humor, mystery, biography. I like tackling new forms, probably because I don't like repeating myself. It has led to a deeply schizophrenic resume, which I'll be the first to admit. I was at a book fair once, behind a table with a sampling of my books, covering everything from "The Twilight Zone" to Mark Twain, Dracula to Theodore Roosevelt, and some fellow went by and said, "I don't get it." I said, "What's not to get?" He said, "What's the common theme here?" "Me!" I shouted at him. "Me! I'm the common theme. All of these books represent different interest. I'm a big believer in something Vincent Price once said – that the person who limits his or her interests limits his or her life.
TN – You have written many articles and books about television, do you have any shows or genres you prefer?
MD – I suppose I'm still most drawn to horror and humor, which are flip sides of the same metaphoric coin. I've written books about "The Twilight Zone," "Columbo" and "The Night Stalker," so that gives you a good idea of my favorite shows of all time. Other all-time top shows on my list include "The Odd Couple," "Monty Python's Flying Circus," "The Dick Van Dyke Show" and "The Avengers" (the '60s spy series with Patrick Macnee and Diana Rigg). Current favorites include "Black Mirror" and "Stranger Things." In between, there have been things like "The Sopranos," "Justified," "Buffy the Vampire Slayer" and "Deadwood."
TN – Speaking of television, you wrote a book about the iconic show, The Twilight Zone. How did that show affect you as a writer, and any thoughts on the show you can share with us as far as how it changed "Pop Culture" today?
MD – "The Twilight Zone" is my favorite show of all time. It had a profound influence on me as a young viewer, and it's a series that I've carried through my entire life. Rod Serling always has been in my pantheon of iconic and heroic writers. It may be the most influential show in the history of television. It certainly is the most influential show in the fantasy-horror-science-fiction realm. Serling showed how fantasy storytelling could be the ideal metaphoric means for exploring societal issues and presenting morality tales. He blasted the way for Gene Roddenberry and "Star Trek," which premiered two years after "The Twilight Zone" left the air. Just about every writer-producer behind a significant fantasy, horror or science-fiction show – "The Night Stalker," "Twin Peaks," "The X-Files," "Buffy the Vampire Slayer," "Supernatural," "The Walking Dead," "Black Mirror" – has acknowledged his debut to Rod Serling and "The Twilight Zone." But that's selling the influence of this show too short. In truth, just about every writer-producer behind a landmark TV drama of the last twenty years has named Rod Serling as his hero, among them David Chase ("The Sopranos"), Vince Gilligan ("Breaking Bad"), Matthew Weiner ("Mad Men") and Charlie Brooker ("Black Mirror").
TN – Mark, you have written many books about Mark Twain as well. Who do you find more influential: Mark Twain or Stephen King, and why?
MD – Well, since Mark Twain influenced Stephen King, I'd have to say Mark Twain. But they are both the heavyweight best-selling American authors of their eras, and, like Mark Twain, viewed primarily as a genial humorist and family author during his lifetime, Stephen King probably won't be properly appreciated until long after he departs this globe. Like Twain, he writes in a genre that doesn't tend to be taken seriously by academics, critics and guardians of literature. It's there loss, because, as Anne Rice told me, if 100 years from now you want to have any clue of what America was like in the late 20th century and into the 21st, you'll have to read Stephen King. He's the one telling us what life is like down at the quicki-mart, and at the factory job, and in average homes. He's capturing the fabric of America. Just like you need to read Charles Dickens to know what life was like on the streets of London in the 1840s, you'll need to read Stephen King. But during his lifetime, Dickens was not considered the great British writer any more than Mark Twain was during his lifetime. But look at who is still with us?
TN – Speaking of Stephen King, lets discuss your latest book, THE SHAWSHANK REDEMPTION REVEALED. Out of all of the Stephen King books/movies, why did you choose this particular story? Share with us the first time you saw the film, Shawshank Redemption, and, how has the film affected you personally?
MD – I was working on a bigger book about Stephen King, and this was what my agent was shopping to publishers in late 2017 when I realized that the fall of 2019 would mark the 25th anniversary of "The Shawshank Redemption." I immediately suggested pulling that chapter out of the book and doing a deep dive into the making of the movie and the reasons for its enduring popularity. My agent thought this was a good idea and immediately found interest from publishers. I also was attracted to this idea because, in 1993, I was a witness to the making of the film in Mansfield, Ohio. I was the film critic at the Akron newspaper at the time, and I covered the making of the movie during those blisteringly hot summer months. In fact, the first person I interviewed was Morgan Freeman. In the years between, I had interviewed Stephen King three times, and we'd talked about "Shawshank," so, in late 2017, I put things in gear and, over the next several months, did about seventy interviews for the book, with everyone from Tim Robbins down to the person who trained the rats for the prison scenes, and I could have gone on doing interviews. I could have done another seventy interviews, easily and happily, because everyone connected with the film had a great story to tell, and I was having a blast listening to the stories. But, I had a deadline of January 7, 2019, to deliver the book so it could be out for the 25th anniversary. So in late 2018 I shut down the interviewing and started writing. Another reason I was pushed toward writing this book is that each semester since 2009 I show "The Shawshank Redemption" in my Reviewing Film and Television class at Kent State University. It's the only film I show that gets close to a 100 percent favorable response from the students. For the last several years, I've been showing it to students who weren't even born when the film was released in the fall of 1994. The magic that worked then still works, and if you're smart, you learn from your students. For me, it's not only the finest film made from a Stephen King story, it's one of the finest American films of all time. With its themes of friendship and redemption and keeping hope alive under the most dire of circumstances, it truly is our generation's "The Grapes of Wrath," also a story about keeping hope alive under horrific circumstances.
TN – In your book, you discuss fun facts, trivia, interviews, and day-by-day making of the film. What fact did you learn that impressed you the most, and what was it like meeting some of the cast members?
MD – You always hear about how movies are team efforts, but this really was driven home by the research for this book. You realize how profoundly so many people shaped this movie cherished by so many: Stephen King's amazing story, Frank Darabont's script and direction, the commitment of lead actors Morgan Freeman and Tim Robbins; Roger Deakins' cinematography; Terence Marsh's production design and the efforts of his location team; Thomas Newman's music. What most impressed me was how all of this came together to form a masterpiece, and the cast members couldn't have been more genial and cooperative. Actors playing the nastiest people in the film, like Bob Gunton and Clancy Brown, are two of the nicest, most charming people you'd ever meet. They know they're part of a special film, and it wasn't hard to get them to open up and share the stories. There was so little work involved in that process, I felt a bit guilty about enjoying the research so much.
TN – There is a Shawshank tour you can take in Mansfield Ohio. Share with us some of the highlights of that tour, and what part of it did you enjoy most?
MD – The heart of the tour is the Ohio State Reformatory (Shawshank State Prison), in Mansfield, Ohio. It is very much a character in the film, with its distinctive gothic look and formidable presence. The first time you visit and stand in front of that place, it can be overpowering. First, you're literally in the film, standing in front of that amazing structure. Second, you're overwhelmed by the realization of how many lives past through that place. That realization grows and grows as you go through that place, and it can take the better part of the day to see it all. It's massive. There are fifteen Ohio stops on the Shawshank Trail, and it's best to allow three days to see it all. What I enjoyed most about the tour was that, at each stop, people treated us like family. I say us because my daughter, Becky, accompanied me on these research trips, documenting the journey as my photographer (twenty-five of her pictures were selected by the publisher for the book). Mansfield began to feel a bit like our hometown. After our first trip, people would stop us on the street or in front of the prison and say, "You're the folks writing the Shawshank book." This is what the film crew felt when the community took them to their heart during the making of the movie. We love going back there and seeing the friends we made. But as special as all the stops are, the prison still is what most draws you, as it drew Frank Darabont in 1993.
TN – I consider myself one of the biggest Shawshank fans ever. I've seen this film so many times, and thought I knew it pretty well, however there are facts in this book that are simply amazing! What do feel makes Shawshank Redemption so amazing that fans will stop and watch it every time it comes on television (which is ALL the time)?
MD – During one of our long talks, Stephen King said that, if you're a horror writer and you give evil its innings, you should give good its innings, too, and there's just a whole lot of good in "The Shawshank Redemption." Although not technically supernatural, it is as much a horror story as anything he has written. Certainly few characters go through anything as horrific as what Andy endures. So it's a tribute to the endurance of the human spirit. It's a study, of course, in redemption and the avenues to redemption. It's a celebration of those things that sustain us and get us through the toughest of times: music, reading, education, friendship, faith, hope. I think the warm, unifying glow of friendship is what ties it all together and makes the film so special. Andy and Red are a study in friendship, and not the kind of glib, buddy-buddy kind of male friendship you see in most Hollywood movies. This is a slowly developing friendship that gets deeper and deeper. They end up saving each other because of that friendship. "I hope to see my friend and shake his hand," Red says at the end of the film. Hope is in that sentiment, as it needs to be, but so is the word friend, and that's it.
TN – Have you had discussions about Shawshank Redemption while teaching at Kent State University? What do your students think about the film and story?
MD – I'll only add that I think one reason the film speaks so powerfully to them is that it has grown in resonance since its release in 1994. Times were pretty good in 1994. The economy and the job market were strong. I think these students are about to face a far more uncertain world – certainly a far more divided one. This film says, hold on, you can get through the toughest of times. If it were necessary to have some experience of prison to appreciate "The Shawshank Redemption," it wouldn't have much of a following. But we all can relate to Andy and Red, no matter who we are or where we live or under what circumstances. You don't need to be an actual prisoner to feel trapped. You can be trapped in a bad relationship, a terrible job, an unhappy marriage, a medical nightmare, an emotional crisis, and this film says you can get through it. That theme actually is quite common in horror stories, which, after all, primarily are about confront and coping with evil.
TN – If you could write a book about another Stephen King book/film, what would it be? What was the first Stephen King book you read, and your favorite, and Stephen King is in very high demand lately, how is his works changing to attract new fans since his works have been around for over 40 years? Lastly, what do you want most for your readers to take from your new book, THE SHAWSHANK REDEMPTION REVEALED?
MD – I've done long interviews with Wil Wheaton and Jerry O'Connell, as well as Rob Reiner, so "Stand By Me" would be an obvious answer. It's another film near the top of all-time great King adaptations, and I'm pretty sure that, at this point, Frank Darabont wouldn't mind if I tackled a deep-dive look at "The Green Mile." I also have great affection for "Creepshow" (Hal Holbrook is an old and dear friend). As a horror fan, I read all of Stephen King's books as they were published until the writing of my own books got in the way. So I jumped on each new book from "Carrie" in 1974 to, say, "The Tommyknockers" in 1987. Then I was swept into the writing of my second book, "The Columbo Phile," which was published in 1989, and keeping pace with Mr. King got a little trickier. It became necessary to go back and make up my losses as time and schedule permitted. Although any writer's work will by necessity change with age and life experience, I look at King's writing as ongoing body of work with highs and lows determined by individual tastes and personalities (and that's the way it is with horror because what profoundly scares one person will barely register on the fright scale with another). In other words, it's all Stephen King, and what hasn't changed is that he's still the master storyteller – still the undisputed champion of gathering us around the campfire and saying, "Gather close, kiddies, I've got a tale to tell." Again, the response to horror is such a deeply personal thing. I teach a class on Vampires in Film and Television at Kent State, and during the first class meeting, I ask each student to tell me what most scares them. The answers are all different. Then I ask them to tell me the scariest book they've ever read and the scariest movie they've ever seen. Again, all different. "The Shining" remains my favorite Stephen King book, perhaps because it and "The Exorcist" were the only two horror novels that ever truly got under my skin and had me looking over my shoulder. Now, I admire a lot of Stephen King's books for different reasons (and I think his "On Writing" is one of the few valuable books about writing), but, for me, "The Shining" charts up a bit. My writing style tends to be conversational (that's even more true in the "Twilight Zone" book), so my hope for the book is that it tells the story behind the story in an engaging and enlightening way, even for people who know a lot about the film. One of the biggest compliments I've received was from Frank Darabont, who told me how much he had learned about the making of his own movie.
TN – One final question . What is next for Mark Dawidziak?
MD – What's next? We'll see. One thing I've learned is that, no matter how carefully you, you're not really in charge. Throughout the 37 years since my first book was published, I've never been right about what the next book will be. I've even had agreements with publishers for the next book and deals have fallen apart. I'm kicking around a lot of ideas, fiction and non-fiction, with my agent and editors, but I haven't yet settled on the next book. In the meantime, there's the newspaper. There's the teaching, and there's the theater company I've run with my wife since 2002. Plenty to emphasize the busy part of "Get busy living."
Posted in Interviews by Tony Northrup on December 15th, 2019 at %I:%M %p.