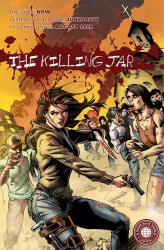 It's been more than half a decade since I was first introduced to Justin Zimmerman, and not in the comic book world, but in the film world. Specifically, the Stephen King Dollar Baby Program. After he finished a feature length commercial King script, he decided to direct his own King short. I interviewed Justin for his personal Dollar Baby version of The Man Who Loved Flowers.
I reviewed and featured his film, along with other Dollar Baby projects, at the 2nd Annual Stephen King Dollar Baby Film Fest at Crypticon Horror Con Minnesota in 2015. I hosted the event and was able to share Justin's film to a whole new batch of Stephen King fans who had never seen Dollar Baby films before.
Fast forward, and now Justin has a new project he is sharing with the world, his graphic novel: THE KILLING JAR.
When I was a kid, comic book collecting was more for fun and entertainment. We'd run to the corner store, lay our money down, and read adventures ranging from action to science fiction to horror to superheroes. In these more modern times comics are more of a business, and collecting is taken very seriously. Many comics end up on the big screen, like MARVEL or DC films, or on the small screen, like the mega-hit THE WALKING DEAD.
Justin Zimmerman's THE KILLING JAR is a new form of apocalyptic / zombie genre I have never seen before. This black and white story takes place in a middle of nowhere small town in Colorado. It is a quick stop to nowhere type of town. Since it is so empty, it is used as a stop for drug runners making their deliveries and deals. However, this latest trip is not what anyone expected. As the drug dealers make their drop, something goes terribly wrong, and it's up to a couple of small town cops, a little boy, and a strong female lead, Anna, whose wits and quick thinking are just as fast as her shooting.
When a drug deal goes "bad," you know it's not going to end well. However, in this case, things go way past that! Apparently, this particular batch has gone…REALLY bad! It turns the crazed townsfolks into something worse than any nightmare…they become zombified! Will Anna and her small group of survivors live to escape this nightmare? To find out, I highly recommend…THE KILLING JAR.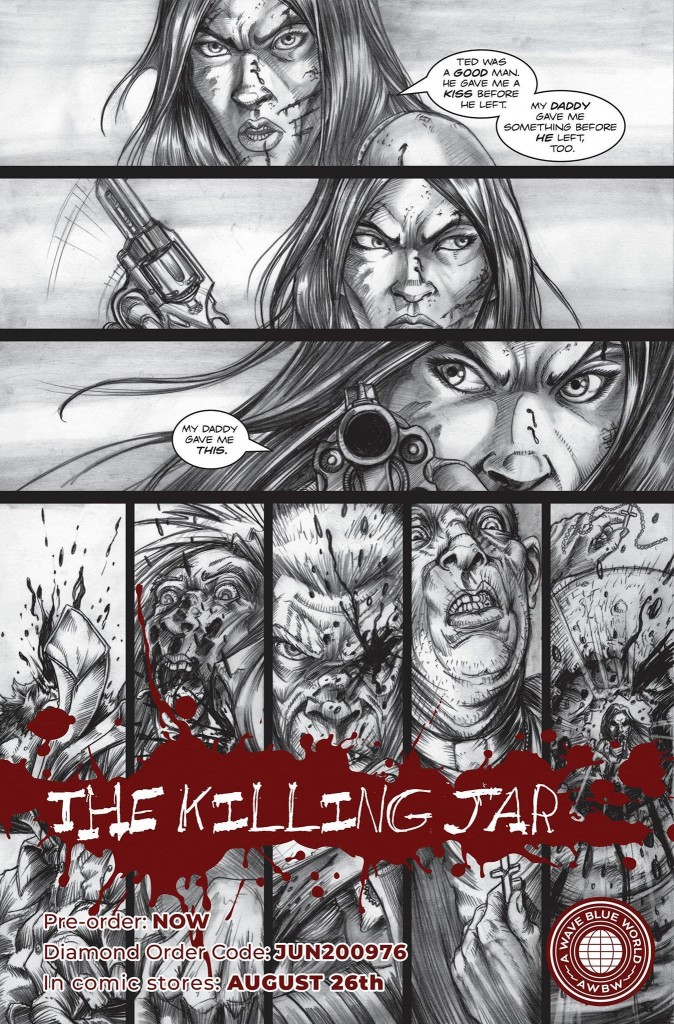 Justin Zimmerman's story is gripping, action-packed, and nightmarish. Reminiscent of that familiar feeling of horror reading THE WALKING DEAD. With black and white art amazingly drawn by Russell Brown that flashes right off the page and pulls you in, this new level of apocalyptic / zombie genre is sure to please.
I had the pleasure of speaking with Justin about THE KILLING JAR, and here is what he had to say.
Tony Northrup – Being a filmmaker, what inspired you to write a graphic novel? What were some of your comic book inspirations?
Justin Zimmerman – What's interesting about THE KILLING JAR is how it ultimately connected the worlds of comics and films together in my life. I'm now the COO of comic publisher A Wave Blue World (www.AWBW.com) while continuing to produce and direct films, and TKJ kicked all that off. This is the mid-2000's we're going back to here. I'd just wrapped a feature length commercial script Stephen King adaption for The Man Who Loved Flowers (I eventually directed my own version of the short story) and was trying to figure out what my next horror project should be. I was a professor in Colorado at the time, and everything just started clicking. I've always loved comics, and the project just seemed too big for the screen at that time. So, I started the graphic novel – my first – in 2008… and finally finished the project in 2012. My single greatest comic inspiration is Warren Ellis (there's a pretty big shout-out to him on a TKJ action page), but the inspirations for the graphic novel came from the screen. I wanted a rough, black and white, 16mm horror feel for the art a la Romero, and rugged, neowestern landscapes a la Miller. I got both working with Russ Brown.
TN – How did you discover the artist for the book and what was it like working together?
JZ – Russ and I met through a mutual acquaintance, and he immediately got the tone, look and feel I was after. Being from rural Idaho helped out a ton on that front, I think. But Russ was also a tight enough penciler that I could shoot the book from his pencils, doing digital inks and tones where necessary. I also lettered the entire book myself. I wouldn't recommend someone take on a 220+ page graphic novel as their first comic project, but I learn by doing, I had a vision… and I ultimately had a blast. Russ and I continued to work together after THE KILLING JAR, most recently on THE 27 RUN, one of my newer graphic novels.
TN – Would you say this is the next level of zombie comics?
JZ – If YOU say that I'll take it as a real compliment, though the townspeople aren't zombies, of course. I wanted to take some of the visual fixtures of that horror mainstay and mix 'em up for the modern world. But I also wanted to create a legitimate character in our lead, Anna, and surround her with a truly compelling cast of characters. It was important to me to turn preconceived notions on their heads anywhere I could.  In the end, I wanted to give the reader one hell of a ride. I'm so glad THE KILLING JAR is about to find an entirely new audience in the comic world.
TN – How long was the process from writing to print?
JZ – What's cool about the fact that the book is finally coming to comic stores nationwide is that it truly culminates over a decade of work. I am so grateful to editor and co-publisher Tyler Chin-Tanner for bringing THE KILLING JAR to the direct market for the first time in an astounding package. Check out the book trailer, preview pages and more here: https://www.previewsworld.com/Catalog/JUN200976
TN – When will we see a sequel to this book?
JZ – I would love it… and I have big plans. We'll just have to see how THE KILLING JAR does in the direct market! In the meantime, feel free to check out my other comic projects: THE 27 RUN, BROKEN FRONTIER and ALL WE EVER WANTED!
TN – Thank You Justin for taking the time to speak with us today and we wish you great success with your new graphic novel, THE KILLING JAR.