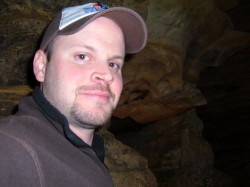 Drew was born March 17, 1976, in St. Louis, MO. He was a typical child of the 80′s, enjoying the films and music of the era he was growing up in. He also enjoyed going to summer camp, where he first discovered the world of Stephen King. One particular summer, while at camp, a friend let Drew borrow one of his Bachman books, (of course we know Bachman better as, Stephen King's alter ego), and Drew was hooked! Who would've thought years later that Drew would be part of the Stephen King universe, through the Dollar Baby Program.
Drew attended college in New York, at the University of Syracuse, majoring in film, with his minor in drama. He also spent 5 years in Los Angeles CA, working on films, and eventually moved back to the midwest. It was however, while in college, Drew had an assignment to make a short film, one that had to have a twist that would make it uniquely his own. Drew says "the story always appealed to me for a short film, and I considered doing an adaption my Sophomore year. Glad I waited". Drew instead, worked at various places, including Gateway Media, and the St. Louis Holocaust Museum and Learning Center.
He finally made his Stephen King Dollar Baby film, THE MAN WHO LOVED FLOWERS, in 1996.
Drew is close friends with Dollar Baby filmmaker, Doveed Linder (Strawberry Spring). Drew also enjoys life with his wife Margo, and his family, but his love for film continues, and he is proud that he was able to contribute to the Dollar Baby film program. Now I invite you to read my exclusive interview with filmmaker, Drew Newman….
TN: As a child, what was it that captured your attention as far as films were concerned? Secondly, when did you first begin reading Stephen King?
DN: My dad took me to see my first movie when I was around five years old. It was a re-release of Star Wars. Soon after, my mom took me to Raiders of the Lost Ark. Not a bad start, eh? I've been hooked on movies ever since. Also my introduction to Stephen King came several years later at summer camp, when my bunkmate lent me his copy of The Bachman Books. I borrowed it because I wanted to read The Running Man, but he insisted I start with Rage. If you were lucky enough to read it before King took it off the shelves, you know that was good advice. Almost 30 years later, and I've read just about everything he's written.
TN: You majored in film and drama at University, did you ever want to act full time, or did you feel more comfortable behind the camera?
DN: While I do enjoy acting, it's not something I want to do full time. Cameos are fun, though.
TN: Tell us how you met filmmaker, Doveed Linder (director of the Stephen King Dollar Baby Strawberry Spring)?
DN: We've known each other since we were kids, and went to junior high, and high school together. I think we first met playing soccer in a youth league. It was a total coincidence that we both did adaptations of, The Man Who Loved Flowers.
TN: Can you tell us where you were, and your reaction when you first heard back from Stephen King, giving you the "OK" to film, The Man Who Loves Flowers'?
DN: My experience was a little different from most of the Dollar Baby Filmmakers. I shot The Man Who Loved Flowers, back in 1996, while in film school at Syracuse University. My professor said I didn't need to get the rights since the project was a requirement for my degree. I actually found out about the Dollar Baby concept after the film was completed, but I figured it was too late at that point. It wasn't until about five years ago, when Bernd Lautenschlager contacted me, and suggested I make it official.
TN: What was the budget of the film, and how did that affect the running time of the film?
DN: The budget was around $2000, and had no impact on the running time. I think 5-10 minutes is the ideal running time for a short.
TN: What was the audition process like, and what did lead actor, Seamus Mulholland bring to your attention that won him the lead role?
DN: This was the second of three films Seamus and I collaborated on. I hand-picked him for the role because I knew it was something he could do. There aren't many actors who can exhibit that kind of range and willingness to go over the top, not to mention sing! He won a regional Emmy for the performance.
TN: Why did you chose Van Morrison's song, Brown Eyed Girl, and was there any other song you thought of going with?
DN: It just sort of occurred to me. The whole idea of making it a musical and using that particular song. I had the, Born on the Fourth of July, soundtrack in my car and listened to it quite a bit, so I'm sure that had something to do with it.
TN: What was it about Los Angeles that turned you off, and took you back to New York?
DN: Well, it was St. Louis I moved back to, although I would pick New York over LA in a heartbeat. It's all about the people. Of course I'm generalizing, but New Yorker's tend to be more real, while Angelenos are fake. I'd rather get shot in the face than stabbed in the back. Don't get me wrong, LA has a lot of great qualities. I still have good friends there. St. Louis is home. Always has been, always will be.
TN: Out of all the Stephen King short stories, what attracted you most to this one?
DN: I think it's perfectly suited for a short film, that's probably why there have been so many adaptations. One of my professors, Thomas Friedmann, compared the structure of the story to telling a joke. King put a lot of thought and detail into the set up and delivered a pitch perfect punchline.
TN: What changes did you make, to make this your own, as opposed to King's original text?
DN: Well, obviously turning the story into a musical was a big change. I also rewrote the dialogue between the Leisure Suit Man and the Flower Vendor, because I wanted it to match the overall wackiness of the singing and dancing.
TN: So many Stephen King fans want adaptations to be as close to the book as possible, how do you handle the pressure to keep the fans happy?
DN: Ultimately, you have to believe in your vision. I think Stanley Kubrick's, The Shining, is one of the all-time great horror films, but also a terrible adaptation of King's novel. There's room for both. Perhaps some King fans will take issue with turning The Man Who Loved Flowers ,into a musical. If I can get them to laugh in spite of their misgivings, though, then I'll consider it a success.
TN: What was the main goal you wanted to achieve about this film?
DN: To create something entertaining. (And to get a good grade.)
TN: Where was the movie filmed specifically, and were there any obstacles to overcome while filming there?
DN: Downtown Syracuse, New York. Weather was the biggest obstacle. Syracuse gets a lot of snow, so we had to wrap shooting while it was still nice out. That basically gave us the month of October. We only had to cancel one day of shooting due to rain, and the temperature dropped a bit when we went back for reshoots, but other than that the weather was perfect.
TN: How long was the filming process from start to finish?
DN: One semester, or about four months. Pre-production in September, production in October, and post-production in November and December.
TN: What is your greatest moment so far with the success of The Man Who Loved Flowers?
DN: Participating in my first Dollar Baby Festival back in 2011 in LA. It's the only festival I've been fortunate enough to attend. I enjoyed meeting the other Dollar Baby filmmakers, and being on the Q&A panel was a trip.
So, there you have it, another great adaptation of a Stephen King short story, to a short film through the Dollar Baby Film project. I am always amazed to see these fine films, and never grow tired of them, no matter how many times some of them are done. There is always a new way of looking at them through the vision of each director. I have certainly enjoyed this adaptation of THE MAN WHO LOVED FLOWERS, by director Drew Newman, and can honestly say I will never be able to listen to the song Brown Eyed Girl, by Van Morrison, again, without envisioning this film.
Tags: Drew Newman, DREW NEWMAN Interview
Posted in Interviews by Tony Northrup on January 29th, 2017 at %I:%M %p.