RANK: 8/10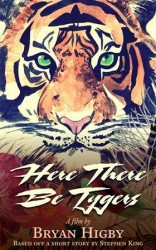 This is one of the very first short stories Stephen King had ever written in his career. He wrote it while in high school, and was first published in 1968, in Ubris magazine.
It was later republished in King's short story collection SKELETON CREW, in 1985. Considered one of the very shortest King stories he has ever written, it tells the tale of a little boy in elementary school, Charles (Charlie), who urgently needs to use the bathroom. His teacher, Miss Bird, is extremely mean and cruel, and belittles Charles about having to go. Eventually she gives in.
Upon entering the bathroom, he hears strange noises coming from one of the stalls. Finally, after working up enough courage, he ventures in and takes a look. To his utter surprise, there's a tiger in one of the bathroom stalls. When one of the classroom bullies comes to check on Charlie, he too hears strange noises. The boy ventures toward the stall as Charlie waits to see what happens next. Sounds of terror and horror can be heard coming from the stall. Hmmm, Charlie feels a bit vindicated. This story is considered one of King's most twisted tales.
In Bryan Higby's version of this Dollar Baby, he changed the genders of some of the characters, but the story remains in tact. His unique usage of sound and music lend to the imagination of the viewer as to what is happening in the bathroom stall. This definitely makes it creepy. With a talented young cast, and true to King's original text, Bryan Higby's vision of HERE THERE BE TYGERS, was definitely a Dollar Baby film that was well-done and enjoyable.
RANK: 8/10
Regista/Director: Bryan Higby
Usa
Tags: Bryan Higby
Posted in Horror by Tony Northrup on September 1st, 2019 at %I:%M %p.