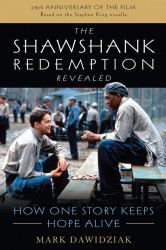 Mark's newest book THE SHAWSHANK REDEMPTION REVEALED, is a celebration of the 25th Anniversary of the film THE SHAWSHANK REDEMPTION, which was released in movie theaters October 14th, 1994. This film was directed by Frank Darabont, and features both actors Tim Robbins and Morgan Freeman, who give outstanding performances .
Shawshank is considered the number one favorite Stephen King book adaptation to film by fans around the world. Mark has written a great companion book for this film, which covers more than any fan could ask for. With chapters full of interviews, tons of behind-the-scenes stories, pictures, deleted scenes, comparison of the book to the film, and many stories from the locals in Mansfield, Ohio (where the movie was filmed), and just so much more.
I am a huge Shawshank fan, and there are things in this book that even I didn't know. Mark has a wonderful way of sharing his experiences in Ohio, speaking with cast, crew, extras, and everyone involved with the film. As you read the book you truly feel you are right there behind those prison walls, or at those locations around Mansfield where it was filmed. I also enjoyed reading about the Shawshank Tour, which offers a real inside look at Shawshank experience.
I have read many behind-the-scenes, and making of books, and I can honestly say THE SHAWSHANK REDEMPTION REVEALED is a must have, for not only those interested in films and how they are made, but a must have for all Stephen King fans as well. As I say, this book is loaded with great fun facts, and trivia galore.
Posted in Nonfiction by Tony Northrup on December 15th, 2019 at %I:%M %p.