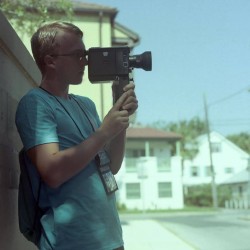 I've interviewed many Stephen King Dollar Baby filmmakers, but to my knowledge this is the youngest. A.J. Gribble was only 17 years old when he made his film adaptation of this short story, written by author Stephen King. But before we get to the interview, lets learn a little more about A.J. Gribble.
A.J. was born August 13th, 2001. He grew up in Wilkes Barre, Pennsylvania, where he went to grade school, before attending James M. Coughlin High School. He later studied at the Wilkes Barre Area Career and Technical Center. During his college years, he was a rock n roll/Heavy Metal music DJ, at Deep Cuts Radio on 88.5 FM WRKC, at King's College. From 2016 through May 2019, he worked at Sheil's Supermarket. A.J. studied writing, directing, and editing, and eventually graduated from Wilkes Barre Area Career and Technical Center, specializing in Audio Visual Communications. A.J. currently lives in Saint Augustine, Florida, where he continues to pursue his film career.
However, A.J. began making short films at the young age of 13. Before he made his first Dollar Baby debut, he made several short films, which included, TORMENT OF THE MIND, and was also co-director, and writer of, MY FRIGHTFUL NIGHT. He already had a passion for making films, and he first heard of the Stephen King Dollar Baby Program, in an article entitled: "50 Things You Didn't Know About Stephen King". A.J. knew right then and there, he wanted to adapt one of Stephen King's stories for the big screen.
I hope you will enjoy my exclusive interview with this young up and coming director, A.J. Gribble…
Tony Northrup – What was it like growing up in Pennsylvania, and now living inFlorida, and when did you first discover Stephen King? (book and movie).
A.J. Gribble – Growing up in PA is something I'm going to miss. Just turning 18 years old, and moving down to Florida is a huge change. But, it is so exciting! I grew up in Wilkes-Barre/Scranton… yes like in, The Office. It's nothing like the show, it's more run down than anything. I was lucky to move when I did, but it'll always be home to me. I first discovered King as a kid, thanks to my sister. She has every single one of his books, and she was always reading them. I always knew the name as a kid, but never really knew anything else about it. It wasn't until I was older, when she showed me Kubrick's The Shining, that I was blown away by it!
TN – Tell us about your experience working as a college radio DJ, and when you first start making short films?
A.J. G – It's funny you mention being a "college" radio DJ, because I was in high school when I started! I was the host of a rock/metal show every Tuesday, from 4-6pm, and it recently ended when I moved, but it was so much fun! I always took it seriously, and I had fun with it. I ran it for 2 years, and I was able to play whatever I wanted, I just had to keep it clean. That was the only rule. I am so grateful for having that opportunity at a young age because I met a really great friend, and also the composer of "Cain Rose Up". OneManStanding, or Brian Kutzor. I first started making short films when I was 13, by using my iPod camera . My brother and I would just make so many videos. Some good, and bad, but it was the start of something great!
TN – What are your short films "Torment of the Mind" and "My Frightful Night" about? Were they played at film fests, or was this just while you were at college?
A.J. G – "Torment of the Mind", is about a student who falls asleep in detention, wakes up, and starts to face the darkness in his mind, but will he ever actually wake up? "My Frightful Night", is about a teen who must relive the same day over and over again, after being killed in nightmares, by a deranged masked killer. Yes, both were played at festivals, and won a few awards, and both were made when my friends and I were in our A/V class in high school. Our team was named "The Cinema Boyz". We have so many other films that we have done that we are all proud of, the latest one "The Hunted", is our most successful.
TN – Out of all the Stephen King short stories, what attracted you to this one?
A.J. G – What attracted me to "Cain Rose Up", was the story, and how relevant it really is. Especially when I first purchased the rights in February 2018, that's when every week there was a new school shooting. So I felt that to make this, even though it was incredibly risky, was the right choice, and right story to use.
TN – What changes did you make as opposed to its original text?
A.J. G – The biggest change that I have made was to change the gender of the main character, Kate. In the original, the character is Curt Garrish, a boy who goes on a shooting rampage. I felt that to change the gender of the main character was a must, because in the news you never see a girl shooter, always a guy. So, I wanted to see what would make a girl want to do it? What goes on inside their heads? Little changes were just taking out some characters, putting different ones in, changing some dialogue, and adding a few more scenes to make it longer.
TN – So many Stephen King fans want adaptations to be as close to the book as possible. How do you handle the pressure to keep the fans happy?
A.J. G – I really don't haha! As a fan myself, I always want adaptations to be close to the original material. As a filmmaker, it's hard to keep things close ,because sometimes things just don't work on the screen as they do in a book. Some things are just not able to be filmed, so I try to keep the best of both, keep the main story and details from the material, and also add some original things to make it my own.
TN – What was the main goal you wanted to achieve with this film?
A.J. G – What I wanted to achieve from this film, was for people to be more aware of what's going on in other people's lives. I also wanted people to enjoy the film.
TN – Where was the movie filmed specifically, and were there any obstacles to overcome while filming there?
A.J. G It was mainly filmed at King's College in Wilkes-Barre, PA. No there weren't any obstacles, just little hiccups. The college gave us permission to film, and everything went great, but it was campus security that gave us a little trouble in the beginning. They stopped us a few times, but that was mainly it, filming went pretty smoothly.
TN – How long was the filming process from start to finish?
A.J. G – Bought the rights in February 2018, writing took a few months, after, filming started in May/June. Editing took a few months, then music took until January/February, which is when it premiered.
TN – With the headlines today full of deadly shootings, and innocent people dying (like the recent shootings in Texas and Ohio), was it difficult to chose this story of King's, since it involves a college student who goes on a deadly shooting spree? Was there tension on-set because of this, or did you handle this project with special care?
A.J. G – Not really, it wasn't difficult choosing it. The main reason I chose it was to bring awareness to it (mass shootings). The tension was a little high on set, but everyone was respectful of it, and treated it with care.
TN – What's the greatest achievement so far with the success of CAIN ROSE UP?
A.J. G – Some people might say "awards, festivals, nominations, wins", as the greatest achievements for their film. I might say that also. But honestly, the greatest achievement so far has been the friends and the relationships the cast and I have made. They are the best friends, and most hard working people I've ever met, and I'm so thankful that I got to make this with them.
TN – Which story of Stephen King's would you like to adapt on a larger scale?
A.J. G – Ah… now that's a tough one. If I ever got the chance, I would make a proper adaptation of The Dark Tower series. It totally deserves to be done right.
TN – You began making short films at the age of 13, and you made your first Stephen King Dollar Baby film at 17. You are the youngest Dollar Baby filmmaker I have interviewed, and know of. Do you feel age does, or doesn't matter when it comes to creating films, and getting your vision out there for others to enjoy?
A.J. G – Not at all! If you have stories to tell and want to make films, then go for it! No matter how old you are.
TN – Where can fans see your film, and will it be playing at any film fests in the near future?
A.J. G – Well, I'm sure people know that you can't release the film publicly online, but if anyone wants to view it, contact me for private viewings. In the near future, it could be! It's still in the festival circuit, so it could be at a few more in the future.
TN – Lastly, what's next for A.J. Gribble?
A.J. G – I am currently editing a new film that I have directed, so be on the lookout for that. A I'm also writing a feature length film, and hoping production can begin within the next few months, or early 2020!
Posted in Interviews by Tony Northrup on October 20th, 2019 at %I:%M %p.