RANK: 9/10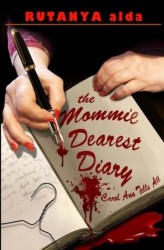 I have read many autobiographies in my life. I've found them to be the answer to that question many of us may have: What REALLY goes on behind the scenes? Some bio's play it safe and sugarcoat, while others go ALL out, and tell it like it is. In this case, actress Rutanya Alda, has done that very thing, gone all out, and tells it like it is.
She also takes us back to the very beginning, as a child in times of war in Europe, during WWII. Later she takes us on her journey as an aspiring actress in Hollywood, to the successful in demand actress she has become, over the span of 50 years. I found this book to be one of the most interesting, educational, and heartwarming autobiographies I have ever read. At times, it even brought a tear to my eye. I urge anyone who likes a good read, one about the rags to riches story, so to speak, and a tell all, to definitely pick it up! I highly recommend… MOMMIE DEAREST DIARY – Carol Ann Tells All.
RANK: 9/10
Tags: MOMMIE DEAREST DIARY, Rutanya Alda
Posted in Nonfiction by Tony Northrup on March 10th, 2016 at %I:%M %p.