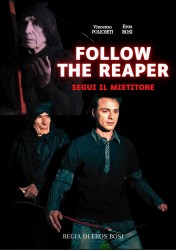 Il buon Eros Bosi si sa, non riesce a stare fermo, senza sperimentare o raccontare il suo modo di fare cinema. La sua è una passione pura, impossibile da fermare. Eppure sono passati 4 anni dal suo ultimo lavoro, ma finalmente l'autunno del 2023 lo sta portando a riemergere o meglio a seguire l'oscura signor"a" (qui nelle vesti di un uomo).
Eccoci quindi a presentarvi il trailer dell'imminente "Follow The Reaper – Segui Il Mietitore". Buona visione:
Tag:eros bosi, FOLLOW THE REAPER, trailer FOLLOW THE REAPER
Posted in News by Giulio De Gaetano on novembre 5th, 2023 at %H:%M.