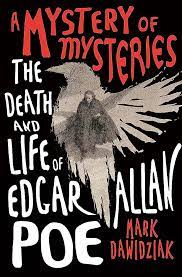 When it comes to horror in literature there are some names that not only stand out but have stood the test of time and have made literary history. Mary Shelley, H.P. Lovecraft, Bram Stoker, Stephen King, Anne Rice, and Joe Hill are just a few. However, there is one author that has not only changed the horror writing genre as we know it, but has been the inspiration for just about every author thereafter….Edgar Allan Poe. Poe is the ultimate gothic horror author for generations, and has been studied, discussed, and analyzed for decades, yet there is one thing about Poe we still find ourselves asking…how did Edgar Allan Poe die?
Author Mark Dawidziak brings us to the heart of this mystery in his new book, A MYSTERY OF MYSTERIES: The Death And Life of Edgar Allan Poe. Mark is no stranger when it comes to writing about illustrious authors. He has written books about Mark Twain, Stephen King (King's film THE SHAWSHANK REDEMPTION), Rod Serling (EVERYTHING I NEED TO KNOW I LEARNED IN THE TWILIGHT ZONE), Jim Tully (dubbed the father of hardboiled fiction), and Bram Stoker (The Bedside, Bathtub, & Armchair Companion To Dracula: The Essential Guide to the Un-Dead) just to name several.
We do know that Edgar Allan Poe died on October 7th, 1849 in Baltimore, Maryland. However, no one truly knows just how Poe died. In Mark's new book, he covers every step leading up to Poe's death. There are some flashback chapters as well which speak of Poe's younger years, loves, friends, and enemies he made throughout his lifetime. This book covers the dark, depressing, and insecure life that Poe lived. Poe might've been a literary genius, but he suffered major depression and doubt, not only of his work, but self doubt as well. He also had major financial troubles, as well as complications and troubles with the many loves in his life. These relationships would oftentimes cause anger, jealousy, and even death threats from the men involved with the same love interests as Poe, creating an unwelcome love triangle at times.
This book covers all the usual ways Poe could have died, including syphilis, rabies, alcoholism, drugs, murder, and suicide. Mark breaks down each possibility, and whether that could be the true cause of Poe's death. I have read Poe's work, and I've found his life truly amazing, as well as dramatic, sad, and tragic. Reading Mark's book has further made me question what truly happened to this author, who, of course, had no idea then the impact he would come to have not only on the literary world, but the world of pop culture as we know it today.
Edgar Allan Poe has not only inspired writers, but filmmakers, artists, and musicians as well. I found Mark's book entertaining, intriguing, gripping, dark, and yes, sad at times. Poe's death will most likely remain a mystery, however, what's not a mystery is that he is, and will always be one of the greatest authors of all-time. Author Mark Dawidziak's book is one of those fascinating pieces of work that helps keep the extraordinary life, and legacy of Edgar Allan Poe alive!
I had the great pleasure of interviewing Mark regarding his new book…and here is what he had to say.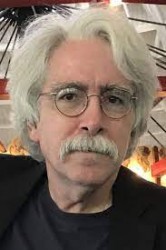 Anthony Northrup – At which point in your life did you discover and begin reading the works of Poe?
Mark Dawidziak – Edgar Allan Poe is extraordinarily fortunate to have remained in the basic public and private school curriculum for several generations. So most get introduced to Poe around the seventh grade, which, by the way, is a great age to first encounter him. Then he remained in the curriculum through high school and then into basic college literature classes. But I became a horror fan at the age of seven, so it wasn't long after that I became aware of this writer named Poe. Somewhere around the age of eleven, I ordered a book from the Scholastic Library catalogue titled "Ten Great Mysteries by Edgar Allan Poe." It contained "The Black Cat" and "The Tell-Tale Heart," among others. This was the start. It was, in fact, the foundation of an ever-growing Poe library. And, yes, I still have that little Scholastic paperback.
AN – You have written about several notable authors and their works, including Mark Twain, Rod Serling, and Stephen King. What inspired you to take on Poe?
MD – Poe, like Twain and Serling, are writers I've carried throughout my life. But I would never have put myself forward as the likely candidate to write the next biography of Poe. My ego is fairly healthy, but that's a level of hubris beyond me. It was an editor at St. Martin's Press who suggested I tackle a biography of Poe. My book on "The Twilight Zone" had done well enough for St. Martin's for us to have the "next book" discussion. I hit him with my best can't miss idea, and, well, it missed . . . badly. He wasn't the least bit interested. So he proposed a topic, and I didn't like his idea. We went back and forth like this a few times. We were just about to table the conversation for another day, when he said, "What about Edgar Allan Poe?" I asked him why he'd said that, and he said because he believed Poe checked a lot of my boxes. I asked him why he thought that, and he replied, "Well, you've written about heavyweight horror topics like 'Dracula,' Kolchak, Stephen King, 'The Twilight Zone.' You've written a landmark history of a major mystery character, Columbo. You've written a literary biography. You've written about a major 19th-century American author with the Twain books. Poe was a critic most of his professional life, you were a critic most of your professional life. How does this not check all of your boxes?" But then it became a question of what kind of book he wanted me to write. It quickly became clear that he wanted a book that would solve the enduring mystery of how Poe died — the kind of book that appears every few years and claims to have definitively settled the question of who Jack the Ripper was. At that point, I said, look, this is a cold case. There was no autopsy. There was no death certificate. There was no surviving soft tissue that could be subject to modern forensic tests. And the only witnesses to Poe's death are not only highly unreliable, they contradicted each other and sometimes themselves. The attending physician, for instance, left three wildly different accounts of how Poe died, going so far as to change his last words and the time of death. So, I concluded, if that's the kind of book you want, you'd best find yourself another lunatic, because this one is driving away. But I am much more interested in how Poe lived than how he died, so I'll tell you what kind of book I will write. How about a book that examines Poe's life through the filter of his mysterious death. If I can settle on a cause of death that I think is logical, compelling and convincing, I will present it at the conclusion, but I won't go so far as to claim I can prove it. He liked that idea, so we were off to the races.
AN – When did you begin writing the book, and were there any challenges while doing your research for it?
MD – The conversation with the St. Martin's editor was in the fall of 2019 and the book was published in February 2023. I did the bulk of the research and writing from late 2019 to mid-2022. I ended a 43-year newspaper career in April 2020, so, for the first time, I could devote myself to the writing of a book without balancing the demands of a day job. Also, Covid and quarantine hit about the same time. This was an advantage and disadvantage. I was not free to travel to archives, museums and university collections for research. But the curators and archivists at these institutions had a lot of time on their hands because of Covid, so they were incredibly eager and supportive, promptly sending digital copies of requested materials (and suggesting I look at materials I hadn't requested).
AN – What fact in Poe's life did you find most fascinating while writing this book?
MD – My goal was to understand the real writer behind those stories and poems, because the stereotype of Poe didn't make sense to me. So while I knew he was witty, athletic, versatile and prolific, I constantly was fascinated by how deep all of that ran. The horror and mystery stories, while miles ahead of anyone else working in those genres at the time, were just a small fraction of his overall literary output.
AN – Poe lived a very sad, tragic, and dark life. Describe your personal thoughts about this legendary author?
MD – Poe not only was a genius, he was somewhat cursed because he knew how good he was. This doomed him to an inevitable conflict with the literary guardians of his day. He was so far ahead of everyone else, he never was going to be appreciated in his lifetime. But Poe has had the last laugh. He has outlived all of those writers who were going to outlive and outshine him. Nobody reads them anymore, but everyone gets Poe.
AN – What would you like most for readers to take away from reading your book on Poe?
MD – That Poe was not the caricature we've made of him. He was an incredibly dedicated and careful artist, and his stories were born of that dedication and care, not of madness or gloomy fever dreams fueled by alcohol and drugs. There are long periods of sobriety for Poe (although alcohol definitely was a problem for him), and there is absolutely no evidence of him taking drugs beyond those medically recommended.
AN – How would you compare Poe to Stephen King?
MD – Each was the preeminent horror writer of his day, but while horror accounts for the majority of King's writing, Poe wrote not only horror but mystery, poetry, humor, hoaxes, satires, journalism, essays and reviews. Indeed, in his lifetime, unlike King, Poe was not primarily known as a purveyor of spooky tales. He was best known as a literary critic, and a very exacting one. His nickname was the Tomahawk Man. In his lifetime, Poe was known first as a critic, second as a poet and third as the author of horror and mystery stories. Our century has reversed that order.
AN – Was there a book tour for this book? If so, what was that like, or any other means of promoting the book?
MD – No formal book tour, but I've done dozens of talks about Poe, as well as a steady run of podcasts. The podcasts have run the gamut from horror and supernatural specialists to mystery, history, literature, true crime and biography. As one Poe scholar put it, everyone wants Edgar Allan Poe playing on their team.
AN – Without giving away the ending, what are your feelings surrounding the cause of Poe's death?
MD – There are currently about 25 theories about how Poe died. If we tackle this like a criminal investigation and we take each of these possible causes as suspects, then I think there's one primary person of interest we keep getting back in the interrogation room. And it's the one with the most means and opportunity. Which is not to say there weren't contributing factors — accomplices, if you will. Alcohol would be one of these. It's clear drink had a devastating effect on Poe's system, but alcohol probably wasn't the problem most people think it was. The evidence is overwhelming that it took very little alcohol to make Poe roaring drunk. He probably was allergic to it. And then it took him days to recover. It never was a simple morning hangover for Mr. Poe. And Poe always seems to pick just the wrong time to drink, when it will do his reputation the most harm, just as he always seems to find just the wrong time to pick a fight. So he wasn't drinking all the time. Again, there are these long periods of sobriety. But when he does drink, it takes a toll.
AN – What is next for author Mark Dawidziak?
MD – I'm eager to get going on a revised edition of my 1997 book, "The Night Stalker Companion," the history of the Carl Kolchak character played by Darren McGavin.
I want to thank Mark for taking the time for this brief interview today. I found his answers offer a much deeper insight into Poe's life other than the stereotypical, perhaps misconception most of us may have. I have no doubt that author Mark Dawidziak will be among those who have also written about Edgar Allan Poe (as well as the many other books he's written) cementing his own name in the literary world for decades to come.
Tags: A MYSTERY OF MYSTERIES: The Death and Life of Edgar Allan Poe, Mark Dawidziak