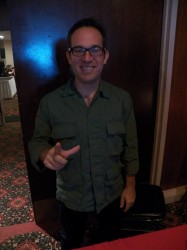 When you ask many movie fans which decade was their favorite time for films, they'll pretty much include the 1980′s. When you ask these same fans which horror film is one of their favorite of that decade, you can make a Vegas bet that they'll say, The lost boys!
In 1987, there were many great films to hit the box office. Films such as LETHAL WEAPON, PREDATOR, ROBOCOP, MOONSTRUCK, THE UNTOUCHABLES, FATAL ATTRACTION, WALL STREET, and THE PRINCESS BRIDE, were all released in 1987 and did well. However, it was the horror genre that brought in the big bucks with the teenagers and young adult audiences that year, with films such as NIGHTMARE ON ELM ST. Part 3, HELLRAISER, EVIL DEAD 2, NEAR DARK, JAWS:THE REVENGE, and the biggest draw of the year in horror films, THE LOST BOYS.
Directed by Joel Schumacher, The lost boys, became not only the biggest horror film of 1987, but one of the biggest horror films of the decade, and is considered the biggest money making vampire film of all time!
Horror film enthusiasts over the decades have enjoyed this story about two brothers and their mother, who leave their home in Arizona to live with their grandfather, in what seems to be a quaint, sunny seaside California town, only to find out it is overrun by long-haired, heavy metal music loving, motorcycle riding, havoc wrecking…VAMPIRES!
This film hosted an all-star cast, which included Kiefer Sutherland, Jason Patric, Jami Gertz, Dianne Wiest, Edward Herrmann, Corey Haim, and as the "Frog Brothers", Jamison Newlander, and Corey Feldman.
Breaking box-office records, a multi-hit soundtrack, and a cult following that is going into its 4th decade, The lost boys had become an instant classic that will last for generations to come.
However, this is not a film review of The lost boys, but rather an exclusive one on one interview with Newlander, who played the character Alan Frog, in the film. However, before Jamison was a "Frog Brother", he had to start at the beginning of what would become a very impressive career in film, and on stage.
Jamison Newlander was born on April 2, 1970, and lived in Woodland Hills, California. He graduated from Beverly Hills High School, and went on to attend the University of New York, where he received his B.F.A. in Acting at NYU. He later began his acting career on stage in New York, Vermont, Kentucky, and California.
Jamison also appeared along with Jason Bateman and Valery Harper in the 1980′s television series, Valerie. It was in 1987, and still a teen, that Jamison landed the role of a lifetime, in the box office hit The lost boys, playing Alan Frog, part of the vampire-killing duo the "Frog Brothers", along with Corey Feldman, as Edgar Frog. In 1988, Jamison was also cast in the horror film remake THE BLOB, with Kevin Dillon, and Shawnee Smith.
In 1996, Jamison returned to the stage in the award-winning play, "Remember This", at the Actors Theatre of Louisville, Kentucky. Taking a break from acting, it wasn't until 2003 that he returned to film, starring in "Rooster", which played at film fests across the country, including The Hamptons International Film Fest.
In 2008, Jamison returned to his famous character as "Alan Frog", in The lost boys: The Tribe, but unfortunately his scenes were not in the final cut. However, in 2010, Jamison returned one more time as "Alan Frog", for the third, and final LOST BOYS film, The lost boys: The Thirst, in which he had a major role again, playing opposite his on-screen "Frog Brother", Corey Feldman.
Jamison currently lives in Southern California, with his wife Hanny, and their two young sons, Nathan and Azi.
While I was covering the Crypticon Horror Convention in Bloomington, MN, in October 2014, I had the honor and pleasure of sitting down with Jamison for an exclusive interview. What surprisingly turned out to be over an hour long, my time visiting with Jamison was not only exciting, but very reminiscent because we swapped stories of growing up, and living in Southern California in the 1980′s, and what an awesome time it was. We laughed, we remembered some good times long gone, and we became friends.
The following is my exclusive sit down interview with Jamison Newlander at the convention, and also through a series of follow-up questions. I hope you will enjoy reading this as much as I enjoyed doing this interview with Jamison.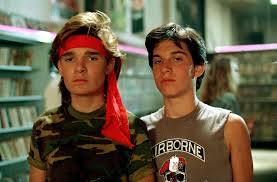 Q. There seems to be a comparison between The Lost Boys and new generation vampire films such as Twilight. What makes The Lost Boys such an iconic film and fan fav film?
A. I never watched Twilight. Vampires were dark/evil throughout vampire lane. Case In Point: Edgar Frog: [the Frog Brothers walk in the room, carrying loads of stakes. To Sam] Okay, where's Nosferatu? Sam Emerson: Who? Edgar Frog: The prince of darkness. Alan Frog: The night crawler. The bloodsucker. Edgar Frog: El Vampiro. Sam Emerson: Mike! They're here!
Q. How fun was it filming the "comic book store" scene, and what was the backstory to the Frog Brothers "hippie" parents?
A. The comic books were on loan. We weren't allowed to touch anything! Everything was laid out just right, rows and stacks of comics. The Frog parents were Santa Carla "hippietown". The Frog Brothers were the true runners of the store.
Q. What was your most memorable moment with the late Corey Haim on set?
A. We loved hanging out…we were kids, 14/15yrs. and just "hungout". I lived in Beverly Hills, we rode our bikes to the beach. We were kids…just kids. Haim was the "industry kid". He was an incredible talent.
Q. You had more screen time in Part 3, why weren't you involved in Part 2 as much? Was it personal choice?
A. Part 2 didn't involve any of us. Corey Feldman was in for sure. Not important to fans to have the Frogs back. Feldman said, "Can't have a new thing." Feldman was right. They tried to even get "Maddy" back. There was no real connection to the first one (film).
Q. Would you return for a Lost Boys 4 or a "reboot" or TV series?
A. I would come back. I want to see a really good one. All 3 films have individual good points. If there was something real great, I'M IN!
Q. What were the older cast members like (Dianne Wiest, Edward Herrmann) to work with?
A. They were lovely, amazing..really amazing. Gracious. Pros. Edward Herrmann gave great advice on set, and to Corey Feldman. He told him: "Corey, Stand By Me (the film), was so great. You don't understand." and Corey replied, "Oh, I understand!"
Q. Share with us one funny memory from The Lost Boys that stands out in your mind?
A. During the "Bathroom Scene", it had the worst slime! They said the slime was "too red" and we couldn't have too much gore they told director Richard Donner. So, we showered in Donner's office, we were all clean, filmed the scene, wrong again, go back, take another shower, do it all over again and again. And sitting in a pool of slime with Corey Feldman was a good time too!
Q. Out of all the horror films in the 1980′s, what attracted you most to The Lost Boys?
A. Well, out of all the other horror films in the 1980s, I was cast in The Lost Boys. I was at a place in my career when I was happy to have auditions, and happy to be taken seriously, and I would've probably played a lamppost in a B movie. I was incredibly fortunate to wind up in that audition, and for it all to align the way it did. Now, having said that I'll also say that I could tell from reading the script that this was something pretty special. Maybe that combined with Joel's vision for it. He was so excited about it, and it was really that excitement that carried through in the movie. It clearly guided him in every detail of the movie, and it was a contagious feeling.
Q. What changes did you do to prepare for your role in the film?
A. I was in that physical transition between being a tween and a teenager. I really got serious about working out – or my version of it, which was doing like 100 pushups and sit ups a day. I was trying to turn my childhood body into a young man's body. Joel also suggested screaming into a pillow to make our voices more gritty and real. I didn't do that exactly, but that direction helped me understand what he wanted from me. He wanted real boys who hung out at the beach in the summer.
Q. So many Lost Boys fans wanted the sequels to be as close to the original as possible, how do you handle the pressure to keep the fans happy?
A. It's hard to balance what the fans want versus the direction the studio wants to take the franchise. For 20 years between the original and the sequels, I tried to come up with versions of the story that would be what I felt the fans wanted – because I'm also a fan, even though I'm also in it. One of my later ideas I pitched to the Coreys on their Two Coreys reality show, season 1. But there were a lot of ideas out there, and they weren't looking to me for story ideas. I decided that really for this project I'm an actor, not the writer or director. The biggest thing that was in my control was to make sure that Alan Frog was still as badass as possible. Corey and I were really intent on giving the Frog Brothers that same kind of energy, that's why the fans like us to begin with. So at the end of the day, that's what I did.
Q. What was the main goal you wanted to achieve with this film?
A. In Lost Boys: The Thirst, I wanted to offer a deeper look into Alan. The version we see in the original was pure hero — bold and fierce and confident in that. But this was a more nuanced guy. I'd been through a lot since then, and seen a lot of things I wish I hadn't. I knew something about that from my real life. There's something that happens when you grow up, life doesn't always play out according to the plans you make when you're 15. I felt if I could bring that new layer to the movie, I'd feel like I achieved something.
Q. Where was the movie filmed specifically, and were there any obstacles to overcome while filming there?
A. The original Lost Boys we shot in Santa Cruz, California. Well, it's hard to imagine that I felt any obstacles at all. I was in heaven. Working on a big film like that with all those great actors. There was one obstacle to shooting up the coast from where I lived now that I think of it. I was actually a pretty serious student in high school, and the shoot was still happening over finals week. I wasn't working that much in that one week of finals, so I actually quickly jumped out of there and back down to L.A. to finish up my final exams. Now that I look back at it, it was not a smart move. They could easily have changed the schedule, and then if they'd found out I wasn't there, they'd have been really mad. I'm glad that didn't happen. We shot The Thirst in Cape Town, South Africa. There were tremendous personal challenges. My son Nathan was just one year old. I decided it would be a good idea for all three of us, me, my wife Hanny, and my son to go together. That was kind of a mistake. First, because we had to take two 12-hour flights to get down there, and by the time I arrived, I was so fried. We literally got off the plane, our bags loaded in the car, and I got a call from the assistant director to come to set for a combat rehearsal. I'm not sure how I did it. There were a lot of things like that, trying to balance the comfort of my family, and then trying to get enough sleep to be fresh on set.
Q. How long was the film shoot from start to finish?
A. The original was about four months, basically all summer long, and a little bit more on each end. But of course, there was auditioning for it, then shooting it, then doing post production and stuff. So, I'd say if you include that it was more like a year. The Thirst was six weeks. But the lead up to it was forever. They were talking about it for at least a year before it happened.
Q. What is your greatest moment so far with the success of The Lost Boys?
A. Well, it may seem odd, but so far the thing that feels the best about this whole ride is how I was able to get back in touch with the fans. There was a long time when I just didn't have any contact with fans. I knew that people loved it, and from time to time I'd come across people who were psyched to hear I was a Frog Brother. But then I started doing horror conventions, and I started really meeting people and talking to them. I found out that we all were so happy to connect and talk about it together. With Twitter, I do that almost daily — I have quick conversations with fans and people I've met at conventions. That's kind of the sweetest part, and therefore I'll classify that as my greatest moment. Even though it was a number of moments.
Q. Do you have plans to direct someday?
A. I tried to direct, and I'm not bad at the artistic side of it. But I don't make a very good director because it's hard for me to keep a focus on all of the different pieces. Same thing with producing. It's not that I'm not fairly intelligent, but being the leader of a team just isn't my thing, I don't think. I'm better as an artistic cog in the bigger machine. For me, that means acting and writing.
Q. You were in the 1988 remake of The Blob. What are some of your fondest memories of that film and just what was "the blob" made out of?
A. I loved working with the director, Chuck Russell. I just thought he was such a great guy and had so much talent. He's really why I was in the movie. We had a connection right away.
Q. Was it (the blob) pretty sticky and nasty? *laugh*…
A. It's so funny to think about it like that because it really wasn't that bad. On the set it was just a bunch of jelly stuff that they'd use here and there in different ways. I was never full on attacked by it actually. They had sheets of it that they would put over the actors, and other balls of it. Not anywhere near as bad as the vampire guts in Lost Boys.
Q. You are a family man, how difficult is it being on the road filming and/or going to Conventions?
A. Usually when I'm away from my family for business it's really hard saying goodbye, but then there's a kind of freedom and euphoria of being on my own — which always makes me feel like I'm 17 again. Then after a few days, that fades and I miss them. So it's mixed. I haven't yet had to be away for a couple weeks or more. My guess is that would be hard.
Q. Final Question, What's next for Jamison Newlander?
A. So, in order to make my way in this thing they call real life, I've had to do a bunch of different things. I currently make most of my living as a writer, including advertising and marketing copy writing. That, plus starting a family, has really taken a lot of my free time. But little by little, as my boys are getting a little older, and things are getting more manageable, I've started putting my hat in the ring a little more with acting. I got three roles last year — still minor roles, but good projects. One is" Bone Tomahawk", a horror western with Kurt Russell and a bunch of other greats. I also did a trippy horror film based in Los Angeles called "Opus of an Angel", and I played a psychiatrist in a smaller movie called "Sky Harbor", by up-and-coming director, Brian Farmer. So, this is the beginning of me getting serious about acting again. I'm hoping this year keeps the momentum going.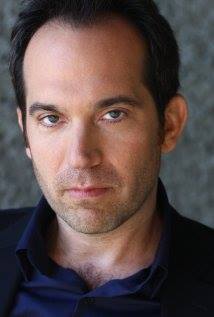 Well, what a great time I had chatting with and interviewing Jamison. He is as easy going and friendly a guy you could ever hope to meet. This is a writers dream to be able to connect so easily with someone during an interview.
Jamison Newlander made film history in 1987, and he has proven to be not only a wonderful talent, but a funny/down to earth stand up guy, and a good friend. When I asked him just what made The lost boys so special, he replied, "It captured summer. It captured youth and good times." On a personal level, I can say from experience that he is 100% right. The Lost Boys will always be a part of my growing up in the 1980′s, and in my heart when I've watched it over the years, I too am transported back to that specific summer… 1987.
I want to thank Jamison Newlander, for taking the time to visit with me at Crypticon MN last year, and his patience for what turned out to be a great interview, and walk down memory lane. You can catch up on Jamison's latest projects at his fanpage on Facebook, and you can find his films on Amazon and Netflix.
So as I close, I want to leave you with one quote by Grandpa from, The lost boys: "One thing about living in Santa Carla; I never could stomach; all the damn vampires…"
Posted in Interviews by Tony Northrup on April 18th, 2015 at %I:%M %p.