RANK: 8.5/10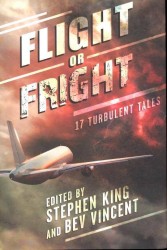 When we think of those things in life that scare us, many come to mind. Disease, war, death, can be a few of the big ones, but there are simple things as well, spiders, snakes, clowns, claustrophobia, and even the fear of heights. However, there is another fear many people have, FLYING!
Critically acclaimed, and award winning author, Bev Vincent, has written several books, and is most noted for his, THE DARK TOWER COMPANION (a handbook for the Stephen King book series THE DARK TOWER), as well as many short stories. Recently he has teamed up with author Stephen King (one of the most acclaimed horror authors of our time), to bring us a new collaborative piece of work…FLIGHT OR FRIGHT!
Stephen King, author of such classic novels as, THE SHINING, IT, PET SEMATARY, CHRISTINE, THE DARK TOWER, just to name a very few, has been scaring us for over 40 years. He has written many novels surrounding basic fears. Dogs, cats, cars, ghosts, hotels, aliens, even other worlds. Now King and Vincent come together, along with King's son, best-selling author, Joe Hill (NOS4A2, THE FIREMAN, 20th CENTURY GHOST), to all scare you even further. With new stories by these three, FLIGHT OR FRIGHT, also revisits classic tales surrounding the fear of flying from other well known authors, such as Richard Matheson, Ray Bradbury, Roald Dahl, Dan Simmons, and several others. With a total of 17 tales to scare and entertain you, FLIGHT OR FRIGHT is a real page turner!
Stephen King's story, THE TURBULENCE EXPERT, is about a man who flies not only for work, but for a "higher purpose". It reminds me of King's earlier writing style, and by the end of the story, I was left wanting more. In Joe Hill's story, YOU ARE RELEASED, we are watching a zombie scenario unfold, which the passengers are oblivious to, until it's too late. It was both frightening and realistic, in step with our times. I would love to read a sequel to this story. Lastly, Bev Vincent's story, ZOMBIES ON A PLANE, pretty much says it all by the title. What's more frightening than being trapped on a plane with zombies! It had a nice twist, and I always love the zombie genre.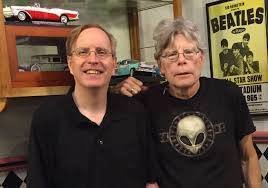 There are several other stories in this book that were previously released, some many years ago, however, they are still impressive, and deserve a read. You may recognize some of these titles, NIGHTMARE AT 20,000 FEET (later adapted as a TWILIGHT ZONE episode), LUCIFER! (nice spin on the time travel genre), DIABLITOS (a story I definitely consider creepy), and AIR RAID, which is both strange and enjoyable, and would perhaps make for a good film adaptation.
There is one reprinted story though, I absolutely loved, written by E. Michael Lewis, titled, CARGO. It's a horrifying ghost story surrounding the real life tragedies of Jonestown. This story really did scare me because of the particular events it was based upon. With Halloween just around the corner, I would definitely recommend you pick up a copy of, FLIGHT OR FRIGHT! From a great introduction by Stephen King, an equally interesting afterword by Bev Vincent, you are sure to be entertained. FLIGHT OR FRIGHT makes for good reading, especially on an airplane, thousands of feet in the air, and nowhere to go!
RANK: 8.5/10
Tags: Bev Vincent, FLIGHT OR FRIGHT, FLIGHT OR FRIGHT review, Stephen King
Posted in Horror by Tony Northrup on October 9th, 2018 at %I:%M %p.