RANK: 8/10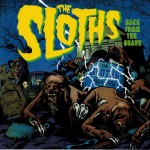 When I'm not doing reviews for movies or books, I enjoy doing interviews. This time I'm visiting with a good friend, director/musician, Tommy McLoughlin. Some of you might remember that I interviewed Tom prior for the Tri County Sun, in October 2014, when he and I discussed the new biographical book release entitled, A STRANGE IDEA OF ENTERTAINMENT: A Conversation with Tom McLoughlin, by author, Joseph Maddrey. Back then, we talked about the book, his life, and his film career. Seven years later, I'm thrilled once again to bring you a new review and interview with him.
However, this time we venture down a new path with Tommy, that of lead singer for THE SLOTHS, a talented and accomplished musical group.
Tommy McLoughlin is no stranger to the stage, as this journey started long before he became a well-known and respected director. With such films as, ONE DARK NIGHT, DATE WITH AN ANGEL, FRIDAY THE 13th PART 6: JASON LIVES!, STEPHEN KING'S SOMETIMES THEY COME BACK, and over 40 other movie titles, his film directing career has been diverse. It's no wonder, as his career began on the stage, and ended up behind the camera. I'd guess you could say he's come full circle, as the band he formed began in the late 1960′s.
After a long hiatus, THE SLOTHS are BACK! I had the pleasure of speaking with Tom for over 2 1/2 hours about his music career, days gone by, and the reunion of 'THE SLOTHS'.
Before we get to the interview, here is my review of the CD, THE SLOTHS – 'Back From the Grave'!
In the 1960′s, music went through some of its biggest changes in history. The decade started out with crooners, folkies, Motown, and then from across the pond four mop tops known as 'The Beatles' hit the charts, and the world of music was never the same again. It was an invasion, to be more exact, 'The British Invasion'. Bands from the UK came to the United States in droves and dominated the airwaves. However, by the late 1960′s the music scene took a huge turn with the hippie movement. The "Summer of Love", and rock & roll took on a psychedelic sound, which led to edgier, tougher, and a harder rock feel.
It was during this late 60′s, the band, THE SLOTHS started as a garage band, and ended up on the road with some of the biggest music acts of that era. They were very popular, played sold out shows, and fans packed the venues to see this amazing new band. However, the life of a rock & roll band is never certain, and "things happen" (as Tom will explain in the following interview), and the band broke up.
It was in 2011 they (The Sloths), reunited, and their first album since the late 1960′s, BACK FROM THE GRAVE was released. When it comes to music it either takes me awhile to like a song/album, or I just don't like it at all. But in THE SLOTHS case, from the very first song on the album, I was blown away! 'Never Enough Girls', comes out of the gate with a fast, fun, and solid rock & roll sound I haven't heard (or enjoyed), in a long time! Being impressed, I couldn't wait to hear the rest. With songs such as, 'A Cutie Named Judy', 'One Way Out', 'Gotta Get Fired', 'Before I Die', and 'Wanna New Life', to name a few, the album just got better and better. The album wraps up with the song, 'Makin' Love' (50 Years Later), a song they released from their early years.
The whole album reminded me of a cross between 'Punk' meets 'Rockabilly' meets good ol' fashioned 'Rock & Roll'! The band itself is spot on, very tight, and energetic. As for Tommy McLoughlin as the lead singer, he's great, nailing it on ever song. He sings from the heart, the soul, and something even deeper than that, I'd say, life experience. There are times during the album you can't tell which songs he's singing from personal experience, or someones else's, but he has a soulful, yet edge to his voice that makes you want to really crank up the volume. I haven't heard a really solid rock n roll album in awhile, but THIS is definitely one to listen to! You're never too old to rock & roll and this is worth your listening time, I assure you. And now, here is my exclusive interview with director and singer, Tommy McLoughlin!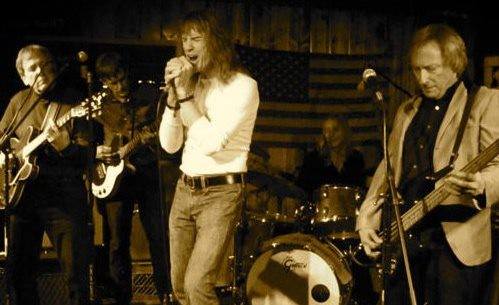 Anthony Northrup – Let's start from the beginning. When and how did the band first meet?
Tommy McLoughlin – We were all friends, we were 15-17 years old from Beverly Hills High school and Hamilton High school. It was around 1966, we just hung out…we were kids. It was an incredible time…a lot of incredible music out during that time like Surf bands, Folk music, Rhythm & Blues, and bands like The Beatles and The Rolling Stones. We shared the same passion as English rockers had. Jimi Hendrix was a big influence, and dance, like Mick Jagger. We played with, and opened up for acts like, The Byrds, Frank Zappa, and others. We opened up for 'The Doors' three times. We hung out with singers, dancers, actors…it was all cool and surreal.
AN – Who came up with the name for the band?
TM – Our bass player, Mike Rummans. We were inspired by the prehistoric sloths and La Brea Tar Pits, on Wilshire Blvd. in Los Angeles, California.
AN – Who were your musical influences when you first began as a band?
TM – Elvis. I was forbidden to see or listen to him. I watched his movies and knew I wanted to dance like him. The Beatles were a huge influence, as well as John Lee Hooker and 'blues' music.
AN – Share with us your thoughts on the bands very first gig?
TM – We played at Pandora's Box. I went on stage in cordaroy pants, coat and just "went for it". I went down on my knees, girls would come up and kiss me, opened up my shirt, it was magical. Afterwards, my band would be like, 'Tom, what were you doin' out there? That girl was kissing all over you.' I sort of 'got into the moment, let's just say'.
AN – What was the wildest show the band performed?
TM – After reuniting we played a gig at the Hollywood Palladium. There were celebrities, fashion show biggies, tons of people. We played with Jeff Beck, Joan Jett, and others. The crowd was great! I did some of my best stuff, slid on my knees across stage. People loved it. There was this one guy in his 20′s who came up to me and said he really liked the song, 'Wanna New Life'. He said that he didn't like his job, or how his life was going, and the song…spoke to him like, 'I may not like the life I have…I Wanna New Life, and make my life better'. It really moved me.
AN – Did The Sloths ever open up for anyone we all know now?
TM – Over the years, we've opened up for bands like, The Doors (3 times), Iron Butterfly, Pink Floyd, Joan Jett, Dinosaur Jr. (that was at the Roxy…it was packed!), and a lot of other bands.
AN – What was the rock scene like back then?
TM – Love that sound back then…all great rave. It was a different time. Bands don't play by the rules today.
AN – What was it like, that very first reunion, seeing your band mates again after all those years?
TM – It was October of 2011, and we met at International House of Pancakes (IHOP). Here we are 40 years later, a bunch of kids all grown up, talking about our lives, families, careers. It was all so surreal. When it was over, I had the suggestion that maybe we should all get together and play again…see what happens. I suggested we get in a garage and just..play. It was about six months later at the drummers house and we practiced and we were back together again! We played with one band in L.A. for fun, and the place went crazy! People had their phones out recording us and putting it on Youtube. Then, we got a gig down in San Diego, and that place went crazy! Everybody came. We thought we were The Beatles! (*laughs). We went on to do 200 shows across the country, mostly in California, Nevada, Arizona, Texas, and the South.
AN – At what point did you decide to go from rocker to director?
TM – I wanted to be Charlie Chaplin, or Buster Keaton. I saw an ad for mimes and I thought, 'I could do that!' So, I left the band at 19 years old, in the late 60′s, and went to Paris. When I came back to the States, I got into filmmaking.
AN – Which is harder: Being a rock star, or a director?
TM – Time. If you're a director you have to deal with finding a good script, you're at the mercy of the studios, production, you're excited, there's post-production, a longer process and you're at the helm. When you're in a band, you can always find a place to play, people are loving it, and not the same pressure than in a studio. Plus, I'm 70 years old, and I STILL got energy! I don't want to give up.
AN – What are your thoughts on today's music scene, and The Sloths place in it?
TM – Today's music is that there's no hard rock drive. Very produced and not accomplished. We had passion back then. We took risks. It was great!
AN – What song on the album is most personal to you, and why?
TM – 'Before I Die'. It use to be, "Die before I get old", but now I have a bucket list of things I want to do, and "I want to be 'old' before I die (this goes back to the story of the 20 something year old that Tom met in Texas and the impact the song had on him).
AN – Who did the art for the album cover?
TM – It was a Canadian artist that was recommended to us. There are a lot of funny inside jokes and nods to my career (Tommy as the sloth with the microphone, a Jason Voorhees mask hanging from the van door, and other nods from his career as a director).
AN – Lastly, what is next for…The Sloths?
TM – Things are full circle. About every ten years, I shift careers. My dad wanted to make films, he influenced me. When I was younger I filmed on real back lots. Then in 1962, The Beatles came out and that changed everything. When I got back from Paris after leaving the band, I got into film in the 1970′s. Throughout the 80′s, 90′s, and 2000′s I directed all kinds of films, from Rom/Com's, horror films, like FRIDAY THE 13th PART 6: JASON LIVES!, television films, and Stephen King's SOMETIMES THEY COME BACK. Now with the Covid Pandemic, things have changed for everybody. Professional rock stars are thinking they will be back performing next Fall, but no one knows anything really. These days, everything is on Spotify or iTunes. I'm a performer, there's no money in it when people can go to those places to hear your music. We have songs to do another album, I'd like to get together and finish that, but they way things are right now…I just don't know.
And… that is the big question isn't it? The world has changed and we just don't know if we'll see bands perform anywhere again, or go to concert arenas, or even when a new album from our favorite band will ever be released. But one thing you can do is, go to thesloths.org, Spotify, iTunes, Apple Music, YouTube, Sloth Radio on Pandora, and listen to, or better yet, purchase 'THE SLOTHS' CD. You may not be able to 'get out' to see and hear music, but you can still 'rock out' in your own home.
RANK: 8/10