RANK: 8/10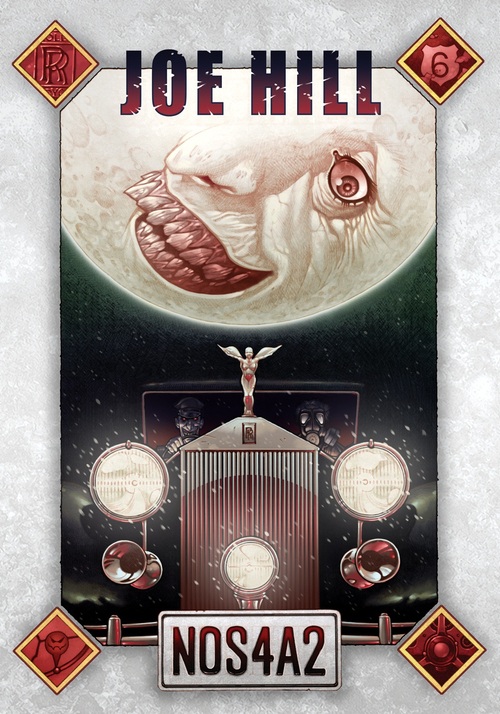 Most of you know me as the film critic who post's thoughts and reviews of some of the best and worst in films. However, once in awhile I like to do a book review. A book I feel is not only really good or interesting, but worth your time. You don't have to be a horror fan to enjoy this book, but it helps because either way… NOS4A2 is gonna scare your socks off! SO, here is my thought's and review of the latest Joe Hill novel; NOS4A2.
Joe Hill, for those who may not know, is the son of Master Storyteller, Stephen King. Joe has been writing for quite awhile now and has climbed the latter of success without riding the coattails of his famous father. For years and years, Stephen King has scared the crap out of us, made us leave the light on at night, check our closets, and made us afraid at some of the simplest things in life. Well, now it's his son Joe Hill's turn. Joe has come on the scene with New York Times Best-sellers like Horns and 20th Century Ghosts. He has tapped into the comic book world with his comic book mega hit, Locke & Key. He has done other stories and adapted them as comics as well. Now he has brought us his latest novel, NOS4A2. A scary, suspenseful, and thrilling ride like no other.
The story is about Victoria "Vic" McQueen, a troubled alcoholic who has the gift of "finding" things that are unfindable. She travels across a mysterious, yet magical bridge that can take her almost anywhere. Having a difficult childhood, Vic had a very bad experience as a child. She encountered the horrifying, evil, most frightening character in a novel since Pennywise in IT. His name, Charlie Manx. Manx is a vampire of sorts who sucks the life out of children by transporting them in his black 1938 Rolls-Royce off to the magical world of "Christmasland"! A land where everyday is Christmas morning and every night is Christmas Eve. A world of snow, trees, presents, rides, and food of all kinds – everything a child could ever want! Making the world so magical that the children never want to leave. However, such fun and magic comes with a heavy price.
Vic encountered Manx at 17 yrs old and was the cause of his arrest. Now that Vic is older and with her son, Bruce Wayne Carmody she feels she is safe and forgotten that horrible nightmare until Manx escapes and seeks revenge against Vic by going after Bruce. Vic's ex, Lou, an over-weight, comic book loving, bear of a guy tries to help her without the police or FBI catching them. Manx has tricks up his sleeve, a fast & deadly car, and Bing, one of the scariest characters since Buffalo Bill in Silence of the Lambs. Will Vic find her son? Will Manx keep taking kids to his beloved Christmasland? And just what really IS Christmasland? To find out answer to these and have the best time at being scared, I highly recommend NOS4A2.
I have been reading Joe Hill for a few years now. People say, Oh, he's trying to be like his dad. Or, he'll never be like his dad. Well, I'm here to tell you. After reading all of his works, collecting the amazing Locke & Key comic book series, and now his latest novel, NOS4A2 - I truly believe not only has this book put him over the top but he IS his father's son. I think he writes with such imagination, yet originality. He writes and tells stories like his father's early works, yet he's his own person. His own writer. I absolutely loved this book. Not just because he is Stephen King's son, not just because he is Joe Hill, and not just because I am a fan, but because this is truly a scary book! I have not felt creeped out or shiver since reading his father's classic book, IT.
It is a horror rollarcoaster from start to finish. I did feel a bit let down by the ending just a little, but not enough to say it's not worth your time because it is! It's worth everyone's time who wants to straight-up be scared! I have not enjoyed a character in a long time like I did with Victoria or be scared at one like Charlie Manx, a "Joe Hill version of Pennywise". There are fun surprises for everyone here. There are cameos and nods to not just Joe's own works but Stephen King's as well. Fans will know them when they get to them. I am very excited about this book and truly the Book of the Summer in my … "book". So, pick up a copy today and get ready to have a horryfing good time.
RANK: 8/10
Posted in Horror and Top book by Tony Northrup on June 24th, 2013 at %I:%M %p.