RANK: 9/10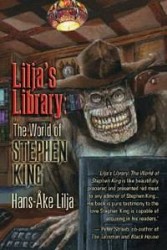 First off, I never even knew this book existed until a friend of mine had an extra copy and was willing to make a trade. It was certainly worth it and I thank him for that. The book is a collection of Hans exclusive interviews with everyone from filmmakers such as, Frank Darabont, Mick Garris, and "Dollar Baby" filmmakers to writers such as, Peter Straub, Stephen Spignesi, Bev Vincent, and Robin Furth. And of course, he has interviewed the man himself, Stephen King.
There are also Hans reviews of King's books, short stories, films, "Dollar Babies", audio books, comic books, and television shows all based on King's works. These reviews are detailed, yet with very little spoilers and comes with a very nice "Lilja's Final Words" which is his own personal feelings of a "Is it worth my time or not?" paragraph or two. If you want a book that really tells you like it is and gives you the deep info you really want to know – I highly recommend Lilja's Library: The world of Stephen King.
There are a lot of books about King, his works, and interviews, and I have read quite a lot of them as a die-hard King fan that I am, but I must say, I could not put this book down! The questions he asked in his interviews felt like what a true fan would ask, his reviews are honest and accurate, and I really enjoyed the Lilja's Library: The world of Stephen King after every review, sort of a personal thoughts wrap-up. I would love to see a follow-up to this book someday, but for now I was very satisfied and enjoyed every bit of it and hope you will too.
RANK: 9/10
Posted in Nonfiction by Tony Northrup on April 9th, 2014 at %I:%M %p.