RANK: 7.5/10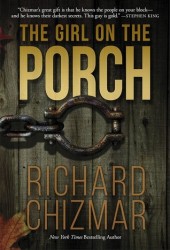 This book was an exciting read from beginning to end. When a married couple are abruptly awakened in the middle of the night, by the ringing of their doorbell, they carefully approach the door only to find nobody there.
The following day they check the security camera footage. A frightened woman, with shackled wrists, was indeed there, and a mysterious vague image of something is in the background. Not long after, she becomes a newspaper headline, and everyone wants to know who she is, and where she is. When strange things begin to happen for the couple (dead animals in the yard, footprints), the rollercoaster ride begins. This story is an eerie tale and a true, "WHO DONE IT." By the end of this book, your left with one question, "do you REALLY know who your neighbors are?"
RANK: 7.5/10
Tags: THE GIRL ON THE PORCH
Posted in Giallo/Thriller by Tony Northrup on November 23rd, 2019 at %I:%M %p.