RANK: 8/10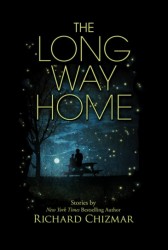 THE LONG WAY HOME is an anthology of 20 short stories, full of thrills, horror, mystery, scares, and a few of the stories even tug on your heartstrings. All of them have a bit of a twist.
They're all unique and good reading, however there are a few I really enjoyed a little more. For example, THE WITCH is a great story anytime of year, but I felt was something I would enjoy that much more during Halloween. DIRTY COPPERS was another that I would love to see adapted for the big screen. THE LONG WAY HOME (the saddest story in this book), was one of those that really was what I consider heartfelt. WINDOW'S POINT (a creepy, compelling thriller), was another favorite, but my absolute favorite was THE ASSOCIATION, it left me wanting more. I also enjoyed the story notes in the back of the book, as they gave a nice in-depth look at each individual story.
RANK: 8/10
Tags: THE LONG WAY HOME
Posted in Giallo/Thriller by Tony Northrup on November 23rd, 2019 at %I:%M %p.