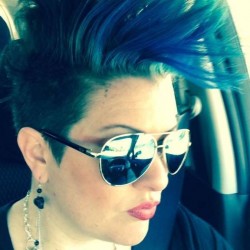 Stephen King, known around the world for over 40 years, as one of the "greatest writers of our time", has brought us some of the most frightening, intriguing, and mind bending stories. Also, over 60 of these stories have been adapted for the big screen, as well as television.
 However, since the late 1970′s, King's Dollar Baby film program has brought over 200 of his short stories to life, showcased at film fests around the world, through independent directors, and their vision of the story being adapted. I have been privileged to view some of these entertaining films, and have interviewed several of the filmmakers behind the camera. It is with great pleasure, I bring you yet another… Dollar Baby…film review/interview, this time with a female director. I understand there aren't that many female Dollar Baby directors, and this in fact, is my second interview with yet another talented lady behind the camera, and her extraordinary vision of the story she chose.
VANESSA IONTA WRIGHT… is one of the most energetic, enthusiastic, and talented directors I've had the recent pleasure to speak with. Her love for all things Stephen King, her knowledge of horror films, her excitement of filmmaking, all prove to make Vanessa the real deal! Vanessa has brought the Stephen King short story…RAINY SEASON…from the written page, to life on film. However, before I give you my review, let's learn a little bit about Vanessa!
Vanessa was born June 10, 1976, and grew up in Dayton, Ohio. She went through grammar school, eventually graduating from Stebbins High School in 1994. She continued her studies at the University of Ohio, graduating in 1998, with a degree in video production and film. After enjoying a bit of travel, Vanessa married, and now shares a happy life with husband, John Wright, since October 29, 2005, and their family. She is the founder, and festival director of… Women in Horror Film Fest… and the owner of… Above The Line Artistry, LLC.. Her film…I BAKED HIM A CAKE… got Vanessa's feet wet, so to speak, as a director, but it was in 2016, she decided to join the Stephen King Dollar Baby Program, and bring the short story, RAINY SEASON, to the big screen.
When I asked how she originally became interested in film, more specifically directing, she says, "how I got into film?", I always wrote and directed, I just didn't know that's what I was doing. I was always writing scripts, performing skits and plays for class, and family gatherings. When I was in high school, I would always ask the teacher if I could make a movie instead of creating dioramas, or making speeches. I wrote my first feature screenplay in college, it was wonderfully terrible! Outside of student projects in college, RAINY SEASON, was my directorial debut."
Now, here is my exclusive interview with RAINY SEASON director, VANESSA IONTA WRIGHT…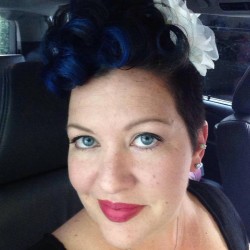 T: Out of all the Stephen King short stories, what attracted you most to this one?
V: I actually did not know about the Dollar Baby program until someone on Facebook mentioned it and I thought "WHAT?…King will let you adapt a story for $1? No way!" I headed over to StephenKing.com, and checked out the list of available stories. Some of the stories I was very familiar with, and had actually seen that there were many adaptations of certain stories. It was important to me to pick a somewhat less familiar story, and one that hadn't been adapted many times. I saw that Rainy Season had been adapted by Nick Wauters, in 2002, and it seemed he had taken a much more tongue and cheek approach, paying homage to the creature features of early horror. I knew I would have a very different film, and comparisons would more than likely not be made. When I picked up my copy of Nightmares & Dreamscapes, I was instantly hooked on this story. It reminded me of Shirley Jackson's "The Lottery", which is one of my favorite short stories of all time. When I saw that King referenced that story in Rainy Season, I knew immediately that I had to adapt this one.
T: Two songs by Ross Childress were used in the film. How did Ross get involved, and what was special about those two songs particularly that made you decide to use them in the film?
V: First of all, I gotta say, Ross is an absolutely amazing musician, and I still can't believe he wrote 2 original songs, and did the entire score for us! Ok, here's how it went down. Bryan Dickerson (who played 'Man in Store'), was a huge supporter of our film from the very beginning. I finally meet Bryan face to face, and he says to me "Do you know Ross Childress?", and I'm like "The guitarist from Collective Soul?, yeah, I've heard of him". Bryan proceeds to tell me that Ross is a huge fan of Stephen King, and heard about our little film, and wanted to write an original song for us. Enter the long, stunned pause by me. I reply with a resounding "YES PLEASE!" Working with Ross was amazing, he made it so easy. I explained that I wanted this big opening with amazing aerials and without being overly specific with titles, I wanted the audience to feel transported to around 1976. He and I had discussed some music, and he completely understood where my head was musically, and he delivered that amazing opening song. We were still in need of a composer and a song for the closing credits. I wanted to license "I can see clearly now", by Johnny Nash, but the process was arduous and too expensive for our tiny budget. I went to Ross for musical guidance, and he said in the simplest terms "I'll write another song for you, and I would like to do your score too". Who says no to that? Not me. It was such an honor to work with him. We actually collaborated on my other short film 'I Baked Him a Cake'. He's a brilliant musician, I can't say it enough.
T: Your two lead actors, Brian Ashton Smith, and Anne Marie Kennedy, were quite impressive. Tell us about their auditions, what did they bring to the table that won them their roles?
V: Grant McGowen actually did the first round of casting and sent me the audition videos. I was immediately drawn to Brian. He has a great charisma, and I knew he would breath extraordinary life into this character. We were still in need of "Elise", so I did an open casting call online and set up callbacks. Brian was kind enough to join us so I could get him to read with the potential actresses and gauge their chemistry. Anne Marie Kennedy actually auditioned earlier in the day, before Brian arrived, and I was very impressed by her performance. We were limited on time and I really wanted to see her read with Brian, but felt at the time it just wasn't going to happen. She left and we continued with our auditions. We saw Brian read with a few different actresses and something was missing. I kept thinking about Anne-Marie, so I called her, and luckily she wasn't too far away. I asked her to come back and read with Brian, and I watched them together and knew we had found what we had been looking for. Their chemistry was perfect. We had given them a pretty dark back story to work with which gave us some beautiful tension on screen. So proud of these two, they really made my job easy!
T: In RAINY SEASON, you went "old school" horror by letting the audience depend on suspense, sound, and imagination. Why did you go that route instead of "in your face" horror like today's films?
V: I don't find "in your face" horror scary. I can appreciate a good gore fest, but I didn't want to cheat the audience out of the beautiful subtext of this story that I think would have been lost if we focused on the blood and guts. This could have very well been a very gory film, but that wasn't what this story is about. At least, it is not how I interpreted or envisioned this story for the screen. I grew up on Alfred Hitchcock and Rod Serling. Suspense has always been the key to building fear. I think that is the reason so much of King's work is so terrifying. He has such a gift for building suspense and allowing your imagination to take over. Hitchcock said it best, "There is no terror in the bang, only in the anticipation of it." This is exactly how I approached Rainy Season. Sound was crucial in this film, and I wanted to play with the senses and create a very visceral experience for viewers. The way we approach the climax of the film is all sound, so it's completely dependent on the viewer's imagination as to how scary it really is. You don't see this a lot in horror because so much is given visually. I wanted to see if we could scare and disturb with just sound. I wanted the audience to be afraid of what wasn't being seen. This is why we took the focus off of the toads, and never even mention them by name. We wanted the audience to imagine the monster and build it up. This makes for a different viewing experience for everyone, which is an amazing thing to create as a filmmaker.
T: What did you use for the sound effects for the thunder and the various frogs?
V: This question actually needs to go to our phenomenal Sound Designer, Dave Wilson at Crawford Media. What talent! I handed over the film and explained the plan. When I wrote the script, I knew that sound was going to play a crucial role. This film was not going to work without amazing sound design and music. Dave has an extensive library of sound, and he created a brilliant soundscape for us. He also created the entire audio of the film in 5.1 surround sound, so it should be explosive and terrifying in theaters that are set up for this.
T: The actors you used for supporting roles were quite impressive, what former acting experiences did they have, and did you use any locals as extras?
V: Both Jan Nelson and Kermit Rolison, had quite a bit of film/television/theater experience. Jan brought a beautiful darkness to the role. In King's story, there was something playful between Henry and Laura. I wanted to keep the story dark, so I reworked the tone of the scene at the mercantile. We even wrote out the dog, but mostly for safety reasons. It was one of the hottest days in middle Georgia, and I just couldn't, in good conscience, have an animal in that heat. The funny thing about Kermit, is that he was not originally cast as Henry. Alpha Trivette was set to play the role, but at the last minute was requested by Tyler Perry to join him in LA. How are you going to turn down Tyler Perry? We were a day away from shooting the mercantile scene, and I was in a mini panic. My awesome, problem solving producer Stephanie Wyatt, was like "it's fine. I know a few actors. I got this" She pulled up an actor's reel on my laptop about 30 minutes before our call that evening. I was like "who is this guy! He's great! Is he available?" Her reply…"His name is Kermit Rol…" STOP. "His name is Kermit? We are making a film about man eating toads, and our "town local" is named Kermit?" I found the entire moment serendipitous. As far as the extras, our jump roping girls, and the man in store? Short answer, yes, they are all local to the Atlanta area. We had gotten a little creative with raising money for the film and hosted a red carpet silent auction last June. All in, our budget came to $18k, and we had raised around $7700 on Indiegogo, and needed quite a bit more to pull this off. Many of the local businesses in Senoia, GA donated items to our auction, and then I had the bright idea to auction off a role in the film. I had no idea people would be in a bidding war over this. Bryan Dickerson won the role, however I was so impressed with the tenacity of 10 year old Lillian Gray. I had an idea of adding something original to the mercantile scene, and what's creepier than children chanting obscure schoolyard rhymes? I felt like a pair of children would work better, and my daughter Emma had begged to be in the film, nepotism as its finest. I actually really love the addition of the children, adding a whole additional layer of strangeness to the town.
T: I noticed there were a few "nods" to Stephen King throughout the film, was this done on purpose?
V: Absolutely!  This was done for the die hard King fans, and the off chance that King himself would actually see the film (fingers crossed). Our license plates on the picture cars, the names in the guestbook, the make of the couple's car, even composition of some of the shots.  All of these playful winks to the, Master of Horror! I personally love little details in film, and as a viewer, I am always looking for them.  These details usually go unnoticed by most, but I appreciate them and I know others do too. The Missouri plate on the Buick reads SK1-237, a little nod to Stephen King, and the room number from Kubrick's version of the Shining.  The Maine plate on Laura's truck reads 217-019, a nod to the recurring number throughout the Dark Tower series, and the room number from The Shining novel. The Buick was a happy accident, we were looking for period cars and we lucked out with the Buick, and it seemed so fitting since King had written an entire novel around a Buick. Majority of the guest book was filled with the cast and crew, but we tossed in 2 names that King fans would recognize.  R. Flagg and B.E. Smith, one referencing the infamous villain that pops up in several of King's novels, and the other referencing the man who literally, almost took King's life.
T: In one scene, your lead actor is typing, as he plays a writer in the film, did you have him watch other Stephen King films for inspiration, such as "Jack Torrance", in THE SHINING?
V: It is widely known that King is not a fan of Kubrik's version of The Shining, however, there were some amazing shots in that film.  My favorites being the opening with the VW Beetle winding through the mountains, and the shot of Jack typing in the lobby of the hotel.  I used those two scenes as inspiration for the corresponding scenes in Rainy Season. Tom Black did an wonderful job capturing the aerial footage from the beginning of the film, giving us that isolation we were going for.  The lonely Buick on these isolated roads stretching into the "cursed" town of Willow. I did reference the scene where "Jack Torrance" is typing in the lobby of the Overlook and spoke with Brian about that scene.  We set up this great scene between "John" typing and "Elise" relaxing in the bath.  I think the silence and space between the characters created some great tension, and a disconnect in their relationship. I love how this scene opens on Brian Ashton Smith.  There is something quite off-putting when a shot is straight on and perfectly symmetrical, it creates a wonderful uneasiness.  Our DP, Mark Simon, crafted it perfectly.  These are easily my two favorite scenes in Rainy Season.
T:  What did you use as the "frog goo"?
V: I don't want to give away any SFX secrets, and I actually don't know what all went into the "goo" recipe, but I know the main ingredient was lube. Our SFX makeup artist, Nadine Al-Remaizan had some great, budget friendly ways to create what we needed.  I can only imagine her going from store to store buying up all the lube.  I wonder if Costco or Sam's carries it in bulk?
T:  There was a quote in the film from the Bible, Psalms 106:38, why did you pick that particular quote?
V: To me, when there are stories of sacrifice, it always feels biblical.  Even though the original story by King makes no literal reference to anything biblical, I still had a sense that there was some underlying, old-testament stuff happening here.  I mean, we already had the frogs which according to the bible was the second plague.  Psalms 106:38 had a very literal mention of sacrifice, which is what Rainy Season is about.This small town is plagued with terror every seven years, and a sacrifice must be made in order for the town and its inhabitants to prosper.  I think this particular bit of scripture fits quite nicely with the story.
T:  The ending of the film sort of leaves the story open, would you do a sequel if you could?
V: Absolutely.  Actually, I would maybe want to do a prequel and see how we got here. There are so many directions this story could take, expansion would be a lot of fun
T: What changes did you make to this story to make it your own as opposed to King's original text?
V: I had never adapted anything before and I wasn't sure what the rules were. King's work is tough to tackle as so much of it is internalization.  How do you show this? I started my first draft with a very true to the original story, scene by scene, line for line adaptation. Then I started to wonder about John and Elise and their relationship.  Maybe it wasn't perfect.  Maybe there was a reason they needed to get away, other than time for John to write his novel.  Maybe they needed to rebuild something that had broken.  There were so many places that I wanted to explore with them to create this beautiful tension.  I thought it made it more desperate, there was so much more to lose. I kept it vague, as I thought it made it more interesting and more relatable for the audience to try and decipher what might be going on between them.  By pulling the focus off of the town and the toads, it created a sadness. In the 20 minutes of this film, we feel for the Grahams, and it makes the climax of the film that much more impactful. I tried to rely on visuals and subtext, and remove any dialogue that I felt wasn't absolutely necessary.  I wanted the theme of the story to remain intact, of course.  I am a huge fan of Stephen King, and I wanted a film that fans would enjoy. I darkened the tone up a bit from the original text.  I found the original story to have a lighter side to it, which creates a nice balance, but for the film I wanted it dark, I wanted the seriousness of the situation to come through. King describes these toads with such colorful visuals, but I still wasn't sure how we would ever create these monsters and live up to how they were imagined.  So that is where I left them, in the viewer's imagination.
T:  So many Stephen King fans want adaptations to be as close to the original story as possible, how do you handle the pressure to keep them happy?
V: I think as long as you stay true to the tone and the meat of a story, you'll keep them happy.  I also wanted a film that Stephen King himself would enjoy. We had tremendous talent behind this film, from the actors to the crew, to the post production team.  I knew we would have a beautiful film, the pressure was to make a film that was unmistakably King. Some things were changed due to logistics and budget.  If there was a way to get information across visually, I did it, so we dropped quite a bit of dialogue from the original.  Honestly though, I tried not to think about making King fans happy, because you really can't please everyone. We took some big risks in our adaptation and I think there are fans that are going to really love it, and there will be some who will hate it, and there will be fans in between. I wanted a film that everyone involved in making it would be proud of.  This film was my directorial debut, so the pressure was really to make a great film, and prove I had the directing chops necessary to pull this off.
T: What was the main goal you wanted to achieve with this film?
V: The main goal was to create quality film that entertains.  I was not willing to cut corners, and we didn't have to.  The level of experience amongst the cast/crew was astounding. I wanted high production value and we got it.  I wanted a film that looked big budget, but would cost very little.  Look what we can do for $18k, imagine what we can do with a million! I also really enjoy the challenges that come along with independent film production.  I think it makes you appreciate everything just a little bit more, and I think ultimately, it makes you a better filmmaker and storyteller.  At the end of the day, I wanted a film that showcased everyone's talent and would lead to more opportunities doing what we love most.
T: Where, and when was the movie filmed specifically, and were there any obstacles to overcome while filming there?
V: The film was shot in Senoia and Haralson, GA in August of 2016. We must have scouted a few dozen homes searching for the perfect "Hempstead House".  We knew we probably wouldn't find everything in one location.  The perfect basement might not be attached to the perfect living space, and the perfect exterior might not have the right interiors. I had heard from someone on Facebook that the film Lawless (2012 starring Tom Hardy & Shia LaBeouf), was shot in Senoia, and they had built a location for the film that was still there and vacant. This location was exactly what we were looking for, and to top it off, it was surrounded by an abundance of lilypads covering a majority of the water.  The amount of frogs and toads at this place was unbelievable, I thought we might have been punk'd!  There is no way this place could exist and be available to us! Our art department did a wonderful job creating the sets.  They turned the location from a depression-era saloon, into a quiet cabin in Maine. The biggest obstacles to shooting there…snakes, and no running water or electricity.  We were able to rent a generator and a portable bathroom, which covered 2 of our issues. The snakes…well no one got bit! Our mercantile location was actually a working store in Haralson, and was open for business during the shoot.  I think the biggest obstacle during the mercantile shoot was the heat.  That was by far the hottest day, and keeping everyone cool and hydrated was our priority. I think the biggest challenge for the entire shoot was… time.  We had two day shoots, and two night shoots, and we did our best to keep to a 12 hour day. This was an ultra low budget non-union shoot, but we did our best to keep it running professionally, and as close to union guidelines as possible.
T: How long was the film shoot and the process from start to finish?
V: I think the previous question was meandering into this one. So, we had originally scheduled a five day shoot, but I kept reworking scenes based on possible weather, location constraints, etc.  Once I finally locked the shooting script and reworked the shot list we realized we would be able to do this in four days if we stayed on schedule. Our AD had his work cut out, but he kept that crazy train on schedule. This turned out to be the best thing that could have happened, because cutting a day of shooting saved some money that we were then able to put into post production. So, start to finish…I acquired the rights to the story in July of 2015, launched crowdfunding in February of 2016, shot the film August 11, 12, 13 & 15, 2016, began post production in December 2016, and had the final film in my hands March 10, 2017.  With that timeline, this should have been a feature! There were so many moving parts, it was like being the ring master for a six ring circus.Ross Childress was writing and composing music, while our sound designer was building a terrifying atmosphere of sound, all while our visual FX artist was creating the train".  It came together beautifully.
T: What is your greatest moment so far with the success of RAINY SEASON?
V: Each moment seems to get better than the last, so I think the greatest moment is still ahead. It was so great to be able to showcase the film for the community that supported us.  We wanted to share the screen with other indie filmmakers, and just have a fun night, so we launched the… Rainy Season Short Film Independent Showcase… and invited filmmakers to screen with us. I think the greatest moment so far, actually, was seeing the finished film.  To see the evolution of the entire project from original published story, to adapted screenplay, to film.  It was great to see it come to life.
T: Which Stephen King story would you like to adapt on a large scale?
V: So much of his work has been adapted for the screen, maybe more than any other modern author that I'm aware of.  There is still so much I haven't read!  And every time I finish a book, or a collection of tales I think, 'This should be a movie', then BAM, it's already in development. I really enjoyed Doctor Sleep and thought it would make a great film, and I do think it is already in development.  If not…I'm available to help!
T: Where can fans see this film?  Will it be playing at film fests across the country?
V: As you know, Dollar Babies cannot be distributed or screened publicly outside of a festival, however, I am entering the film in festivals around the world, and will keep the website (www.rainyseasonmovie.com), and social media pages updated on where and when it screens.
T: You said once, quote: "I love scary movies and scary stuff, and I love scaring people, but I don't like to be scared…" What scares you?  What is your favorite horror film, also, what is your favorite Stephen King book, and why?
V: You are right, I did say that.  I do love the thrill of watching a film and having the hair on the back of my neck stand up.  I also really love exploring all those dark places in my imagination, and creating frightening stories. But I'll be honest, I startle very easily, and I will not investigate strange noises, and I am terrified of haunted houses.  Not real ones, I'll take a paranormal experience any day, but those novelty attractions that pop up during Halloween.  I am terrified! I despise being chased, or surprised with chainsaws, or other power tools.  I guess that leads into the next question of what scares me. At the core, I think losing control scares me.  I'm not in control in those places, and I think that scares the hell out of me.  I don't know where the monsters are hiding, or when they're gonna pop out.  Just talking about it has me jumpy.  I hope no one is creeping up behind me! Favorite scary film…are you kidding me?  So many choices.  Favorite slasher? Favorite psychological thriller?  Favorite supernatural?  This one is hard. I love so many for so many different reasons. I really love the original Halloween (1978), A Nightmare on Elm Street (1984), Poltergeist (1982), The Exorcist (1973)…I feel like I am giving you such a clichè list of films, but they really are great. I LOVE the original Twilight Zone episodes, and I really love the films of Alfred Hitchcock. A more modern film that I really enjoy is The Strangers (2008).  Maybe it would be easier for me to send you a Billboard Top 100 style list! Favorite Stephen King Book?…another tough one, but I think I have to go with, IT.  That book really resonated with me, and scared the shit out of me!  Maybe because I was younger when I read it. Creating an entity that is everything you ever were afraid of!  Brilliant!  I'm actually very excited about the new film, and to see what they have done with the story.
T: BONUS: What is next for Vanessa Ionta Wright?
V: I want to enjoy the success of Rainy Season, and see how it does in festivals. I was able to direct another short last summer called 'I Baked Him a Cake', which was written by Samantha Kolesnik (Executive Producer of Rainy Season), and that will be making the festival rounds as well. The next big thing is the film festival that Samantha and I co-founded called, The Women in Horror Film Festival.  We are so excited about this fest, and so proud of the growth so far. Sam and I also want to make more films together.  She has written a really fun gothic horror that she has offered to me to direct, and hopefully we can bring Mark Simon back on board to DP.  It's a magical team when we all work together! One thing that would be amazing, that I would love to happen next…I would love a phone call from Stephen King, saying he saw Rainy Season, and that he loved what we did.  Then I would love for that call to end with him saying "we should work together." In all seriousness, I want to continue writing and directing. Small scale, large scale, I want to make films. If you were looking for a literal answer to the question of what is next for me…lunch, a sandwich to be more specific.  I love sandwiches! There you have it, the director's perspective!
Tags: VANESSA IONTA WRIGHT, VANESSA IONTA WRIGHT interview
Posted in Interviews by Tony Northrup on May 6th, 2017 at %I:%M %p.