RANK: 6.5/10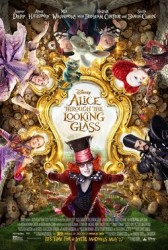 This sequel to the 2010 film, takes place three years after the original story. Alice has taken over her late father's business, hitting the high seas. When Alice returns home to England after a very long trip to China, she finds out her ex-fiance Hamish, has taken over her family business. He threatens her with selling her father's ship, and hangs the fate of her family home over her head as well.
Upset and sad, Alice follows the butterfly she remembers from Wonderland, Absoleum (voiced by the late Alan Rickman), right through a mirror (looking glass), and turns up in, Underland. She is reunited with all her friends: White Queen, White Rabbit,Tweedledee & Tweedledum, Dormouse, March Hare, Bayard, and the Cheshire Cat, all at a Tea Party. Where is her closest friend, The Mad Hatter? All are greatly concerned because the Hatter isn't quite himself lately… madder than usual. It seems it all has to do with the truth about what happened to his family years ago, on Jabberwocky Day. The White Queen recommends Alice visit "Time", to help her find the answers.
While there, she discovers the Chronosphere, which is used for time travel. "Time", tells Alice that changing history can't be done, but Alice thinks differently, and steals the Chronosphere, beginning her search for Hatter's family. However, with time travel there can be dangerous consequence, and the possibility of altering realities that have already existed, destroying the course of time completely. Does Alice discover all the truths she seeks, or has she altered time so much that it could destroy all of Underland? To find out these questions, I recommend… Alice through the looking glass.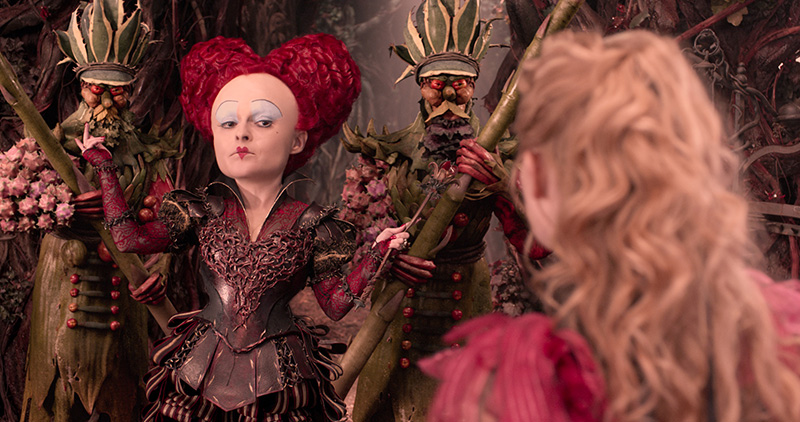 Unlike the 2010 film, this sequel was not directed by Tim Burton, however, he did produce it. For those of you who look at style and technique, you may be able to tell the differences. Aside from that, it's great to see the entire original cast from the first film back, and as lively as ever! Mia Wasikowska (Alice), Johnny Depp (Mad Hatter), Helena Bonham Carter (Red Queen), Anne Hathaway (White Queen), and all the voices of the CGI characters as well. In addition there is a new villain,"Time", played by Sacha Baron Cohen. This film is fun, entertaining, and funny, but there seems to be quite a lot going on, so you must watch closely. It is colorful, beautifully filmed, and if you love CGI, well you will certainly get that in mega doses! There were several plots going on, so as I say, you will need to watch closely, so as not to get confused. Still, it is a great movie for the entire family!
RANK: 6.5/10
Regista/Director: James Bobin
Cast: Johnny Depp, Anne Hathaway, Mia Wasikowska, Helena Bonham Carter, Sacha Baron Cohen
Usa 2016
Tags: alice 2, ALICE THROUGH THE LOOKING GLASS, ALICE THROUGH THE LOOKING GLASS review, Anne Hathaway, Helena Bonham Carter, Johnny Depp, Mia Wasikowska, Sacha Baron Cohen, tim burton alice
Posted in Fantasy by Tony Northrup on June 11th, 2016 at %I:%M %p.