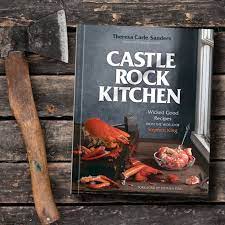 When we hear the title and name, author Stephen King, we generally think of his world renowned status as the "master of horror" with his many books and film adaptations. We think of killer clowns, evil dogs, cats, cars, and even children, but what we don't think of is…cooking. Specifically, a cookbook. That's until now.
Author Theresa Carle-Sanders has done something that has never been done before by bringing us a cookbook based on the food that has been featured in many of King's books/films. CASTLE ROCK KITCHEN, features some of the fun recipes that have been inspired by the writings of King. This is a first of its kind, and proves to be yet another way to enjoy the universe of one of the most beloved horror authors of our time, Stephen King.
The title of the book is CASTLE ROCK KITCHEN, which takes its name from one of the most popular fictional towns in the Stephen King universe, Castle Rock. This has been the setting of many of the most beloved tales from King's book/films. Of course there are others (Haven, Little Tall Island, Chester's Mills, Tarker's Mills, Jerusalem's Lot) and also the town of Derry, home of Pennywise the Dancing Clown from the story IT. However, Castle Rock seems to be a constant for King's tales. It's been home to some of the most frightening stories he has written. Cujo, The Dead Zone, The Dark Half, Sun Dog, Needful Things, along with many others, so what better place than Castle Rock to host a cookbook?
CASTLE ROCK KITCHEN is unlike any other cookbook I've seen before. It's a beautifully bound hardback of good size, and filled with great eats. There are beautiful glossy illustrations of recipes, and it features some of the more picturesque places in the state of Maine. There are 80 great recipes to choose from, which are inspired by the foods served in many of Stephen King's stories.
Along with the great foods to make, are quotes from King scattered throughout the book, mentioning the dishes with the recipe to follow. Along with this there's a fun and entertaining narrative done by one of King's fictional characters named, Mrs. Garraty, from the story, The Long Walk. She tells the reader all about the recipes, their history, peppered with stories of characters and some of the happenings in the town of Castle Rock. This makes the book truly a fun read, and more than just a bookful of recipes. I truly enjoyed this aspect.
There's quite a nice introduction at the beginning, and the foreword is written by Stephen King himself (which is entertaining). Included is a map which depicts where in King's universe some of these recipes came from. However, the highlight of this book are the recipes themselves. The details, descriptions, ingredients, and photos make you want to run to your kitchen and start cooking! With such names as Gramma's Crab Cake Brunch, One-Handed Frittata, Short Rib Borgnine, Haddock Chowdah for Old Men, Fried Clam Rolls, Nettie's Rolled Lasagna, Dolore's Oven Risotto, Blueberry-Lemon Curd Muffins, The Lighthouse Margarita, and many others, who wouldn't want to try some of these tasty dishes and treats?
For something fun, new, and definitely inspiring, sprinkled with a taste of Maine, and the flavor of Stephen King's fictional town of Castle Rock, I highly recommend CASTLE ROCK KITCHEN, a unique cookbook. Spice up your own kitchen, or someone else's as well, and pick up and enjoy these amazing new recipes.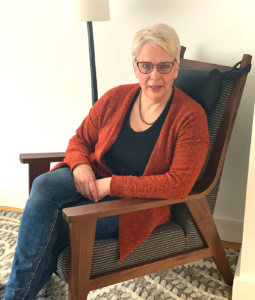 I've recently had the privilege of interviewing Theresa Carle-Sanders, author of CASTLE ROCK KITCHEN. I hope you will enjoy reading this, as much as I enjoy bringing it to you.
Anthony Northrup – Before we get into your new book, CASTLE ROCK KITCHEN, have you always been a Stephen King fan? If so, what was your first Stephen King book?
Theresa Carle-Sanders – I grew up in Vancouver, BC. My husband and I moved to Pender Island in 2003. I've been an SK fan since my teens; the first book I read of his was The Shining, and I've been a constant reader since.
AN – What inspired you to begin a career in the culinary arts?
TCS – I went back to train as a cook after my father died in 2007. He had always wanted me to be a cook. We spent a lot of time together in the kitchen while I was growing up, and it was a passion we both shared.
AN – Where did you learn to cook? Were there any special places you had the opportunity to study and further your education?
TCS – I went to the Pacific Institute for Culinary Arts in Vancouver for my main training, but after that was finished, over the next few years I travelled for a few different classes, including a week long bread baking course in San Francisco.
AN – You have two published books inspired by the books adapted to the television series OUTLANDER. Is there any particular reason for this choice?
TCS – Outlander Kitchen 1&2 are based on the Outlander book series by Diana Gabaldon, not the TV adaptation. I'm a long time fan of that series, and it was a memory of a dish mentioned in book 3, Voyager, that popped into my head while I was walking the dog in the woods on Pender in 2009. That was the day my love of food from fiction was born.
AN – Let's talk about your new book, CASTLE ROCK KITCHEN. This book is inspired by, and connected to the works of author Stephen King, and dishes/foods mentioned in his stories. Share with us how the idea for this book began?
TCS – I had just finished Outlander Kitchen 2: To the New World and Back Again, and was looking for a new project. To write a cookbook based on fiction, the author I choose has to be prolific, popular (with a big fandom), and they have to mention food in their stories. SK was a big YES on all three accounts.
AN – How long was the process from start to finish? Were there any challenges while doing your research for the book?
TCS – I started reading SK's library from the beginning, in the order it was published, with Carrie, in the spring of 2019. After writing a proposal and getting Stephen King's agreement to the project in January 2020, I then worked on the manuscript until my deadline in the summer of 2021. From there, it was another 15 months until Castle Rock Kitchen's October 4, 2022 publish date. During that time, the manuscript was edited, the photographs taken, and the book put together. Of course, this was all during the Covid pandemic. We were stuck on Pender for the first several months of the pandemic, so I turned to the internet for my research. Thankfully, Maine has an incredible set of archives that I could dig into, and of course, there are a lot of SK fandom sites that I turned to for information as well.
AN – Stephen King himself wrote the foreword for your book. What was that experience like reaching out to him, and his response once he heard a cookbook was being written based on his works?
TCS – Once I completed the proposal, which included a request for him to write the foreword, my agent contacted SK's agent, Chuck VerrilI (who has since passed away.) I was overjoyed when we got word of SK's approval a couple of months later. I spoke to Steve on the phone midway through the writing of the cookbook, where he shared stories of his mom's and Tabitha's cooking, as well as what he likes to cook for himself these days. We also discussed the narrative voice I used for the cookbook, Mrs. Garraty from The Long Walk.
AN – You have 80 recipes in the book, was there a process of elimination?
TCS – I read on a kindle and highlight every mention of food as I go. Then I take those mentions of food and plug them into a spreadsheet so that I can move, delete, and organize the dishes into a cookbook table of contents. Across over 60 novels and numerous short story collections, there are hundreds of mentions of food. So it's quite a process of elimination to get it down to 80, which is the average for a cookbook.
AN – Some readers (like myself) have food allergies. For example: some readers can't eat pork or are allergic to dairy. What do you suggest for substitutes for dishes that have those types of ingredients?
TCS – I'm not a dietary specialist. I recommend that people do what they regularly do when they come across ingredients they can't use. Most people with dietary restrictions are well practiced at substituting to make recipes work for them.
AN – Have you made any of the dishes yourself, and if so which was your favorite?
TCS – I conceived and wrote each recipe. That involves test cooking each recipe multiple times until I was satisfied with the final result of each dish. After that, I have a group of 12 recipe testers all over North America who test the recipes to ensure the instructions are easily understood and that the dish turns out as it should, no matter who prepares it.
I love all of the recipes in Castle Rock Kitchen. One of my favourites in terms of creativity, as well as taste, is Interstellar Escargot. It's a quick stir fry, a riff on Asian Salt and Pepper Squid. It's fast and delicious, once you get past opening that can of escargot; snails can be pretty alien looking.
AN – There are some foods in Stephen King's stories such as, "Tooter Fish Sandwiches" or "Mid World Burritos" from The Dark Tower, or Southern Fried Chicken, which was John Coffey's final meal in The Green Mile. Will readers and fans of this current cookbook see a second cookbook?
TCS – I have been given permission by Stephen King to pursue a second cookbook, so I'm looking at his fantasy library, The Dark Tower series, Eyes of the Dragon, The Stand, etc. for inspiration. I know there is a big fandom that would love to see recipes from this part of SK's world, and it would be a ton of fun to write a fantasy-themed cookbook full of Flaming Skewers of Meat, Gunslinger Burritos, and Mother Abigail's Fried Chicken.
AN – Lastly, what's next for Theresa Carle-Sanders?
TCS – Right now, I'm taking a vacation with my husband in England and Wales. He's English, and it's been a few years since we've been able to visit family and friends over here, because of the pandemic. Once we're back home, I'll be getting back to work and hopefully, eventually, writing Castle Rock Kitchen 2.
Thank you, Theresa Carle-Sanders for visiting with us. We're looking forward to seeing more from you in the future. You can purchase CASTLE ROCK KITCHEN at Stephen King Catalog webpage, or online at Amazon.
Tags: CASTLE ROCK KITCHEN, Theresa Carle-Sanders