RANK: 9/10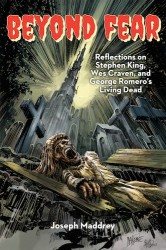 There have been lots of books about the horror genre, the individuals who directed or wrote tales of horror that have scared us for decades. There are many names that come to mind, but if you want the best there is three that have completely changed the face of horror not just in film, but in books as well.
In the book Beyond fear, the author interviews and gives us backstories along with many other fun features of knowledge about the "Master of Storytelling", Stephen King. One of the "Masters of Horror", Wes Craven. And the "Grandfather of the Zombie Genre", George A. Romero. This is the lottery of interviews and Joseph indeed, won! This book is broken down in many ways. First off, the interviews are all seperate. They are then broken down with biographies of each one and backstories about their lives, history of their most famous works, and deep meanings of their work broken down even more so and analyzed again.
Wes Craven, one of the "Masters of Horror", tells us in the book all about how he grew up, his own fears, where the inspirations came from for his greatest works like Last house on the left or Hills have eyes, and the Scream franchise. We then learn about the man who began the "zombie invasion", George A. Romero. We wouldn't have shows inspired by him like The walking dead and films like 28 days later without him because he is and will always be the man who put the zombie genre on the map! With his classic, Night of the living dead in 1968 starting it all and his many sequels to follow, George tells us in this book the true meaning, backstory, and analysis of his 'zombie world' he has created. And finally, the man, the legend, the writer who has not only scared the crap out of us all our lives, but is without question the greatest storyteller of our generation, Stephen King.
As one of the biggest King fans in the world, I can tell you I know a lot about my favorite author, but even Joseph dug up some info that even I didn't even know. The author tells the history of everyones favorite horror writer, but also touches on King's "non-horror" stories as well which seem to sometimes get overlooked at times. He explains to us the rise to fame from nothing, to the almost fall and rise again, and the encounter King had with death. The author breaks down most of King's books and short stories and films and also includes quotes of those connected to King like Frank Darabont and Mick Garris. With three of the greats, this is a book that should not be passed up. I highly recommend, Beyond fear.
Like I said, I have read a lot of books about King himself and even tho they all offer their own special info and interesting facts, Beyond fear really digs deep and gives you the best of both worlds: Reviews and bio. I didn't know as much "background" history about Wes Craven and George A. Romero before reading this book. I only knew of their films and very little history. However, now this gives me a different prospective to not just their works, but the men themselves. And even higher respect, so to speak. I found Beyond fear not only interesting and entertaining, but very thoughtout and informative. Joseph Maddrey is quite the writer and is one to keep an eye on. I look forward reading more from him in the future. If you are a horror fan, a fan of Craven/Romero/& King and most of you are – I highly recommend you picking this book up. It is not only worth your time, but a very fun read as well.
RANK: 9/10