RANK: 9/10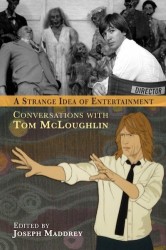 One of my favorite things about books is that I enjoy biographies. I love learning about people, how it was in the beginning, how far they've come, and the rise to fame and all the struggles it took to get there. I'm one of those readers who likes to look "behind the curtain" and see what's being hidden from us no matter how fascinating or scary it might be. Most of the time I'm reading "horror" books (Stephen King mostly), but on occasion I take a break for a biography that just might grab my interest long enough to give it my full attention.
This has happened four times already: Anthony Kiedis SCAR TISSUE, Keith Richard's LIFE, Anthony Bourdain's bio, and Carrie Fisher's WISHFUL DRINKING. There is now a fifth biography I can add to that Top 5 List that after reading it I was so amazed, so fascinated, and so moved by it I had to rank it as #2 on my Top Fav Biographies of All-Time. That book…A STRANGE IDEA OF ENTERTAINMENT: Conversations with Tom McLoughlin by author Joseph Maddrey. I read one of Joe's other books, BEYOND FEAR, earlier this past summer which was a very interesting book about three of the biggest names in horror: Wes Craven, George A. Romero, and Stephen King. Joe interviewed all three of the "Masters of Horror" for his book and I was quite impressed by the information he was able to drag out of them. I know a lot about all three, but even I learned new things that I was quite amused by. It appears Joesph has done it once again with his latest release, A STRANGE IDEA OF ENTERTAINMENT.
When I asked Joe Maddrey how he got the idea for the book he said: 'I interviewed Tom for the "Nightmares in Red, White and Blue" documentary, and we talked so long that I ran out of tape. I asked if we could get together another time and keep talking, because he hinted at so many stories that I wanted to hear. That was the beginning of the book.' I also asked, What did he find most impressive of all the interesting facts he learned about Tommy McLoughlin? He replied: 'I think what really impressed me was the fact that Tom has had such a long, prolific career, has worked in so many different genres and YET has been able to bring a personal vision to nearly everything he's done. It seems to me that most filmmakers stick to a genre (or get pigeonholed in a genre). If not, they have a hard time getting work. Tom is an exception to the rule.' The title of the book is taken from Tommy's caretaker character in FRIDAY THE 13th PART 6: JASON LIVES! In the cemetery scene, he looks to the audience and says, "Some folks have a strange idea of entertainment..", which is just Tommy's way of giving a "wink" to the horror genre. Here is my review of A STRANGE IDEA OF ENTERTAINMENT: Conversations with Tom McLoughlin.
Before I interviewed director, Tommy McLoughlin recently, I knew almost nothing about him. I only knew that he directed one of the sequels in the FRIDAY THE 13th franchise. When you look at him, you see a long-haired/kick-back/down to earth/ mysterious man. Looking at Tom's career there is more behind all of that…much more. The story begins right away with Tommy's early years living in California in the 1950′s and 1960′s. Growing up around Santa Monica, Culver City, and the surrounding areas right in the heart of where all the film studios were built. You could say Tommy grew up in the industry right from the beginning. With MGM down the street, Tommy knew from a very young age he wanted to become a filmmaker. With wonderful parents, his dad a fire-eater and mime – Tommy had all forms of entertainment around him.
He has had an amazing life with moments like going to actor Peter Lorre's wake, rocking out at the Monterey Pop Festival, getting into the music industry and opening up for the famous Doors, and becoming a successful musician as well. As the 60′s were coming to a close and the 1970′s approached, Tommy found himself in Paris learning Mime at the Marcel Marceau's School of Mime. Returning to the states, he knew it was time to return to his life's destiny and the world of filmmaking. Winning awards and being nominated including his work with Dick Van Dyke, Tommy's love of horror and gothic came to the big screen with ONE DARK NIGHT in the early 80′s. Starring Meg Tilly and nominated for Best Independent Horror Film, Tommy worked his way up the ladder and found himself behind the camera in 1986 for the sixth installment of the FRIDAY THE 13th franchise. FRIDAY THE 13th PART 6: JASON LIVES!. I found the whole backstory to this film and how he had to bring the franchise "back from the grave" so to speak, after the huge disappointment of Part 5 in the series, very interesting. The risk was high, but he ended up with one of the Top Fan Favorites of the franchise. The book covers Tommy's career in television like AMAZING STORIES, FREDDY'S NIGHTMARES, and FRIDAY THE 13th: THE SERIES along with his other films like DATE WITH AN ANGEL, SOMETIMES THEY COME BACK, and a long list of Lifetime Channel films through the 1990′s and 2000′s.
I found Tommy's stories about working in the entertainment business quite intriguing and his experiences working with a wide variety of actors like Marlon Brando, Meg Tilly, Jason Robards, and Kirk Douglas just to name a few. He has an amazing life not just in the film and television industry, but a tight family life. He brings his wife, Nancy, and their two children on every set up to their early adult years. He has a great imagination he would have lots of fun and games with his children especially on holidays, when they would get homesick, and other times – magic and stories and make believe like fairies, leprechauns, and Santa were real for him and his family and he made it as real as possible as they were growing up. It is that very spirit of life and love along with creative talent that makes Tommy so interesting to read about. He ranks right up their with talented directors in his same genre such as, Mick Garris, Joe Dante, Robert Zemeckis, Alfred Hitchcock, and even Steven Spielberg. He loves gothic and all things Edgar Allan Poe, yet he can bring magic and fantasy to the screen that would entice anyone. When he's not behind the camera, he's on stage rocking out with his band or at home with family, but whatever Tommy does he makes sure he makes the memory unique and unforgettable..just like his films.
However, he carries this large amount of wonderment and curiosity of the beyond and believes he has yet to leave behind his "swan song". Tommy has a determination within him and he isn't about to slow down now. If you are interested in the film industry, a talented filmmakers rise to fame, a life that truly brings you in and shows you what's "behind the curtain" then I highly recommend reading A STRANGE IDEA OF ENTERTAINMENT: Conversations with Tom McLoughlin. The author, Joseph Maddrey has proven once again he has the gift of conversation that brings our iconic heroes closer to our hearts.
RANK: 9/10