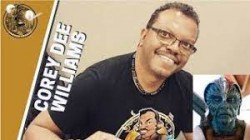 In May of 2023, it will mark the 12th year I've been a contributing writer of the Tri County Sun Newspaper. It's been a true honor being a part of the Ness Press newspaper family. This marks my "200th" published article. I wanted to make this milestone issue something very special. When I thought about what I could do, I wanted something that was interesting, and also celebrating an anniversary. Immediately I thought…STAR WARS! To be more specific, STAR WARS:RETURN OF THE JEDI.
Return of the Jedi turns 40 years old this coming May 25th, 2023. I remember it as though it was yesterday. I saw one of the first showings on its opening weekend, May 25th, 1983, at the Egyptian Theater on Hollywood Boulevard, in the heart of Hollywood, California. I was only 11 years old at the time, and it was one of my favorite memorable movie experiences ever. What better way to help celebrate that film's 40th Anniversary, and my 200th article than to interview someone who was actually in this iconic film…actor Corey Dee Williams!
Corey Dee Williams is the son of legendary actor, Billy Dee Williams. Billy Dee Williams has starred in many wonderful films including Brian's Song, Lady Sings the Blues, Mahogany, NightHawks, and many others. However, this actor is known for one of his most memorable characters, that smooth talking gambler, and administrator of Cloud City, 'Lando Calrissian' in STAR WARS: THE EMPIRE STRIKES BACK and RETURN OF THE JEDI.
Billy's son, Corey Dee, also had a role in 'Jedi' as the bounty hunter, 'Klaatu' who was part of Jabba the Hutt's soldiers in his palace, and on his sail barge. He also was the stunt double for his father in the film as well. I had the honor of meeting both Williams men in my life. First in 1985, when Billy Dee Williams got his honorable star on the Hollywood Walk of Fame, and the second time was in 2013, when I met both father and son at Crypticon Horror Con in Bloomington, Minnesota while covering the 3-day convention for the Tri County Sun. Billy, Corey, and I shared a wonderful time together visiting several great moments in both of these fine actors' lives. The conversations? They were great!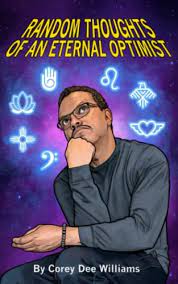 I've now had the distinct pleasure, and honor of interviewing Corey Dee about what it's like to be the son of a well known actor, his love of being a fitness trainer, musician/songwriter, actor, and now his most recent accomplishment of becoming a published author. Corey has a great new book release entitled, RANDOM THOUGHTS OF AN ETERNAL OPTIMIST. For quite some time now, Corey posts online positive, self-help, and inspirational thoughts, feelings, and solutions that will help readers get through this sometimes challenging thing called…life. I read these inspiring posts everyday, and they truly are up-lifting little insights. It was only a matter of time before Corey compiled them all together in this wonderful new book.
RANDOM THOUGHTS OF AN ETERNAL OPTIMIST, begins with a look into Corey's life, a biography of sorts, and what led him to this point in time to write this book. It's full of the most beautiful, inspirational, and up-lifing quotes written by Corey to add a little lift to get you going for the day. There are 115 of them, followed by a section where one can write down their own thoughts and feelings. This makes for a nice way to add to the already positive vibes with something of your own.
Life can certainly become challenging at times, and this book is a nice way to remind ourselves how to keep going forward with a positive attitude. No matter what life throws at us, RANDOM THOUGHTS OF AN ETERNAL OPTIMIST is a wonderful way to add just that much more inspiration to keep us going strong. You can literally pick this book up and turn to any page and find something peaceful and reassuring to add to your day.
RANDOM THOUGHTS OF AN ETERNAL OPTIMIST by Corey Dee Williams…a small slice of literary peace.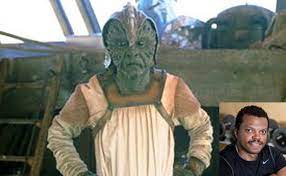 Now, here is my exclusive interview with Corey Dee Williams!
Anthony Northrup – You were raised by two parents who went on to become notable, and well recognized in their own way as celebrities. Your mother was a model, and your father, a well known actor to this day. What were those early years like for you growing up in New York with famous parents? Were there any special moments you remember most that you enjoyed?
Corey Dee Williams – Actually, neither of my parents were famous when I was growing up. My mother was a dental assistant who became the office manager. She did do some modeling early on, and we were in a Clairol advertisement together. She was one of the first ethnic women to model for Clairol. My father was a little known actor, doing stage plays and small parts on television shows and in movies. My parents divorced when I was very young, but their separation was amicable. I grew up in Harlem, on Saint Nicholas Avenue across the bridge from Yankee Stadium. Our neighborhood was like a small town – local candy store, record shop, and everyone knew each other. We walked just about everywhere – it was great!
AN – You moved from the east coast to sunny California at the age of 13 years old. Was this a difficult change for you at that age, or were you pretty excited?
CDW – I was very excited about going to live with my father, and being able to spend more time together, but as a teenager changing schools, friends, and being in a completely different environment certainly had its challenges. I went from living in a New York City apartment as an only child, to a house in the Hollywood Hills with two sisters. In many ways it was completely the opposite of what I was used to, but eventually I adjusted and loved being there. Especially when I got my drivers license and my first Volkswagen!
AN – Your father, Billy Dee Williams, is an icon in the film industry. Before his "Star Wars" days, did he ever take you on-set of any of his other films? If so, which ones, and were you ever star-struck back then?
CDW – There are many stories to tell, but my first visit to California was when I was about 11 years old. At that time my father was working on the television movie Brian's Song, which ended up being pivotal in his career. I spent part of my summer roaming the studio lot, and seeing the soundstages where many of my favorite television shows were filmed. One day I decided to go through a door and visit the adjoining stage – it happened to be where one of my all-time favorite television shows "Bewitched" was being filmed. I got to see how they did the special effects, and it was fascinating! At the time I had a huge crush on Elisabeth Montgomery! I thought she was mesmerizing! I got to actually meet her in person – it was an unforgettable experience! She had no idea who I was, or where I came from! (haha) She was the nicest lady.
AN – You studied at Pierce College. What did you study, and when did you first begin acting?
CDW – Obviously you've done some deep diving into my background. Lol! I attended Pierce College for Technical Illustration, and while attending I got a job working for an interior design studio, and also developed my passion for interior design. I had a girlfriend whose mother was an agent and convinced me to audition for parts that were related to music, but I had no interest in becoming an actor. I have always been a musician and songwriter.
AN – Growing up, I watched the STAR WARS films in the theater and was a huge fan. You were very fortunate to actually be in STAR WARS:RETURN OF THE JEDI. How did you get the role as 'Klaatu', a bounty hunter in Jabba's Palace, and what did you enjoy most about that role?
CDW – RETURN OF THE JEDI was my first job working as a stand-in and photo double for my father, which was what I was hired to do. My work as the creature, who would later become known as Klaatu, was additional background work that I was given the opportunity to participate in. When I was working as a stand-in, I also photo doubled my father hanging over the skiff in a background shot as Lando.
AN – The Sail Barge scenes in 'Jedi' were filmed in Arizona. What were some of the challenges for you filming in desert conditions? What was it like being on set?
CDW – The Star Wars set for Jabba's sail barge scene was quite impressive. The sets were physically constructed before many things were done through CG. The heat was definitely a challenge for everyone working on the set since temperatures could reach 110° during the heat of the day. I remember it seemed to be especially challenging for Peter Mayhew wearing Chewbacca's costume, a head to toe fur coat essentially!
AN – What was your first reaction in 1983 when you saw you were an "action figure"? (*laugh). What do you think of the new STAR WARS films, and the several spin off series on the Disney Channel?
CDW – Actually I had no idea the character that I participated in portraying was an action figure, or even had a name until almost 30 years later. Our appearance manager, Derek Maki, saw a photo in my personal training studio and brought it to my attention. Shortly thereafter he convinced me to do some appearances at conventions. At this point there are so many spin-offs in the Star Wars universe it can be difficult to keep up with all of it. To me it's great entertainment like nothing else, so I think it's best not to break it down too much or criticize it. The way I see it is, you are either entertained, or you are not. In my opinion there will never be anything as special as the original trilogy though. Not only was it a great story, but it is so representative of the era, and it was cutting edge at the time! Now it seems like everything has been done already
AN – There have been some iconic actors who were in the STAR WARS films who you co-starred with who have sadly passed away: Kenny Baker, David Prowse, Jeremy Bulloch, Peter Mayhew, and the lovely Carrie Fisher. Can you share any thoughts or memories that stand out about the STAR WARS legends who have left us?
CDW – I didn't know many of them personally, but I had a chance to become acquainted with some of them. I remember when I met Carrie during filming of RETURN OF THE JEDI. I was struck by what a genuine person she was. Mark Hamill was so personable, and had such a great sense of humor. One day on the set there were sandstorms that kicked up and filming was on pause – my friend Stephen and I knocked on his dressing room door, and when he opened it, we took a Polaroid with him in his bathrobe. It was hilarious
AN – Besides acting, you have other interesting talents, such as a physical fitness and lifestyle coach, and a musician. How and when did you begin these two careers? And please, tell us about your band in the 1980′s, Atmosphere?
CDW – It's almost impossible for me to give you a condensed answer to this one because it could be an entire book! Lol! My father was always a dedicated fitness enthusiast, and he would take me to the Hollywood YMCA to work out with him when I was a teenager. During the 70s, Bruce Lee rose to popularity and martial arts became huge. My father then introduced me to an incredible martial arts instructor, Hugh Van Putten, who became a mentor to me. In the 80's, I began a dedicated weight training program with another mentor, Randy Lomba, who was instrumental in helping me start my first training studio in Studio City, California. I studied under the American Council of Exercise, and became a fitness trainer and lifestyle coach in 1991, incorporating everything that I learned during those periods. Shortly after I began playing bass in the 80's, I met Stephen Costantino and we started writing songs together in my father's garage. He was quite an accomplished guitarist, and I learned a lot in a short period of time playing and writing with him. He also accompanied me while on the set of RETURN OF THE JEDI, as we worked on songs for our first demo. We had frequent jam sessions with friends and Atmosphere was born. The band would go on to have many incarnations which would later include appearances around LA during my involvement with Simon Sassoon as a co-writer and lead vocalist.
AN – Who were your musical influences growing up, and who is your favorite bass player of all time, and Why?
CDW – I had quite a diverse collection of influences growing up. My grandmother introduced me to Broadway musicals, my mother loved listening to Motown, my father especially loved jazz, and my uncle introduced me to Jimi Hendrix the year that he died. When I was about 10 years old my grandmother gave me an electric guitar for my birthday, and I thought that I would instantly be able to play like Jimi Hendrix. It wasn't long before I became disillusioned. Lol! I started listening to James Brown, and my father gave me the Sly and the Family Stone record "Stand" which became one of my favorite albums. In high school I was heavily influenced by George Clinton and Bootsy Collins. I constantly listened to Parliament Funkadelic and many of the Funk bands that came out of that era. Cameo was also one of my favorites. Later I became especially interested in playing bass after hearing a Stanley Clarke album. A friend, singer, and multi-instrumentalist, Jon Lucien, loaned me a bass and showed me how to play slap bass. If I had to choose an all-time favorite, I would have to say it would be Larry Graham, because he created a sound and style of playing which would influence generations of bass players to follow. No one was slapping the bass in that manner until he came along. I also love Marcus Miller because he's extremely funky, but also very versatile, and has played on and co-written more hits than most people even realize.
AN – Do you go on tour, and if so, what do you enjoy most/least about touring with your fellow musicians?
CDW – Touring around LA with Atmosphere in the 80's was brief, and performing in popular clubs was certainly an adventure. I would have to say what I enjoyed most, and still enjoy is collaborating and jamming with like minded musicians. Creating that way can be so unpredictable and spontaneous. The down side would be dealing with egos. Not doing any live gigs right now, but I have entertained the idea of putting something together to perform at a convention sometime.
AN – What advice would you give for someone who wants to get into the field of fitness training, or someone who wants to be an actor or musician, although these are vastly different occupations?
CDW – Those are all very different accomplishments, but I would say believing is seeing. Always believe in yourself but constantly reach for improvement. It's all about progress, not perfection.
AN – Your latest endeavors have brought you into the world of writing. With your newly released book RANDOM THOUGHTS OF AN ETERNAL OPTIMIST, please share with us how this book came about, and what readers can expect from it?
CDW – Well for years I have been sharing optimistic and encouraging thoughts on social media and many people suggested that I create a book. My friend, author Kimberly Bouchard, encouraged me to go through with it, and helped me with the process of getting it done. Every day we are given a set of circumstances and it is up to us what we choose to do with those circumstances. Outlook is everything. The book is a collection of my random thoughts, in the hope that it will evoke alternate ways of seeing things and be helpful to people in some way.
AN – How long was the writing process, and will there be a part 2?
CDW – I have been cataloging random thoughts about experiences or situations for many years. I literally have hundreds of them, so it's not difficult to imagine that there will be more Random Thoughts in the future.
AN – Please share with us what it's like for you traveling to conventions around the country, and what are just some of the most memorable moments you've had with the fans you met?
CDW – Actually, it has taken me around the world! Doing appearances is a very humbling experience to me, and the appreciation that you receive from people is both energizing and sometimes exhausting, especially when you are basically an introvert like I am. I get my energy from being alone in a room with music or instruments, expressing creativity. I really appreciate the opportunity though, and I never imagined my involvement with STAR WARS so many years ago would bring me to this! I would say what's most memorable about it is sharing heartfelt conversations about what people are going through personally, and spreading optimism. Creating our video "Cloud City Funk" with my friend Marc Mosiman at Star Wars Celebration Orlando 2017, was definitely the most memorable though! I got to interact with fans in a way that normally wouldn't happen. You can see it on YouTube.
AN – You travel with your father to these conventions quite a lot. What is the "father/son bonding time" on the road and at these conventions like for you both?
CDW – Well one of my main reasons I began doing conventions in the first place is that we are growing older and it's more important than ever to spend quality time together, but schedules can sometimes make it difficult. The bond is always there even through time and distance, but it's great to be able to get out and share something as simple as dinner and a great conversation.
AN – One of the things I've learned about you Corey is that you are a very kind, peaceful, and positive spirit. What is your philosophy and advice that keeps you this way in such a hectic and chaotic world we now live in?
CDW – Actually creating and writing random thoughts is definitely a part of the process for me. I would say learning to find joy, and sometimes even humor, in challenging situations, as well as being appreciative and grateful for the small things that we have a tendency to take for granted.
AN – You've accomplished a lot in the 1980′s in your career, and had some amazing experiences. What would you change, if any, from that period in your life?
CDW – I wouldn't change anything, not even the mistakes or regrets. They have all brought me to the moment that I am in right now, and contributed to my personal growth.
AN – Lastly, what's next for Corey Dee Williams, and where can readers pick up a copy of your new book?
CDW – Currently I have two music projects – one based on live funk jam sessions which I produce into finished songs called 3-Dee Nucleus, and a new one which is more experimental and genre blending called Sonicbiotic. I am now seeking song placement and sync licensing for television shows, movies, games, commercials, and anything that requires music. Both projects have a huge catalog of recordings and ideas in development and also completed. You can purchase my book "Random Thoughts of an Eternal Optimist" on Amazon and soon coreydeewilliams.com will connect everyone to the different projects that I am currently involved in.
I want to thank Corey Dee Williams for taking the time to share some great memories, advice and insights with us today, and for his wonderful friendship. I look forward to seeing more great projects from him in the near future.
Tags: COREY DEE WILLIAMS, COREY DEE WILLIAMS interview, RANDOM THOUGHTS OF AN ETERNAL OPTIMIST
Posted in Interviews by Tony Northrup on January 20th, 2023 at %I:%M %p.