RANK: 8/10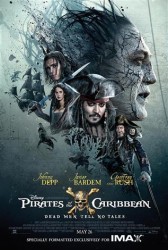 My first film review published in the Tri County Sun was, PIRATES OF THE CARIBBEAN: ON STRANGER TIDES, May 31, 2011. It seems befitting that 6 years later, to the date, I would be reviewing yet another in the series of these films. Once again, Johnny Depp returns to the high seas as Captain Jack Sparrow in, PIRATES OF THE CARIBBEAN: DEAD MEN TELL NO TALES.
In this latest, and rumored to be the last in the series, Captain Jack is out to help an old friend, while running from an old enemy who has come back… from the dead! Our adventure begins with a 12 year old boy, Henry Turner (Brenton Thwaites), son of Will Turner (Orlando Bloom), who magically makes Will's ship, The Flying Dutchman, resurface. He tells his father he knows a way to end the curse that Davy Jones put on him in an earlier film of this fun series. Will tells his son to leave him be, it's no use, but Henry refuses to believe this is the end for his father. Fast forward 9 years, an older Henry is now a deckhand on a British Royal Navy ship. While in pursuit of a pirate ship, Henry warns them NOT to go into the Devils Triangle. Refusing his warning, the ship is destroyed, but causes a previously sunken ship to reanimate, along with all its perished crew, and one very mean and ugly Captain (Javier Bardem/aka Captain Salazar), who has  othing but revenge on his mind. Of course, this brings us to the plot of our adventure, which includes none other than, Captain Jack Sparrow!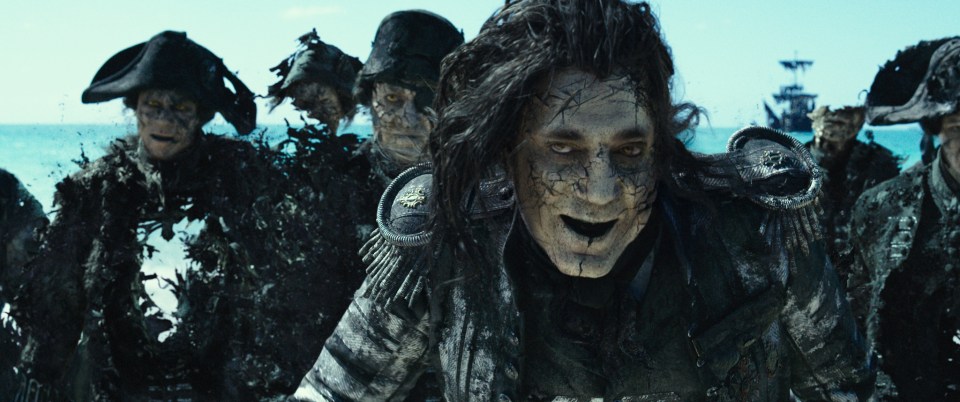 In a flashback, we see just how Jack became Captain Jack Sparrow, and during that flashback we see why Salazar wants revenge. In a second plot line, Carina Smyth (Kaya Scodelario) an astronomer, is labeled a witch, and is sentenced for hanging. Through similar circumstances, her path crosses with Captain Jack Sparrow, who is also condemned for his own hijinks. Both being in awkward situations, and both aware of Will's curse, decide to band together to end the curse. Carina knows all about the stars and legends, and tells Jack and Henry she knows where the Trident of Poseidon is, and how they can save Will. With budding romance between two of our characters, being chased for revenge by Salazar, reuniting with Captain Barbossa (Geoffrey Rush returns!), big action, and a race against time – there's only one way to find out how it all ends…go see PIRATES OF THE CARIBBEAN: DEAD MEN TELL NO TALES!…or do they?
This is the 5th 'Pirates' film in the franchise, and it haseverything a fan could want: our favorite characters are back once again (look for some cameos as well), plenty of action-packed scenes on and off the high seas, humor, romance, and even a cameo by a certain "Beatle", Uncle Jack, to our favorite Captain Jack! I enjoyed this sequel very much, and it recaptures the feel of the first two films in the series. I liked how this finale film comes full circle, making the film worth the wait! There is a SCENE AFTER THE CREDITS worth staying for, and leaves it open for another film, but as I said prior, it is rumored this is the final adventure. Only time will tell if we are to ever see the likes of Captain Jack Sparrow again, but for now, head out to the theater and see this swashbuckling adventure!
RANK: 8/10
Regista/Director: Joachim Rønning, Espen Sandberg
Cast: Johnny Depp, Geoffrey Rush, Javier Bardem, Orlando Bloom
Usa 2017
Tags: Espen Sandberg, Geoffrey Rush, Javier Bardem, Joachim Rønning, Johnny Depp, Orlando Bloom, PIRATES OF THE CARIBBEAN: DEAD MEN TELL NO TALES, PIRATES OF THE CARIBBEAN: DEAD MEN TELL NO TALES review
Posted in Action and Fantasy by Tony Northrup on June 8th, 2017 at %I:%M %p.