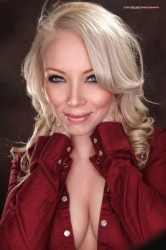 When aspiring actors and actresses head to California or New York to make it big they usually come from the south or mid-West, but in this case there was a young, beautiful, blonde actress named Sarah French who began her career in the most unexpected of places: her homestate of Minnesota.
Known for their 10,000 lakes, Vikings football team, and below freezing temperatures – Sarah had a "small town girl makes big" dream and that dream certainly came true. Well known celebrities who have come out of Minnesota are Pop music icon Prince, author F. Scott Fitzgerald, Folk singer Bob Dylan, and Golden Age actress, Judy Garland just to name a few. Sarah French can now be added to that impressive list of Minnesotan talent.
She is also labeled as a "Scream Queen" (a title given to those female actresses who are specifically from the "horror" film genre). Following in the footsteps of Scream Queens who have come before: Jamie Lee Curtis, Heather Langenkamp, Janet Lee, Linnea Quigley, Beverly Randolph, Adrienne King, and Neve Campbell just to name a few, but before she "screamed" her way to the big screen Sarah had to start at the beginning.
Sarah was born April 22, 1982 and is from Melrose, Minnesota. Her career began when she was discovered at a Heavy Metal Concert. She began in modeling at first, which was pretty easy for her being such a natural beauty already. In the beginning, she went by the stage name "Scarlet Salem", which she would later drop once her career was full steam. She has been in over 30 movies such as; Your Next 3:Pajama Party Massacre, Killer Biker Chicks, Shriek of the Sasquatch, Zombie Pirates, and Insectula just to name a few. Starting out as a model Sarah went on to being featured in major magazines such as Gorezone, and is in a relationship with boyfriend/author/filmmaker Joh Knetter.
Sarah is a dedicated Vegetarian, loves camping and the outdoors, afraid of needles, a big Heavy Metal music fan, and when she's not filming she's either traveling the Horror Conventions as a guest or sightseeing around her new home state of California. Above everything else, Sarah is movie fan! With an impressive list of film credits to her name already and a busy schedule coming up – We can expect great things from this talented blonde beauty and we look forward to all her future projects.
And now, here is my exclusive one-on-one interview with actress, Sarah French!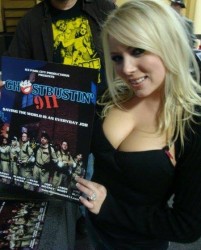 (Q) You are a native Minnesotan born and raised, what was it like for you growing up in the Northern Plains and what was the first indicator you wanted to get into acting?
(A) I grew up in a small town of about 2,500 people. In small towns like that, there's not much to do, so you had to get creative. My sister and I would put on plays when our family would be in town. It was a lot of fun. I think that's where it all began. I've always loved performing and being creative. Heading into my teenage years, it didn't change. Instead of plays, it would be making short horror movies and cheesy talk shows with my group of friends and we'd film it on VHS. Never thought I'd incorporate it into my adult hood and make it a career, but looking back, it makes sense. I love it!
(Q) You are a big Heavy Metal fan, are there any particular bands that inspire you?
(A) I'm inspired by music in many ways. I love listening to metal while I'm working out. It helps push me. Other ways I'm inspired can be how a band carries themselves. I'm a huge fan of Battlecross. They're midwest boys making killer music, touring the world, chasing their dreams just like I am. And they're very down to earth and sweet.
(Q) You're genre is "horror" films. What was the first horror film you saw and is there any in particular that have helped you while studying acting?
(A) One of the first horror flicks that I can remember seeing was, "Childs Play". My mom always tried keeping my sister and I sheltered from the world and never wanted us to watch horror movies. One day my grandma was babysitting us and decided to bring us to the video store. We somehow tricked her into renting, "Childs Play", for us. Haha looking back, not sure how that happened. The covers of the VHS back in the day sold me. Thats how I found the movies I love today, was always from the cover art of the movie. As far as movies helping, I think I definitely notice and pick up little things with any movie I watch. Whether its a look the actor gives, or an action, anything. I'm always striving to better my craft.
(Q) Minnesota is home of 10,000 lakes and great outdoor activities. Being a lover of the outdoors, are there any camping memories that you enjoyed most growing up?
(A) When I was a kid, I'd go camping with my cousins a lot. One time, my cousin and I came up with this brilliant idea to try to catch crayfish down by the lake. We figured if we can catch some, we'd be able to sell them to nearby campers. Sadly, we didn't catch any, but had a blast trying to.
(Q) What was it in particular that made you become a Vegetarian and how long have you been one?
(A) I started getting into health and fitness when I got out of high school. Becoming a vegetarian was one way to help make me not eat fast food and carefully plan my meals. I've been a vegetarian for many years now. So far its worked to my advantage.
(Q) Your first film was, YOUR NEXT 3: PAJAMA PARTY MASSACRE, what was your first audition like?
(A) Luckily for me it really wasn't your average audition. I met up with the film makers at a coffee shop. Basically we just talked for about 2 hours. They loved my look and personality. They thought I'd be perfect for the part.
(Q) With legendary Scream Queens like Jamie Lee Curtis, Linda Blair, Linnea Quigley, and others – Who were your inspirations as you began your acting career?
(A) I love and respect all ladies in the horror genre, but Jamie Lee Curtis was a big one for me. I've loved her since Halloween. To me, she's a big staple in the horror genre! Another one is Cassandra Peterson AKA Elvira. I j'adore that woman. I loved watching her, late night, introducing cheesy classic horror films. Elvira is one of my big inspirations because shes sassy, funny, hot, and doesn't take nothing from no one. Plus she loves horror and metal, can't go wrong with that. Last but not least, another fav is Sigourney Weaver. I'm a big fan of strong female characters in movies, especially horror flicks. The Alien series alone, shes so amazing. Don't get me wrong, I love running through the woods, half naked, and helpless. But, any movie where I can play a hard, tough character, I will. I love it!
(Q) Your film, SHRIEK OF THE SASQUATCH is a very "grindhouse" type horror film. Is there a different vibe on a film set for a film like that compared to a larger budget film?
(A) Yes, there is definitely a different vibe. Shriek was something we filmed in 5 days. When it comes to a lower budget film, you don't have the time, resources, or money to put into the film, so you have to work fast and work with what you got. In a bigger budget setting, you have the time, resources, and money. Most bigger budget films are filmed over a period of time. They can usually shoot 1-3 pages per day. They have the time to take longer and be more intricate. Where is a smaller budget film, you need to shoot out about 5-8 or more pages per day. Its intense. I've been on sets where we make a whole feature movie in about 3 days.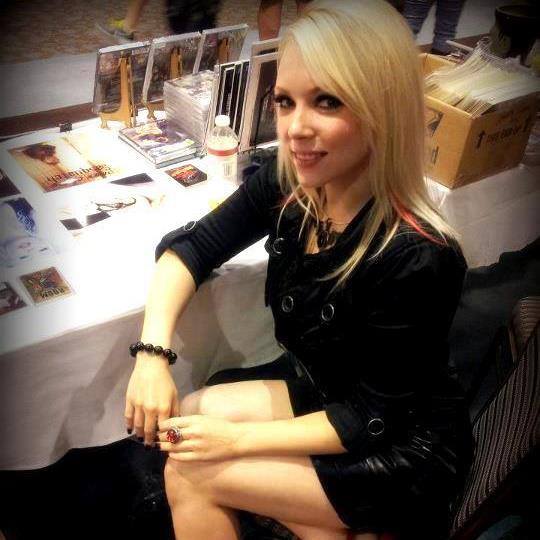 (Q) What was the biggest challenge you've had to face while building your career?
(A) Honestly, the biggest challenge is weeding through the crap. So many people talk and don't follow through. It took me years to learn how to pick up on that.
(Q) In the film, ZOMBIE PIRATES, would you say it was inspired by John Carpenter's film, THE FOG from the early 1980′s?
(A) Completely! My director, Steve Sessions, is a big fan of Carpenters, "The Fog".
(Q) Out of all the films you've been offered, what attracted you most to INSECTULA?
(A) I loved the idea of a big bug film! The script was killer and I just couldn't say no.
(Q) So many horror fans want really good scares & gore to be as close to the "old ways" of horror films as possible. How do you handle the pressure to keep the fans happy?
(A) As do I. I love the old school style horror flicks. I just do the best I can with what material I get to work with.
(Q) What is your main goal you wanted to achieve in film?
(A) What every actor wants. To work consistently and have a blast doing it!
(Q) In the film, INSECTULA, Where was the movie filmed specifically and were there any obstacles to overcome while filming there?
(A) The movie was mostly filmed in the city of White Bear Lake, MN. As far as obstacles, I'd have to say the weather. The weather in MN is so unpredictable. One day it'll be 60 degrees and sunny, and the next day it'll be negative 20 and snowing, haha. Most of the scenes in the movie were filmed outside, so we had to hope and pray for the days we were filming on, to be good weather days.
(Q) How long was the film shoot and the process from start to finish?
(A) INSECTULA was filmed over a time span of about 4 years or so. When it comes to Indy projects, its hard to plan and schedule a full movie shoot in a short span of time. Especially when everyone has day jobs. They still have to pay bills and take care of business and film when they have the time to do so.
(Q) What is your greatest moment so far with the success of your film career?
(A) My fans. I have some of the most amazing and dedicated fans out there. It makes me feel so good when they come up to me at conventions and ask for an autograph or buy one of my movies. Its one of the best feelings in the world.
(Q) What film director or actor would you like to work with on a large scale?
(A) On a larger scale, I'd love to work with director James Wan. He's just amazing. Everything that boy touches turns to gold. Plus he just seems so down to earth. Actor wise, I'd LOVE to work with Kurt Russell. No need for an explanation there haha!
(Q) Where/When can fans see your new film, INSECTULA? Will it be playing many film fests across the USA?
(A) INSECTULA has been making the film fest circuit all over. You can visit the website at www.insectula.com . Plus you can rent it or buy it through the website. I highly suggest it!
(Q) You do the Horror Film Convention circuit. Tell us what it's like meeting the fans and what do you enjoy most going as a guest to these events?
(A) First and foremost, I'm a horror fan. So attending these horror Cons is a big deal for me, as a fan! I get to sit side by side and party with these people I've been a fan of for years. Being at these horror Cons, I feel at home. Also, meeting the fans is one of my favorite things. It means so much to me when they come up to meet me. Horror fans are some of the most loyal and supportive people out there.
(Q) You recently moved from your homeland of Minnesota to the bright lights of California. How has that change/helped your career and what do you enjoy most in L.A.?
(A) I know L.A. isn't for everyone. I was so nervous moving here, but knew I had to give it a chance. I figured if it didn't work out for me, at least I tried. Needless to say, I freaking love it here! I've lived here now for about 5 months. In these 5 months, I've worked on numerous music videos, tv shows, and movies. I've done more work in these last 5 months, then I have all of last year living in MN. The thing is, there are so many opportunities around every corner. Its endless. You just have to be here to make it happen. Not only are there endless opportunities, the weather is AMAZING and there is so much to do! Seriously, living 30 minutes from the ocean… no complaints here! Plus my boyfriend and I love visiting movie locations. They're everywhere.
(Q) Other actresses I've interviewed have said, doing horror films is more of a challenge than doing a romantic film or drama. Do you agree and how do you prepare on-set to get into that "horror victim vibe"?
(A) Of course. Doing horror flicks is challenging. You're constantly being drug through dirt, drenched in blood, screaming frantically, running around naked, getting all sorts of scrapes and bruises. Its not a walk in the park. The rewarding part for me is the end result. When you get to see yourself on the big screen and people are cheering you on. Its amazing. I wouldn't change it for the world. As far as putting myself in the horror victim vibe, I just think to myself if it was really happening. It can be mentally hard sometimes because some situations seem so real.
(Q) Final Question, What's next for Sarah French?
(A) You can keep up to date with me by visiting my website at www.sarahfrenchonline.com and my facebook fan page.
Thank you Sarah for taking time out of your busy schedule to do this interview. We certainly wish you great success in your career.
Posted in Interviews by Tony Northrup on July 17th, 2015 at %I:%M %p.