RANK: 8/10
GUARDIANS OF THE GALAXY VOL. 2, is the 15th film in the MARVEL STUDIOS Universe, and once again directed by James Gunn. With his new film we find our rag-tag team of humans, aliens, a tree, and a raccoon, all back to kick alien butt, and save the universe!
This story unfolds where the last film ends, with our heroes, who else, protecting some very interesting valuables, from a menacing alien, that are ultimately used as an exchange for one of our Guardians (Gamora), sister, Nebula. While doing so, our Guardians are suddenly attacked by an entire army of drones, and miraculously they're saved by a mystery man. This mystery man turns out to be Ego (Kurt Russell), who is soon found out to have a connection to one of our characters. From there the story takes off. Ego entices the Guardians to come with him to his planet. Once there the plot of the story begins to unfold. It takes us on a visual escapade that explains the connection of Ego to the particular Guardian. Along the way, what seems idyllic, takes a turn for the worst, which leaves our group of Guardians ready to do what it takes to save themselves, and the entire universe.
Along the way we see side plots develop with some of our favorite characters as well, such as, Yondu (Michael Rooker), who has been hired to go after the Guardians, but before he can, tables are turned within his own group. With aliens, bandits, God-like beings, and drones, all on the Guardian's tail, from one end of the galaxy to the other, this film proves to be a fun filled, action packed adventure, and entertaining for all members of the family. Will all our heroes survive? Will they save the galaxy once again? Will Quill finally get the girl? These questions, and more, can only be answered when you get to your local theater to watch…GUARDIANS OF THE GALAXY VOL. 2.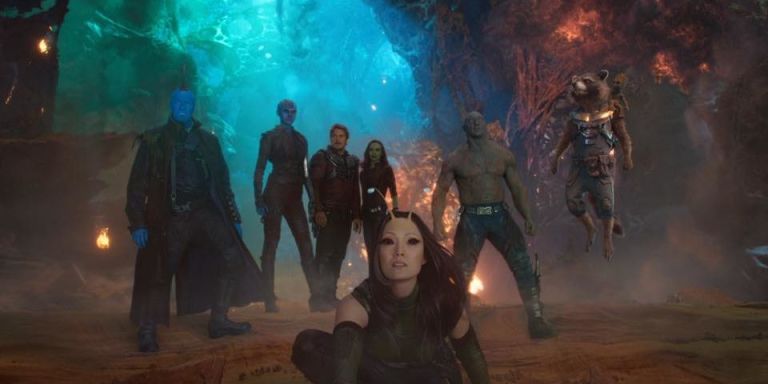 I REALLY enjoyed the first film. It was fresh, funny, and very entertaining, however Vol. 2, was a bit different. It did prove to have the same formula of the first film, but there were times I felt it fell a bit flat, and a bit drawn out on a couple of the battle scenes towards the end. However, there are some really great scenes (Drax steals the show, as well as Baby Groot), and the F/X are eye-popping, vividly colorful, and spectacular overall. The entire original Guardians cast is back (Chris Pratt, Zoe Saldana, Dave Bautista, Vin Diesel, Bradley Cooper, Michael Rooker, Karen Gillan), as well as Kurt Russell, as the menacing… Ego! There are cameos, and nods to other MARVEL Universe characters as well.
Just as in the first film, this sequel has a rockin' soundtrack of mixed music from the 1970′s and 80′s you'll be singing, and tapping your toes to. As always, there are scenes during the credits, which is common with nearly all MARVEL films, and a sneak peek of what is to come in the new Guardians film, scheduled for release in 2020! So,for a lot of laughs, adventure, and fun with the family, I suggest you jump in your own space vehicle and go see… GUARDIANS OF THE GALAXY VOL.2!
RANK: 8/10
Regista/Director: James Gunn
Cast: Chris Pratt, Zoe Saldana, Dave Bautista, Vin Diesel, Bradley Cooper, Michael Rooker
Usa 2017
Tags: Bradley Cooper, Chris Pratt, Dave Bautista, GUARDIANS OF THE GALAXY VOL. 2, GUARDIANS OF THE GALAXY VOL. 2 review, James Gunn, Michael Rooker, Vin Diesel, Zoe Saldana
Posted in Action by Tony Northrup on May 14th, 2017 at %I:%M %p.