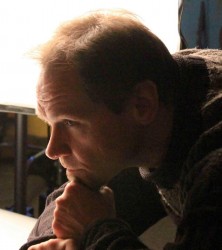 Peter Szabo is originally from Toronto Ontario Canada. Attending St. Martin Secondary School, later studying English Literature at the University of Toronto. After receiving his B.A., Peter appeared as an extra in TV and films. In 2006, he wrote, produced, and directed his first short film " A Day in the Life of a Psychopath". Also in 2006, he produced the documentary "Change Now for the Future: Perspective from Guelphs Street Youth", "Numb", a music video, and feature film "Dead Genesis" for Foreign and USA distribution.
In 2008, he produced and directed his second short film "Moma & Theo", 2010's "Too Low", and 2012's "Love Never Dies". Peter has many other credits to his name as well as other educational experience. Peter is the owner/Producer of Possibility Films and currently living in Ontario with wife, Irene.
And now here is my exclusive interview with filmmaker Peter Szabo…
(Q) Out of all the Stephen King short stories, what attracted you most to this one?
(A) "Nona" was not my first choice to adapt. My first choice, Mrs. Todd's Shortcut, was not available on the Dollar Baby list. So I read most of the stories that were on the list and "Nona" really resonated with me. What appealed to me was that the story focused on the inner psychology of the protagonist rather than on some horrifying or supernatural gimmick. To be clear, I have loved Stephen King's writing for years, but there was a difference between reading a story for entertainment and integrating a story into my own creative process. In "Nona," I was fascinated by the protagonist's obsession with this strange woman he meets one night and about how she can inspire or bewitch him into committing violent acts in a twisted form of chivalry. I liked the psychological obsession of the main character, and his susceptibility to suggestion from Nona. I easily imagined a suspense thriller movie and thought the story had a lot of interesting visual scenes.
(Q) What changes did you make to make this your own as opposed to Kings original text?
(A) The biggest change was to remove many of the bizarre supernatural elements, and in particular, the giant rat imagery. It's difficult to make supernatural creatures look realistic on film. Plus I knew it would simplify the filming and post-production process without special effects or CGI creatures. For me, it grounded the film in a more human story, too. I also eliminated the killing of the utility workers. I decided that viewers would see enough killing in the film to get the point that the main character had gone too far down a dark path to return. Oh, and I changed the title! I wasn't sure if movie watchers would know what genre of film I had made with the title NONA. It could be the name of a drama or a comedy about a grandmother (Nona is a common European name for grandmothers), and clearly my film was something quite different.
(Q) So many Stephen King fans want adaptations to be as close to the book as possible, how do you handle the pressure to keep the fans happy?
(A) I have to admit that I didn't think about the fans when I first chose to make a Dollar Baby. I was more interested in filming a Stephen King story as a personal, artistic challenge. Adapting someone else's writing is tricky because I think you should only do it if you can take the story into your mind and heart, and make it your own. But I did feel that I had to keep the integrity of the story by maintaining the original story arc and the main character's journey. I'm grateful to Mr. King for providing the inciting story ideas and inspiration to develop and express my own art. Hopefully, something in the film resonates with fans in such a way that compliments King's ideas and leaves my expression as a variation on recognizable ideas.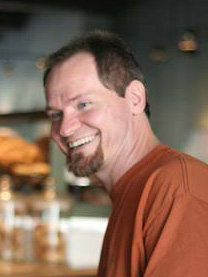 (Q) What was your main goal you wanted to achieve about this film?
(A) My main goal was to have the experience of filming a longer film as a stepping stone to filming a feature length movie. I have made short films with a few characters and scenes, but I wanted to take on something complex with multiple locations and a range of characters/actors. A secondary goal was to make a film based on story that was not written by me. Rather than hunting around for a script that I could like, I thought I'd go straight to the source of some of the best storytelling in the world.
(Q) Where was the movie filmed specifically and were there any obstacles to overcome while filming there?
(A) The movie was filmed in and around Guelph, Ontario, Canada, a small university town about 60 miles east of Toronto. The biggest obstacles were related to weather. Nighttime exterior temperatures were unseasonably cold. We had to bring a sleeping bag on set to keep the lead actress warm between takes. We also had to reschedule shooting on scene twice because it snowed in the middle of the production schedule and we had to wait for the snow to melt to maintain continuity. We also had a minor injury on set. During a night shoot, the fog-machine effects technician jumped into a ditch to avoid being seen while filming; he twisted his knee and tore his ACL. An on-set nurse examined the injury and declared it wasn't too serious. A P.A. drove the technician home and shooting resumed.
(Q) How long was the film shoot and the process from start to finish?
(A) We shot on weekends in March and April of 2011. Editing and post-production lasted from April 2011 to October 2012.
(Q) What is your greatest moment so far with the success of Love Never Dies?
(A) Screening the film in Toronto at the Blood In The Snow Canadian Horror Film Festival was a rush. Many of the cast and crew were there to share in the glory. The theatre was full with horror fans, other regional filmmakers, and Fangoria magazine writers. The film looked great on the big screen and I was relieved and proud to see that fans and critics liked the film a lot.
(Q) What Stephen King story would you like to adapt on a large scale?
(A) I would love to make a feature length version of MRS. TODD'S SHORTCUT. Or maybe a trilogy of King short films that would include Love Never Dies (NONA), plus film adaptations of WILLA and MRS. TODD'S SHORTCUT. I imagine the same actress playing all three female characters, as if the characters are all different manifestations of the one being.
(Q) Where/When can fans see this film? Will it be playing many film fests across the USA?
(A) It's played at the BLOOD IN THE SNOW Canadian Film Festival in Toronto and the Macabre Faire Film Festival in Pennsylvania a couple of years ago, but there are no more scheduled film fest screenings, so this could be the last one!
(Q) Your lead actor, Reese Eveneshen, is also very involved in the film with other responsibilities such as Producer, Editor, F/X Make-up; tell us how he got involved with the film?
(A) Reese and I have been helping each other with each other's movies for a few years now. We take turns directing while the other does whatever they can to help complete the project. We held casting sessions for the lead role in Love Never Dies, but I wasn't sold on the actors who auditioned. When I cast Erin Stuart as Nona/Betsy, Reese, who happens to be Erin's boyfriend, offered to play the lead role to have both lead roles conveniently accessible to the locations. When I saw his audition, I was sold that he could channel the perfect transition from weak and fragile to strong and deadly.
(Q) Is it safe to say the female character in the film, 'Nona' is almost a "spawn" of Stephen King's Needful Things character, Gaunt?
(A) I'll be honest…I haven't read Needful Things so Nona isn't a conscious spawn of Gaunt. Stephen King writes books faster than I can read them, and I haven't caught up to Needful Things, yet.
(Q) Final question, What is next for Peter Szabo?
(A) I directed a short film last spring and am just finishing the post-production sound mix and colour grading. It's called LIGHT AND SILENCE, and it's about a young woman who discusses her murder with God while watching the killing on a movie theater screen. And I'm producing a feature length science-fiction/action movie called DEFECTIVE, written and directed by my filmmaking colleague, Reese Eveneshen. We plan to start shooting over this winter and have it ready for festivals and sales agents by Fall 2016.
And there you have it….yet another exclusive "Dollar Baby" interview and review. I want to Thank Peter for his time and patience and wish him much success in his future projects. To learn more, go to the Stephen King Dollar Baby fan page on Facebook and keep an eye out for more "Dollar Baby" interviews coming soon!
Tags: Peter Szabo, PETER SZABO interview
Posted in Interviews by Tony Northrup on December 21st, 2015 at %I:%M %p.