RANK: 7/10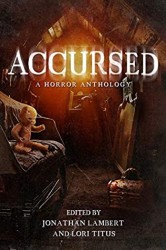 Anthology stories have been around a long time. From short story collections in book form, by authors such as Edgar Allan Poe, H.P. Lovecraft, Stephen King, Joe Hill, and many others, to television anthologies, and film anthologies as well (such as Creepshow). I guess I'd have to say I'm a big fan of … anthologies.
Writer, and editor, Jonathan Lambert, along with several other very talented writers, have come together to bring readers a variety of twenty-six short stories, with one thing in common. Although each story is different, all share a common denominator, a cursed item, which the lead character in each story is either rewarded by, terrorized by, or even brought to deaths door because of it.
You can count on each story to have a twist to it (just as the old Twilight Zone episodes of yesteryear). However, not every story has a happy ending. Accursed will scare you, amuse you, is creepy, but all the stories in this collection are entertaining. However, one thing is true of each story in this book, nothing ever comes cheap, or for free, there's always a price to pay, and in Accursed, that price could be very high! There were a few stories that I felt stood out from the rest, such as Attachment, (I particularly enjoyed this one), Mystic Images, The Chair, The Dentures, Little Adventure, and my personal favorite: The Typewriter (reminded me of the Stephen King short story, Word Processor of the Gods). Each story is unique in itself, and I am sure you will find your own favorites as well.
Accursed is a fun and entertaining read, and a great way to get into the Halloween spirit this October.
RANK: 7/10
Tags: ACCURSED review, Jonathan Lambert
Posted in Horror by Tony Northrup on October 17th, 2020 at %I:%M %p.