RANK: 9/10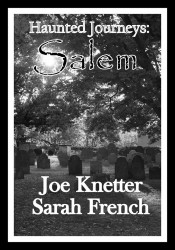 Sarah French has proven time and time again that she is a talented actress, climbing the ladder of success. Now she has decided to add to her repertoire, trying her hand at writing. Her first book…Haunted Journeys: Salem, is co-written with Joe Knetter. It is an informational book, and I found it fun to read. Not too wordy, nor boring, but just enough to pique my interest and curiosity.
Sarah and Joe are ultimate fans of ghosts, spooks, spirits, and all things that go bump in the night. Many of us have seen programs such as Ghost Adventures, Ghost Hunters, and many shows that are about the paranormal. "Salem ", is what I call a, "road trip" book. Sarah is the witty/straight woman of the duo, as Joe is more of the comedy relief of the two. At times I felt like I was sitting right there in the backseat, along for the ride. They really make you feel like you're there. They travel by car, stay in hotels, and finally arrive in Salem MA, home to some of the most frightening, creepiest, and most historical places ghost tales have originated from in the United States.
They investigate tales of witch hunts, haunted hotels, an old church, and cemeteries (Sarah's all-time favorite spook destination). They share with the reader their tales, adventures, all with a dash of comedy along the way. "Salem", proves to be interesting, personal, and entertaining. This book is for anyone who enjoys road trips, ghost adventures, history, and paranormal activities. I wholly recommend Haunted Journeys: Salem, and enjoy a fun little read by Sarah and Joe, as they make their trek to, Salem Massachusetts, and all the haunts it has to offer!
RANK: 9/10
Tags: Haunted Journeys: Salem, Haunted Journeys: Salem review, Joe Knetter, Sarah French
Posted in Fantasy by Tony Northrup on December 10th, 2017 at %I:%M %p.