RANK: 8/10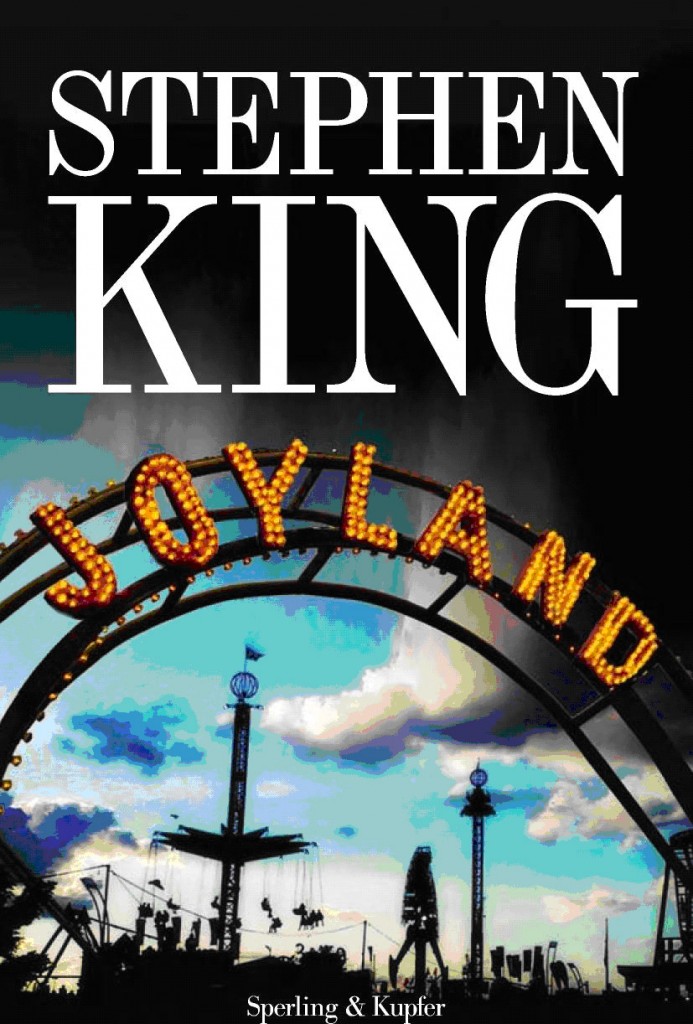 When we think of Stephen King we immediately think of "horror". Dubbed the "Master of Horror", King has scared us by taking the most innocent things like dogs, cars, clowns, kids, and many other things and turning them into nightmares. However, there is another side to King. He can write and tell the most amazing stories that have nothing really to do with horror such as; The Shawshank Redemption, Stand By Me (The Body), and The Green Mile. All three known as some of his best work. Well, you can now add another wonderful tale to that list: Joyland.
The story takes place in North Carolina in 1973. A 21 yr. college student, Devin "Dev" Jones comes down from his New England home to find work for the summer. It is here that he get's a job at an amusement park called, Joyland. Known as "We sell fun" motto, Dev has never done this type of work before. He learns the ropes of cleaning, fixing, and maintenance work of the rides, the special carny language that is spoken, the "tricks" to the games, and acting as one of the colorful characters that walks around Joyland entertaining guests. It's not an easy job by far, but Devin really seems to enjoy it. Renting a room by the beach for the summer and working hard for the money is Devin's new life…for now.
However, there is something more to Joyland than screams from kids on the rides or the smell of fried food, there was a murder. A murder of a little girl four years before Devin arrived. It took place in Joyland's Horror House and some say her ghost still comes there. This unreal tale captures Devin's interest and decides to investigate to see if the rumors are true? While his stay in North Carolina, he becomes friends with a 10 yr. boy named Mike Ross, and his mother, Annie. Mike is terminally ill and all he wants is to go to Joyland. But Mike has "the sight" and helps Devin with his mystery of the little girl while Devin begins to have feelings for Annie who is a little over protective of her ill son. With Mike's help, some detective work, and help from his other friends, the mystery murder at Joyland may or may not be solved..to find out I recommend Joyland.
I lived in North Carolina for 10 yrs. when I was young. I know exactly what it was like and Stephen King has not disappointed us because he captures not just the look and feel of that area, but the feel, look, and smell of those southern amusement parks. As you read this you can almost smell the fried foods, here the screams and laughter of the kids having fun, the sand between your toes, and the heat of that beach summer we love so much. This isn't just a murder story, it is a coming of age story. That time in our lives where we're too old for childs play and too young for the major decisions of adult life. A time of self discovery and new first time love. King doesn't do too much in the romantic department. Couples like Roland and Susan in The Dark Tower and George and Sadie in 11-22-63 stand out, but you can add Devin and Annie to that list as well. He captures their summer romance that leaves you hoping. This is also a good "who done it mystery" that leaves you guessing till the very end. This is Stephen King's second novel for the Hard Case Crime book series, his last was 2005′s The Colorado Kid. I found this to be a much enjoyable book. It is currently in the works to be made into a feature film.
RANK: 8/10