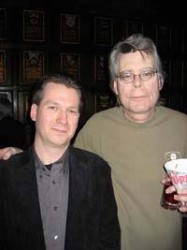 When you talk about Stephen King, one has to remember that there is a huge world connected to the famous author. There are filmmakers and there are authors who adapt his works and write about his works. Some of the most famous names who have written about King are Bev Vincent, Rocky Wood, and Stephen Spignesi just to name a few.
However, there is a man who not only wrote a book filled with interviews and reviews of King's works, but also runs … a website dedicated to him. Hans-Ake Lilja has been a fan of Stephen King since 1983, when he received his first King novel, Carrie for Christmas. It was in 1996 that Hans begin what is without question, the most visited, most creative, and most up-to-date webpage for all the latest Stephen King news: Lilja's Library. Hans runs the page, does his interviews, and writes reviews all from an office across the globe in Sweden. By day he works as a Test Coordinator and lives with his wife and two children. He is a fan of movies and books, but mostly of Stephen King. He also runs and reviews movies at www.DVDKritik.se.
He is a very dedicated and die-hard fan who has made a real name for himself within the Internet and Stephen King community. Hans has interviewed many famous filmmakers and actors who have worked on King's adaptations and has written hundreds of reviews on film, book, short story, and other forms of media of King's works. That book is called, Lilja's Library: The world of Stephen King and I was very fortunate enough to read it and boy am I glad I did.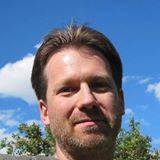 How did you come up with the name Lilja's Library exactly?
Well, the site's full name is Lilja's Library – The World of Stephen King but I'm not really sure exactly how it got its name. I wanted something with Lilja and King in the title and I was throwing ideas around with my friend Anders and one of us came up with it. Not sure who it was though. If I were to do it again I'm not sure I'd pick the same name though. Since starting the site in 1996 I have realized that it would have been much easier to find online if it had Stephen King's name earlier in the name. Maybe I should have called it Stephen King's Library – The World of Lilja but then I'd probably get sued by the real Stephen King Library
How did Lilja's Library come about? Were there any "bumps" along the way in the beginning?
Back in 1996 the Internet wasn't as fun as it is today. It was mostly text and not everyone had access to it and even though there was a few King sites I didn't really find one that was giving me all the info I wanted so I thought I'd start one myself. And from there it grow and grow to what you see today, 18 years later. And yes, there were bumps along the way. I wasn't very good at doing websites in the beginning (in fact I'm not that good today either. The design you see today is all thanks to my friend Anders Jakobson), it was hard to get info living in Sweden. Usually we didn't know about a book here until it was released and it was even harder to get publisher and TV stations to send me stuff. Today all that has gotten much easier. I still have to work to get some stuff to review but mostly I have a lot of good connections today.
Glenn Chadborne did the art for your mascot, Marv the Library Policeman, how many sketches did you look at before he was the final pick and what are some of the "Didn't make the cut" mascot's?
What you see is the first thing he did. I was very happy with it right away. He has then done other illustrations for Marv like for the book and for a contest I ran but the one on top of the site it the first one.
Your website name made a "cameo" in the MARVEL comic book, The Stand, was this a surprise for you or did they ask permission?
It was a total surprise and (I'm ashamed to tell you this) I actually missed it the first time I read that issue and a friend emailed me saying something like "Have you seen Lilja's Library in The Stand?" And that really made my day. I have the original drawing of that page framed on my wall at home and I'm very, very proud of it.
Your dream came true in 2006 when you first met Stephen King in London, share with us your memories and feelings of that night?
It was actually more than on evening. He was in London to promote Lisey's Story and I went to attend a few signings (it turned out I went to all 3 that he did) and I attended the reading he did (which also included a signing) and was fortunate enough to get invited to the press conference and also the publishing house party (thanks Hodder & Stoughton) and that was when I got to chat briefly with him. It was only for like a minute but it was fun and I'm very glad for the opportunity.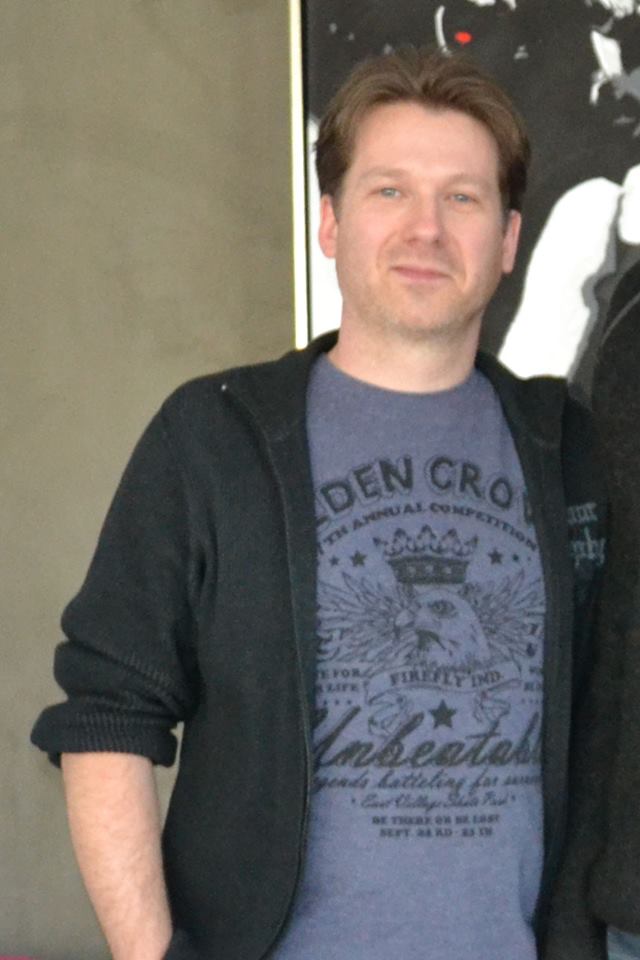 You have interviewed some major players in the "King World" such as, Frank Darabont, Mick Garris, Tom Holland, Stephen Spignesi, and many "Dollar Baby" filmmakers; What was your most enjoyable interview, hardest to get, and who is your dream interview some day?
Well, hardest to get was King himself. I worked for the first interview for 5 years before I got the OK and then it took about 6 months to find a time that worked. But then when I got it I got to speak to him for 45 min on the phone and then got another interview a year later where we spoke for like 30 min. So my interview with King was both the hardest to get and the most enjoyable. Dream interview? Well, I'd love to do another with King.
You have interviewed director Frank Darabont three times, I have met Frank and he is a wonderful man. Will you be interviewing him again in the near future?
Nothing is planed but I hope to the next time he does a King movie.
You've interviewed the man himself, but how about his son, Joe Hill. Will we see an interview with the "next generation in Horror"?
Nothing planed there either. I talked to him about an interview when he published his first book but he was a bit reluctant to be connected to a King site at that time. It was before he was officially known as King's son.
Your favorite King short story is, "Autopsy Room Four", What is your favorite King book and film and Why?
Autopsy Room Four is one of my favorite. King has done so many that it's hard to pick just one. Favorite movie has to be The Mist. I just love the grim ending. Favorite book is The Long Walk. I love how King can take something as common as walking and turn it into that story. But like with the short stories there are so many books that it's hard to pick just one. I love IT, The Stand, The Dark Half, The Dark Tower and I will probably love Mr. Mercedes once I have read that one.
You have seen a lot of "Dollar Baby" films, how do you feel about these films compared to the big budget/big screen adaptations of other King films?
Well, they are often done with a lot of love for filmmaking but as you say they don't have a big budget and the actors are often pretty bad so often they aren't that good. And I also think there are too many of them. Some stories has been turned into like 3 or 4 versions of Dollar Babies and when most of them are pretty bad you don't have the will or time to seek them all out.
Your site has been described by big names in the film and book industry with words like, 'lively', 'well-organized', 'impressive', 'One of the Best sites there is' – how does that make you feel considering how far you've came and the hard work you've achieved?
It makes my day when someone likes what I do on the site. I love it when readers email me or post messages on facebook or twitter. I try to answer them all (sorry if I miss some) but besides reading King the contact with other fast is what I love the most about running the site.
You have written one of the best books about King's books I've ever read, Can we expect a possible "sequel" to Lilja's Library: World of Stephen King?
I'd love to do a sequel but I'm not sure I have enough interviews and reviews to fill another book. Remember the first book had about 10 years of reviews and interviews in it and it was released about 4 years ago so I think I might need to work a bit more to fill a second book. But I'd love to do one if the readers would like to have one.
You are coming up soon on your 20th Anniv. of Lilja's Library, in the beginning, Did you ever imagine that a fan page would grow so big and so long? Will there be big surprises to celebrate this event the fans can look forward to?
Yeah, it's amazing. In like 2 years I will have been running the site for 20 years. It's hard to believe that it's been that long. I hope to celebrate it big time but its 2 years away so nothing is planed yet. I guess I'd be happy if people still read the site after 20 years.
Living in Sweden and running the website from there, is it hard sometimes to line up interviews or get the latest Stephen King news?
Sometime it is. Now it's easier than it was in the early days. I might have to get up in the middle of the night to do an interview (due to the time difference) but it's not a big problem. The biggest problem today is to get movie and TV stuff sent to me.
What is your greatest moment so far with the success of Lilja's Library?
Meeting and interviewing King himself. I doubt that I would have been able to do that without the site. But as I have said earlier I also really enjoy interacting with other fans.
Final question, What's next for Hans Ake Lilja and Lilja's Library?
I hope to keep running the site for many more years but you never know. Everything has an end and sometimes it comes sooner than you want to but hopefully I'll be running the site for as long as King writes books and then some. But I guess it's ultimately up to my readers. If they stop reading and visit the site I guess it's not much point in keeping it up.
Posted in Interviews by Tony Northrup on April 9th, 2014 at %I:%M %p.