RANK: 8/10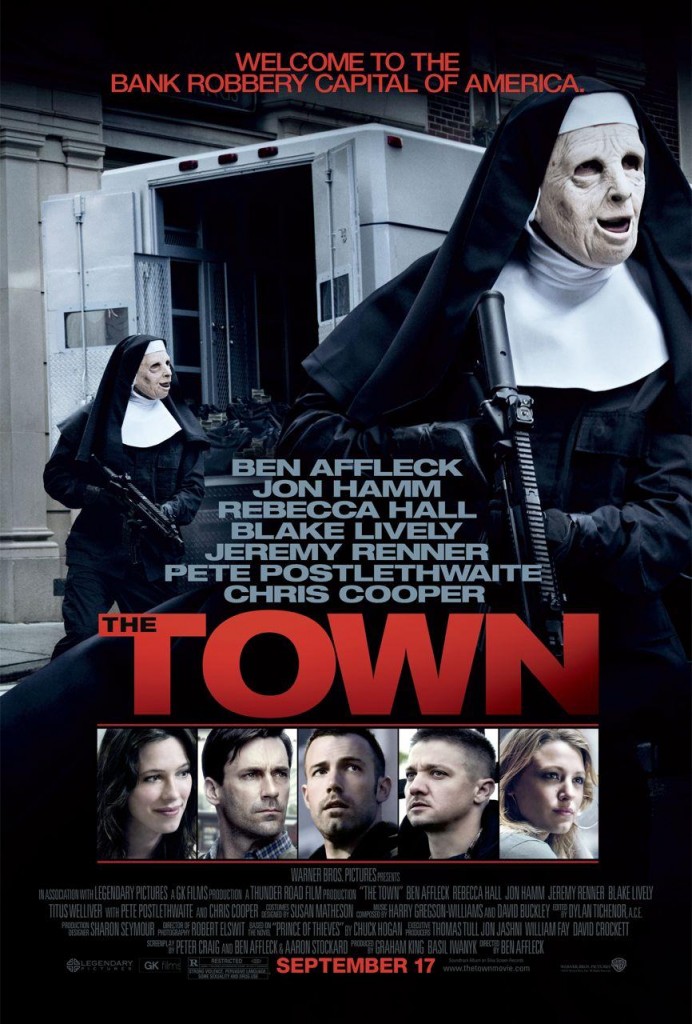 Year's ago way back in the 90′s, on a bright sunny day in Southern California, we lived in the San Fernando Valley. And one day, there were some men who decided to rob one of the biggest banks in the area. This was a huge breaking story and my wife and step-daughter were stuck at a 7-11 right near the bank because they closed off the entire area.
This was big! The guys were wearing long coats that were bullet proof, carrying heavy weaponry, and almost got away with it. It lasted for hours. It was a very scary moment, indeed. Years later, a film came out called; Heat. It was semi-based on this story. There was also a made-for-T.V. version of the story as well. Why did I bring all this up? Well, when I first saw the trailer for The Town, I thought it was an exact same thing as Heat, but taking place in Boston. Well, it's not. Here's my review of, The Town. Ben Affleck has done many, many wonderful films. I don't care for some of them and I thought that after seeing the perfect film; Good Will Hunting, Affleck couldn't do another film that could match it. Well, here he has come very close. This was the hit and quality of filmmaking from Affleck that I have been waiting for. He has proven once again that he CAN be a leading man, tell a great story, and give the vision he wants to express to the audience.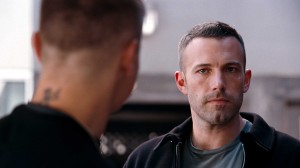 The film is about robbing banks and at times it is a little similar to Heat, but Affleck put's more heart and a personal touch that Heat doesn't. He plays Doug, a longtime thief that robs banks and bank trucks. In the area of Boston called, Charlestown, known as the highest bank heist area in the country. In this suburban area of Boston, generations after generations carry on the tradition of robbing banks through the years. Doug carries on his fathers tradition as well. His father being in prison (played by Chris Cooper, who has one scene, but a very powerful scene at that), talks with his son about that "one last heist".
Before that, the film starts off with one major bank heist and during the heist, they unintentionally take a hostage which isn't what they normally do. It's usually an in and out job. And these 4 men our no sloch when it comes to robbing banks. They are quick, know everything there is to know about banks, planned very well, and our thorough….professionals, indeed and a trade learned by their fathers and their fathers father. The hostage; Claire, (played by Rebecca Hall) that they take, becomes an attraction for Doug. He knows not to get involved with a hostage and that it's not part of their way of robbing, but he slowly begins to fall in love with her.
He starts out just watching her and making sure she doesn't go to the police about who took her, but then realizes he really likes this woman and begins the relationship innocently without telling her about his "other lifestyle". Doug's partner in crime; James (played very well by Jeremy Renner), runs into Doug having lunch with Claire and he realizes that she was the hostage. Doug later tries to play it off like he's just watching her and protecting their best interest, but James is too worried that she'll go to the Fed's and send them all to prison and also worried that Doug will get too involved and forget his life of crime.
It is just that very thing that Doug wants, to settle down and get out of the life of crime, but with pressure of some older thugs, James, and the Fed's Doug has no choice but do that one last job. And that last job is one powerful moment in the film that leaves you on the edge of your seat not knowing just how it'll all end or who will survive? To find out, I highly recommend The Town.
This film is everything a bank heist film should be, but not just that, it has a personal side. You can see that in the writing and the directing. Affleck is very proud of his native Boston and it shows throughout the film. Not just in it's scenery, but the way of life, the people, and the whole lifestyle. The "get outta the life" scenario has been done before, but Affleck does it differently; he shows that love can be stronger than money, friends, and prison. I enjoyed this film a lot, more then I thought I would. There are powerful performances by all, especially by Jeremy Renner and Affleck himself. I know this will be nominated at Oscar time and I think Affleck deserves it this time around for Best Actor, Screenplay, or Director, but it should be acknowledged.
RANK: 8/10
Regista/Director: Ben Affleck
Cast: Blake Lively, Ben Affleck, Jon Hamm, Jeremy Renner
Usa 2010