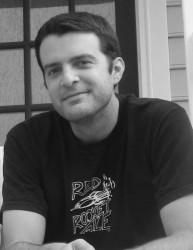 As a supporter to the Independent filmmaker, I am also a full supporter to the Independent writer as well. This time, I am bringing your attention to a young author who has jumped into the horror genre with both feet, Joseph Maddrey and the book, Beyond fear: Reflections on Stephen King, Wes Craven, and George A. Romero. The chances of a young writer having the opportunity to do a book about not just one 'legend of horror', but three is pure luck! This book is full of horrifying treats, but before we get to that, let's learn a little more about its author, Joseph Maddrey.
Joseph grew up in Charlottesville, Virginia and went to Western Albemarle High School from 1993-1997. He moved on to college at James Madison University earning a Bachelor's Degree with English as his major and film studies as his minor. Graduating from JMU in 2001, Joseph wrote 'Nightmares in Red, White, & Blue' as his Senior thesis there. While he had no real job prospects, all he wanted to be was be a published novelist, but as we all know getting published and in that first break is never easy. He decided to submit Nightmares in Red, White, & Blue to McFarland for publication. Joseph said he remembers their first response clearly: Their response was, 'You've covered some pretty well-trended ground, but your writing is fresh and intelligent.'
In 2004, they agreed to publish his first book and has been writing non-fiction ever since. Joseph has written other books such as, The Making of T.S. Eliot, co-author of Not Bad for a Human:The Life and Films of Lance Henrikson and the graphic novel, To Hell You Ride, and is the editor of A Strange Idea of Entertainment: Conversations with Tom McLoughlin. He has also written and produced TV shows, including seven seasons of A hunting on the Discovery Channel, film version of Nightmares in Red, White, & Blue. Joseph moved to California in 2006 and currently writes and lives there with wife, Liza and daughter Olivia.
(Q.)Out of all the genres to write about, what attracted you most to this one?
I've always been drawn to horror, since long before I could articulate why. I think a lot of horror fans appreciate the honesty of horror storytellers, who say "yes, bad things happen in this world" and then try to understand why and how to respond.
(Q.) What were some of the books you grew up with and later inspired you to be a writer?
Obviously, Stephen King was a big influence. It was his work that turned me into an avid reader and a fiction writer. He was my "gateway drug," and led me to my favorite poet T.S. Eliot (who I also wrote a book about). My reading preferences have changed a lot over the years, but I always come back to those two writers.
(Q.)You write about three of the biggest names in horror of all-time. Between George Romero, Wes Craven, & Stephen King, Which one did you find more fascinating and why did you pick these three out of all the great horror directors and writers that are out there?
"Beyond Fear" is a very personal book, and these are the three storytellers whose work resonates most deeply with me – because I share certain elements of their worldviews. I see Romero as a committed romantic idealist, Craven as a genuinely spiritual intellectual (a rare breed these days), and King as an almost reluctant humanist. There's a lot of genuine philosophical tension in their work, and that makes them worth studying.
(Q.)What was your main goal you wanted to achieve about this book?
Writing books is my excuse to chase my obsessions. I had read everything I could find about these guys, and I felt like there was still more to say about them, so I got to work. I'm pretty sure that even Wes Craven's most die-hard fans will learn something new from this book, and I think I've done a good job of presenting the context for King's entire career, which no one else has really done. Douglas Winter's critical biography "The Art of Darkness" was my model, but it was published in the 1980s and Stephen King has done a lot of work since then. I wanted to examine his more recent stories in a way that the various King encyclopedias, film studies, and trivia guides haven't.
(Q.) There are some very interesting facts about these three men, What interesting fact amazed even you the most?
What interesting fact amazing YOU the most?
(Q.) The first book you got published was, "Nightmares in Red, White, & Blue", tell us how about your first reaction and thoughts when you found out you would be finally published?
I always naively assumed I would get published, but I thought it would be my fiction that got published. I submitted NIRWAB to McFarland at the same time I submitted a bunch of short stories to various literary magazines. The stories came back. The non-fiction book was accepted for publication. Around the same time, I got a job working on a documentary TV series. For better or worse, I've been writing mostly non-fiction ever since.
(Q.) What is your greatest moment so far with the success of Beyond Fear: Reflections on Stephen King, Wes Craven, & George Romero?
I just wrote a related piece for the Fangoria publication GoreZone, about Wes Craven's "lost" film "The Fireworks Woman." I'm really excited to see that in print, and to see how readers react.
(Q.)You've worked in films such as Nightmares in Red, White, & Blue and The Bureau, Do you see yourself moving more into that direction now that you are an accomplished writer?
NIRWAB is my only film (I wrote and produced it, and directed the interviews), but I've been working in television since 2001. That's my "day job." Right now I'm finishing up the 7th season of "A Haunting" for the Discovery Channel network. I hope I can keep doing genre-oriented projects like that.
(Q.) Out of these three subjects, Which one was the hardest to write about or collect information about?
I was lucky to get to interview George Romero and Wes Craven in person. I pursued an interview with Stephen King, but it was going to be a very long wait. So I spent a lot more time researching his work… I tracked down all of his printed interviews and read all of his books! I think I actually started taking notes on the novels in 2006, so "Beyond Fear" has been in progress for quite a while.
(Q.) Were there other horror genre greats you either wanted to use for this book or maybe fell through?
Originally I thought the book would have four sections. I've always wanted to write about the films of David Cronenberg. But once I had completed the section on King, I realized that I already had a very long book. In fact, I ended up significantly trimming my original essay on Romero because parts of it didn't really fit the theme of the book. I might publish the "outtakes" on my blog one day.
(Q.) Out of these three men: Craven, Romero, and King, Which one are you more of a "fanboy" of?
I admire all of them, as storytellers and as people. Their work is part of my perspective on life, in a big way. That's not to say that I'm a fan of everything they've done. They've all had their highs and lows. I suppose, because King has produced a larger body of work, he has had more highs. Also, because it takes longer to read a novel than to watch a movie, I've spent more time in his world. That's why more than half of the book is focused on King.
(Q.) I really enjoyed the backstories of the films and books of these artists, you really did your "homework" so to speak. How long did it take you complete the book and find all these fun facts?
I started re-reading King's novels and taking notes in 2006, but I didn't start thinking of this as a book until a few years ago, around the time I interviewed Wes Craven. I spent a lot of time in 2012 working on the Craven essays, and much of 2013 working on King.
(Q.) I would imagine it was a different feel working with each one of these artists, Can you tell us how they differ in person from your viewpoint?
Romero's work is deeply political. He seems to be the most secular of the three, and his focus is really on "How can we make things work better in our everyday world?" And his answer is: Treat each other with more humanity and respect. Craven, probably because of his religious upbringing, seems more interested in metaphysical philosophy, questions about the existence of God and the nature of evil… but he also has this wry sense of humor that keeps his stuff from getting pretentious. I think a lot of people don't notice when he's being funny, and so a lot of his intelligence goes unnoticed. King's work is a bit harder to pin down. He says his beliefs have changed over the years, and I think maybe his most consistent faith is his faith in the unknown. To some people, that may sound terrifying… but faith in the unknown can actually be a comfort, if you embrace it.
(Q.) Can we expect a possible BEYOND FEAR 2 someday with three more horror genre greats and if so who would YOU like to have in it?
I don't know. I love the title "Beyond Fear," but I'm not sure exactly how it would apply to other storytellers I'd want to write about.
(Q.) Final question, What's next for Joseph Maddrey?
Well, I have another new book – an extended Q&A with filmmaker Tom McLoughlin, who directed the Stephen King adaptation "Sometimes They Come Back." The book is called "A Strange Idea of Entertainment." Like "Beyond Fear," it's available through all the usual online book retailers: Amazon, Barnes & Noble, etc. And I'm already working on two new books… but I'm not quite ready to start talking about those yet.
I want to Thank Joseph for his time, patience, and this opportunity to spend some time with us and share this Must Read book for every horror fan!
Posted in Interviews by Tony Northrup on September 3rd, 2014 at %I:%M %p.