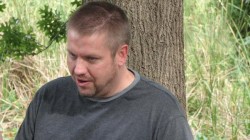 One of the joys of being a writer and supporting Independent talent is, the amazing discoveries you make along the way. It doesn't matter if it's an Artist painting, a new young face on the music scene performing at a club, a short film being played at a film fest, or in this case, an author releasing their new self-published book. As a full supporter of Indie's, I get a lot of joy spreading the word when I, myself, discover these type of talents. Case in point, author Shawn S. Lealos new book: Dollar baby: The Story of the Stephen King Dollar Baby Filmmakers.
Shawn was born August 11, 1970 in Yukon, Oklahoma. He attended Yukon High School and then Oklahoma City Community College. He graduated from the Gaylord School of Journalism at the University of Oklahoma studying professional writing. He has been a journalist for over 20 years and film critic before making his own films. Shawn is the Creator/Owner/Writer at Renegade Cinema and Producer/Director at Starving Dogs Productions. He made his "Dollar Baby" in 2005 called, I Know What You Need. Followed by 2006's Les Chanssons and 2008's The Final Detail. Shawn has hosted "Dollar Baby" film fests in Texas and Washington. Shawn is currently married to Johanna and leaves in Norman, Oklahoma.
And now here is my Exclusive Interview with author Shawn S. Lealos…
(1) You grew up in middle of America in Yukon, Oklahoma. Tell us about those years growing up, did you always want to be a writer at such a young age or was film making your first love.
My first love was always writing. When I was a kid, I was a huge comic book kid. This was back in the late 70s and early 80s, so Marvel was where it was at for me and I read everything. I hit the comic store the day they came out and grabbed every issue that came out every week. I always wanted to write comic books. Then, when I went away to college the first time, I stopped reading comics, but about the same time, I started reading Stephen King. That would have been 1989. By this time, I was starting to party with new friends and there were a lot of haunted places out in the country. I ended up writing short stories about the places and we would pass the stories out to newbies before heading out to the haunted places, and they usually worked perfectly to scare people. I turned in one of those stories to my English Comp class and that is when my professor asked why I was a business major when I was talented at writing. On her advice, I went to the University of Oklahoma and majored in professional writing. It wasn't until my capstone class as a senior in college that I discovered my love for screenwriting, and then filmmaking after that.
(2) You swept the Columbia University Gold Circle Awards by winning 1st, 2nd, AND 3rd Place for Sports Journalism. Tell us what the article was specifically about and how did it feel being a three-time winner in one shot?
I did sweep those awards one year, and it was for three different articles, one for each place. I was pretty successful at those collegiate awards for my sports writing. In 1998, I took third place for a story about the Oklahoma-Texas rivalry, in 1999, I took first place for an article titled "Living the Dream," and in 2001, I swept the category of Sports Reporting with three articles ("Sweet Victory," "Road to Independence," and "Superior Leadership.)" Basically, when I started writing for student publication, I was writing for the Yearbook and student paper. When I broke a story about a former player (Brian Bosworth) starting a new charity organization, the paper wanted to give the story to someone else, but the Yearbook told me to run with it. I got an interview with The Boz, wrote the story for the Yearbook and then asked the paper how their story was coming. They said they were having trouble getting in touch with Bosworth and I told them I already interviewed him. I ended up writing the story for them as well and it was the cover story of the game day newspaper. I also sold a story about it to a national sports magazine at the time. That earned me an Honorable Mention at the actual Oklahoma Society of Professional Journalists awards, which is still my most proud moment since I was competing with actual professional journalists, while I was still a student.
(3) You hosted two "Dollar Baby" film fests: Comicpalooza in Houston Texas and Galacticon in Seattle Washington. How did that come about and what do you like most about Horror/Syfy/Comic Book conventions like that?
I was covering Comicpalooza in Houston as a journalist for a couple of years and one year reached out to the guy who created and ran the convention. He seemed interested and we set up the festival for the next year's convention. I reached out to Dollar Baby filmmakers and everyone seemed interested. We ended up having three days of screenings, stretching back to the first known Dollar Baby (The Boogeyman by Jeff Schiro) to brand new ones like In the Deathroom by Damon Vinyard. It was exciting. That same year, Battlestar Galactica had their convention in conjunction with Comicpalooza and I met the guy who helped run that and he called me about a year later and asked if I wanted to bring the Dollar Babies to Galacticon in Seattle this year. I agreed and we set that up.
As for conventions, I love to attend them and really enjoyed working as a journalist at them. Interviewing people like Tony Todd (Candyman) and Michael Biehn (Terminator) was just a real treat. Also, meeting lesser known people like Terrance Zdunich (Repo: The Genetic Opera) made it all worthwhile. However, working the convention as an invitee is a lot of hard work and manning a table is very long hours and often discouraging. Overall, I love the atmosphere of the conventions, especially as a journalist and fan.
(4) When was your first introduction to Stephen King? Which book of his has made an impact on you the most?
I never watched movies growing up because of my religious upbringing didn't allow to go to movies. When I left home for college the first time, I started going to movies all the time. I really don't remember if I saw a Stephen King movie before I read a book, but if I did it was probably Misery. But, what I do remember clearly was reading my first Stephen King book – The Stand. It was the long unabridged version and I loved it. Absolutely loved it. I joined the Stephen King book of the month club after that and read the books as I received them (instead of in order) and couldn't get enough. But, The Stand is still my favorite story by King.
(5) Before we get into the Dollar Baby Q/A, tell us a little bit about your other two films you've done: The Final Detail and Les Chansons? Was one more difficult to film than the other? Were these shown at film fest, if so where?
When I discovered my love of screenwriting, I decided to stick around OU after I graduated and started taking film studies classes, which was basically a film history and writing course. I took a couple of screenwriting classes, one in the journalism college and one in the film college, and thought about making a movie. I learned about the Dollar Babies and wanted to make one of those, but at that time, you had to send in a request via mail and wait (unlike now with the Internet application). While waiting, I teamed up with my friend Rob McIlrath, and we made our first film Three Piece Combo. That was for a class that I was taking that Gray Frederickson (the producer of The Godfather) taught. He let us either take a final exam or make a short film for our final grade. I chose to make the film and it was a dumb comedy about a drunk redneck who kept interrupting the shoot of a melodramatic film. It got laughs from the audience when it screened and I made an "A" on the project. We next decided to shoot a short film based on my short story "The Devil's Playground," which was both one of the stories I wrote about the haunted places back in Yukon as well as the story that impressed my college English teacher years before. We were shooting that when the contracts from Stephen King arrived and we dropped everything and started I Know What You Need. As for Les Chansons, that was at a period of time where I was wanting to really establish our production company and I asked out contributors to submit some ideas. That was one submitted by a girl named Anne Haider. I adapted her idea into a screenplay and let her direct the entire film. I then made a decision as a producer to have it all in black and white and then hired someone to score the film. The Final Detail was the next one that I wrote and directed myself, a drama about a man contemplating suicide who sets out to see his friends one last time. It was influenced highly by the French film by Louis Malle called The Fire Within.
I never submitted either film for festivals, although I did hold private screenings. Those three non-Dollar Baby film were not really hard to make because I had some great people working with me. However, there was a zombie movie called WWZJD that was extremely hard and is still not finished because of the mistakes made while shooting it. There was also a movie I tried to shoot twice called This is Hell that was not completed ether time because I was not happy with different aspects of the films. I am my own worst critic.
(6) You picked the Stephen King short story, I KNOW WHAT YOU NEED as your Dollar Baby. Out of all the Stephen King short stories, what attracted you most to this one?
I was working as a sports reporter for OU and I was taking the screenwriting class where I wanted to test my adapting skills on the writing of the King Dollar Baby. I had no idea what I wanted to shoot, so before I set out for a road trip to Kansas City for the Big 12 football championship game, I bought Night Shift on audio and listened to it on the way to and from the football game. I had three main criteria for what I chose. First, it had to be a story with locations that I could use Norman, Oklahoma for. Second, it had to have limited casting roles to make it easier to manage. Third, it couldn't have special effects that I knew I was unprepared to make and couldn't afford to pay for. There were two finalists: Last Rung on the Ladder and I Know What You Need. Last Rung is still my all-time favorite King short story, and I did not trust myself to do it with the talent and respect it deserved, as my first ever short film project (which at the time, it would have been). That left I Know What You Need, which had three characters (Ed, Elizabeth, and Alice), limited locations (mainly at the university and living accommodations), and had no special effects. My decision was completely based on financial decisions.
(7) What changes did you make to make this your own as opposed to Kings original text?
Well, the biggest thing about Stephen King's writing is that most of the stories are internalized thinking – you are inside the head of the protagonist. You can't show that on the movie screen. With I Know What You Need, the biggest problem was that this was a story about Elizabeth telling the story of talking to Ed, talking to Alice, talking to Ed, talking to Alice, confronting Ed, the end. That is boring to watch in a movie, although fascinating to read. So, I knew I had to make some decisions. First, I added a new character of a detective. In the story, Alice hires a detective to search into Ed's past and tells Elizabeth. Instead of telling, I showed Alice and the detective and then showed the detective investigating the case. That also allowed me to show Ed at his most evil when he gained some revenge against the detective for interfering. Next, I added a nightmare scene for Elizabeth that was just added to give some horror elements to the story.
(8) So many Stephen King fans want adaptations to be as close to the book as possible, how do you handle the pressure to keep the fans happy?
It's just about telling the story that Stephen King wanted to tell, but doing it in a way that works on screen. I can't make changes to the characters that goes against what King created. I could add the character of the detective because King mentioned in the story that there was a detective. I can have Ed use his powers to kill the detective because King showed in the story that Ed had used his powers to kill in the past (and present) of the story. I can add the nightmare scene where Elizabeth is scared of her boyfriend Tony because King shows in the story that she has relationship issues. As long as the additions to make the movie more entertaining line up with the story, I don't think fans have a problem with them.
(9) What was your main goal you wanted to achieve about this film?
My thought was all about my future in the entertainment industry. When someone makes a short film, that film may never get seen anywhere. When I made The Final Detail, I figured that I might get it into a festival or two, but that is it. No one would see it. However, by making a Dollar Baby film, I have something that has Stephen King's name attached to it. It has been shown in the Netherlands, Argentina, King's home town of Bangor, Maine, Houston, Los Angeles, Seattle … I have allowed this film to be screened in more places than any of my other shorts have been screened together. Much like other Dollar Baby filmmakers, using the King movie is a way get your name out there. I never took the step to go to Hollywood like others, but this movie helped me release my book and now I have gone full circle and am starting my writing career up again after years of filmmaking (although I am not finished with filmmaking yet).
(10) Where was the movie filmed specifically and were there any obstacles to overcome while filming there?
The best thing about shooting a film in Norman, Oklahoma is that people there are more than willing to help. I was able to shoot the nightmare scene in a park by campus and when the police showed up, I just said I was a student making a student film and they left me alone. I shot at a couple of restaurants, at a recreation park, at a theater, at the university, and more, and no one wanted money for it. Oklahoma doesn't require permits to shoot on public property or in private places where we have permission. My actors all worked for free because this was a Stephen King project. My DP Boots Kennedye worked for free, and was awesome. I had a great guy named Tony Moyer who did all the paperwork so I could focus on shooting the film. There was an obstacle originally. We tried to shoot it back in 2001 and things just went wrong. The lead actress was not right for the role and things just stalled out. When we started the second time, we recast everyone except for Kevin Real, who played Edward in both versions, and it went off almost without a hitch. There was some controversy on set a couple of times with one cast member, and that causes one scene in the movie to still remain disappointing for me, but overall it went off well.
(11) How long was the film shoot and the process from start to finish?
We got the contracts back in 2000 or 2001, and tried to shoot it then. We started up again a couple of years later and finished it. The release date listed on IMDb is 2005, but it was finished a couple of years before that. That puts it at three years from contract to final edit and then a short wait until the first screenings. The film was actually 40 minutes when we finished it, but after a rough test screening, I cut it down to 30 minutes. I still think it is too long. If I was to remake the short, it wouldn't be longer than 15 minutes.
(12) What is your greatest moment so far with the success of I Know What You Need?
At first, the biggest moment was having the film show in different countries. However, I think the biggest moment for me was being able to use the film to meet all the other Dollar Baby filmmakers and write my book. These days, I am almost more excite to talk up the films of Rodney Altman, Juan Reinoso, Warren Ray, Jay Holben, and James Cox, than to talk up my own film. I love my film, and it is my baby, but so much time has now passed, that I see it as a nice part of my past as the main key to opening up things in my future.
(13) What Stephen King story would you like to adapt on a large scale?
That is a tough one. Most of the filmmakers I talked to mentioned The Long Walk, but I don't think I would enjoy that. I Ioved The Stand, but that is way too big of a project for my taste. Same thing with The Dark Tower. I really don't think I would want to remake something that was already made, so really that just leaves some of his short stories and newer stuff. I really enjoyed Revival and think that could be a nice, down and dirty, horror movie. Doctor Sleep was great as well and it would be fun to shoot the sequel to The Shining. I also liked Throttle, the novella that King wrote with Joe Hill, and that might be fun to shoot as a stretched out feature length film in the vein of Duel.
(14) Where/When can fans see this film? Will it be playing many film fests across the USA?
At the moment, there is nothing scheduled for I Know What You Need. I am currently considering another Dollar Baby festival in Midland, Texas, but I don't plan to show my film due to time constraints.
(15) Let's talk about your book, DOLLAR BABY: The Story of the Stephen King Dollar Baby Filmmakers. Basically, how did it all begin? What inspired you to write about Dollar Baby films something very few people know about with the exception of King's fans?
I was trying to figure out what to do with my career in entertainment, as the filmmaking itself was becoming expensive and time consuming. I knew that I could not afford to make a feature length film and making short films was fun but seemed to be just running in place. I was bartending at a casino in Oklahoma and I always used the time bartending to come up with ideas (most of my short films were developed through the time either bartending or driving, I just seem to think better when doing something monotonous). That is where I thought of the idea of writing about the Dollar Baby filmmakers. My thought was two-fold. First, it is something few people know anything about, and even a lot of King's fans don't know about it. I thought it was be something interesting that no one had ever written about at length before. Second, the stories of the filmmakers are so interesting, especially seeing the success so many of them have enjoyed. These are inspirational stories about people who chased their dreams and, in many cases, succeeded, all thanks to Stephen King. It is stories that I assumed people would want to read about.
(16) You have 19 Dollar Babies who helped you with this book by interviewing them and talking about their films. How did you narrow it down to just 19 and was it hard to choose who would be in or not?
When I first started wanting to write the book, it was about 2008. I sent out feelers to the Dollar Baby filmmakers that I had contacted before (Jay Holben, James Cole) and then Bernd Lautenlager sent out emails to everyone he knew and I got a limited number of responses. I sent out questionnaires to the filmmakers and got almost nothing back. A couple of years later, I had quit bartending and was working as a writer fulltime and decided I would try it again. I sent out feelers to everyone who responded last time and Bernd sent out emails again. This time, I got a ton of responses. Since the question lists went so poorly last time, this time I decided to make it more personal. I wanted to interview the people personally, so I set up times to call everyone and all the interviews in the book were done over the phone. This allowed one Stephen King Dollar Baby filmmaker to talk one-on-one with another Dollar Baby filmmaker, and I think that allowed me to get a lot more personal information and real talk than I would have with someone just writing out precise answers to questions. I wanted to talk to everyone, so the responses from outside of America were sadly passed on, including some great filmmakers like Elo Quiroga, who made the animated Home Delivery thanks to the help of Peter Jackson's animation studio. That is the one story I regret not including in the book. There were also a couple that were left out due to not being able to get in touch with them in time for the book, like Billy Hanson (Survivor Type). I also wanted to see the films before interviewing the filmmakers, and sadly Mr. King's attorneys contacted me when one of the filmmakers queried told them I was asking and put a stop on that, saying that asking to see the films was in violation of our contracts. Luckily, film festivals allowed me to see every film for every filmmaker I interviewed before speaking to them. If I couldn't see the film, I didn't interview the filmmaker.
(17) I read the book and very much enjoyed it. I found it very informative. Out of all those interviewed, what tid bits of information did you learn that surprised you the most? Something you didn't know about Stephen King or the Dollar Babies themselves?
I enjoyed talking to some of the filmmakers who actually met Stephen King. Robert Cochrane had two Stephen King films on his resume, and I had no idea that "Roland Meets Brown" (based on a scene from The Gunslinger) was for a contest. He met King thanks to that contest and actually got a chance to contact and possibly work with Frank Darabont, although that ended up falling apart in the end. I also loved how King helped Jeff Schiro get a job making a music video for The Ramones because he loved the adaptation of The Boogeyman so much. King is really a generous man, and it is great to hear these stories.
(18) Tell us the process of the book, how long from start to finish did it take? Was this self-publishing or through a publishing house? And is there a chance of a Volume 2?
Once I started the book the second time, it took a few months to do all the telephone interviews, each one between 30 and 90 minutes in length. After that, it took a long time to transcribe the audio. Then, life kept getting in the way because when you write for a living, it is hard to work on something that is for future earnings because the bills to pay are due now. By the time, I got around to reading the transcribed interviews, I realized that letting the Dollar Baby filmmakers tell their stories through the interviews was better than me re-telling them. That made the actual completion of the book quicker. It then took over a month to copy edit the entire book and get it ready for fresh eyes to copy edit it. Overall, it took 6 years from conception to completion, and two years from interviews to publication. After that, I decided to forego the publishing houses. I was told that I could get a nice advance for the book but then selling it was in the hands of those who I signed with and they would control the book completely. By self-publishing the book, I control all rights, including the pricing of the book. I also hold the right to do anything I want with it, and I liked that control. It makes it a lot harder to promote it and get the word out, but I expected that. As for a second volume, that all depends on how well this first volume sells. At the moment, there has not been enough interest in it to put in the time for a second book, but I have some marketing plans over the next three months and depending on how that goes, we will see.
(19) You have many titles: Journalist, Producer, Director, and now Author. Which of these do you find more challenging and which do you want to focus more on?
I would say that producer/director is the most challenging. As a producer, it is all about planning a project, hiring the people needed, finding the money needed or figuring out how to do it without the money, and then making sure the project is completed. When it comes to filmmaking, a film is created three times – on paper as a screenplay, on video as a film, and on the computer in the editing stage. I love all three of those areas, which I why I prefer to shoot films that I write and then I want to edit them myself (which is incredibly fun). Those are all hard jobs, but very satisfying (and sometimes frustrating) to do. As for the future, I am going to be working more as an author. Filmmaking is fun and I don't ever want to stop that, but that is a group effort and there comes a time where it gets harder and harder to get everyone together to make a movie – especially with no financing. Writing a book is normally just me and my computer. The Dollar Baby book required a lot of interviews and transcribing and took a few years to finish. I am starting work next month on my first actual fiction novel that will be self-published. Now that I have learned the process of self-publishing thank to Dollar Deal, I have a business plan in place for this start to my fiction writing career.
(20) Tell us a little about Johanna your wife, how much of a supporter has she been throughout your career?
She has been a huge supporter. We met a few years after I got the original Stephen King contracts, but when it came time to make it the second time around, we were together and she was a great help through that. She has also been very supportive of all my filmmaking endeavors as well as my goal of being a full-time writer. I try to pay it back by making sure to help out around the house while writing since she is working full time to provide a steady paycheck and insurance while I try to make my career in writing a reality. I make good money free lancing, so I am pulling my weight, but she is 100 percent behind me trying to get my career as an author going now that my filmmaking dreams has stalled out a bit.
(21) You ask this throughout your book so now it's your turn, If I may: What advice would you give to filmmakers and writer's just starting out?
Be ready for a lot of work. Making a movie is not easy and it requires not only a lot of work from you, but also a lot of trust in the people you surround yourself with. Find collaborators that share your vision of what it means to make a movie. Once you have that team together, everything else is easier. Don't go into a project thinking that you can do anything in the world, because you have to work within your means. Anyone who starts a project thinking the sky is the limit will often quit when they realize they can't move forward anymore. Next, know how to work with people. I had two problem children on my films I Know What You Need and WZZJD. One was a case of immaturity and the other a case of arrogance, and both people thought they were bigger than the project. Learn how to deal with these people to get the project done properly while not alienating them and putting yourself in a hole. Finally, don't quit, don't take no for an answer, and finish the damn movie.
Final Question, What's next for Shawn S. Lealos?
I am ready a lot right now in preparation for my journey back into fiction novel writing. That is actually what I was studying in college before I stepped into a filmmaking career. It has been 15 years since I sat down to write a fiction novel, so I am getting ready to start that up again in October. After that, I am just going to concentrate on fiction writing for a while (mystery/thriller novels). I had an idea for another non-fiction book based on comic book movies, but after the slow sales for Dollar Deal, I am going to move in a different direction for now. I will return to the non-fiction book, but that will have to wait for now. I also have plans to attend some more conventions with the Dollar Deal book in 2016, so keep an eye open for that.
Tags: SHAWN S. LEALOS, SHAWN S. LEALOS Interview
Posted in Interviews by Tony Northrup on October 13th, 2015 at %I:%M %p.