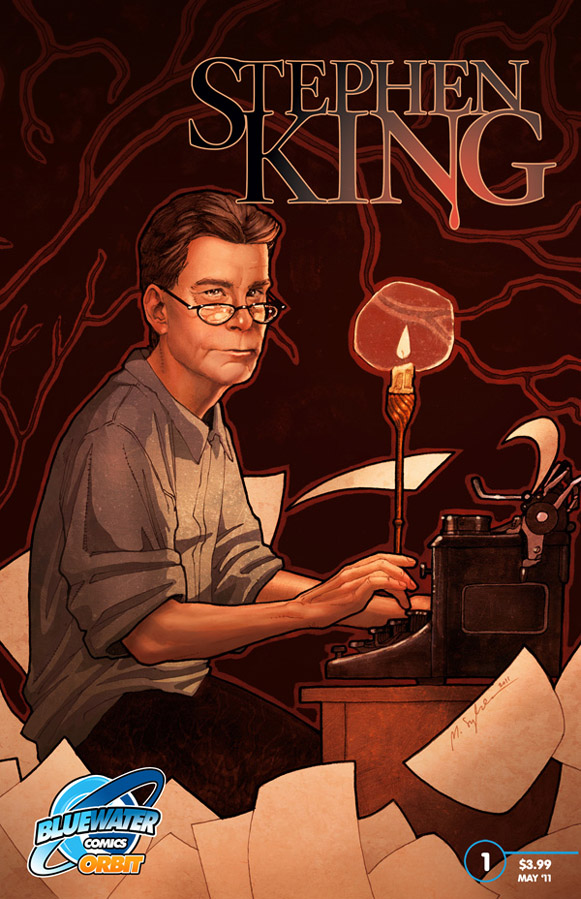 This was a time when comic books had a completely different look, feel, and art design. The days of the old newspaper style, chessey art, and simple comics of yesterday were over. It was all about style, violence, and sex. Well, maybe not in those two titles, but in comics in general. Dark Horse stopped the Indiana Jones series by early 2000′s and Star Wars continue's today. I, personally, don't collect them anymore because I don't find them very interesting in any way and it's mostly the Clone Wars time frame. Since then, I have collected a new set of comic books that started back in 2007. A series of comics that could be drawn to my attention by only one man: Stephen King.
For those who know me, they know I am one of the biggest Stephen King fans you'll ever meet. I even have tattoo's representing his work. King is known world-wide as the Master of Horror, the King of Terror, and Master of his Craft. He has scared us out of our pants for over 40 years! Everything from possessed car's, rapid dogs, back from the dead cat's, aliens, ghosts, and every other kind of thing you could think of that can scare you. However, King also has written non-horror as well such as; The Green Mile, The Shawshank Redeption, and Stand By Me (The Body). What King is best known for is; The Dark Tower series. This is an epic on-going story of Roland of Gilead who chases the Dark Man across the desert and strange worlds and times in search of the almighty & powerful Dark Tower. The Tower has the answers Roland seeks, the end of the Dark Man, and becomes the obsession of this gunslinger through 7 books and soon a 4.5 (Wind Through the Keyhole) which is being released in April 2012. There were rumors of a Dark Tower film, but that has fallen to the wayside. For now, we have a comic book series based on this franchise.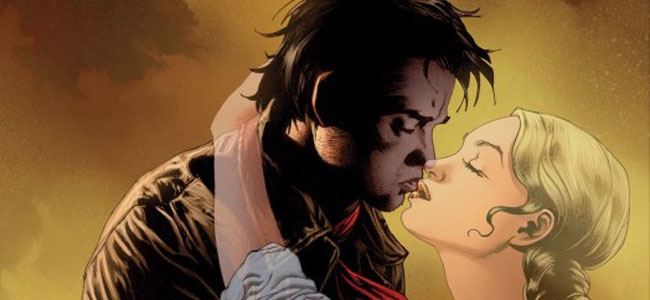 In 2007, Stephen King clearly saw how popular comics were getting again. This wasn't a little boys past time anymore. It was being taken seriously by Conventions like Comic-Con in San Diego, CA, Hollywood grabbing the rights of all comic titles after the success of Batman, SpiderMan, Iron Man, Hulk, and Superman movies, and collectors took better care of their comics because they learned the value of them. King went to MARVEL and with the help of Robin Furth who helped bring the Tower franchise to the glossy artisic pages of comics -decided to give fans after all these years a sneek-peek of what Roland looked like and his adventures in Mid-World.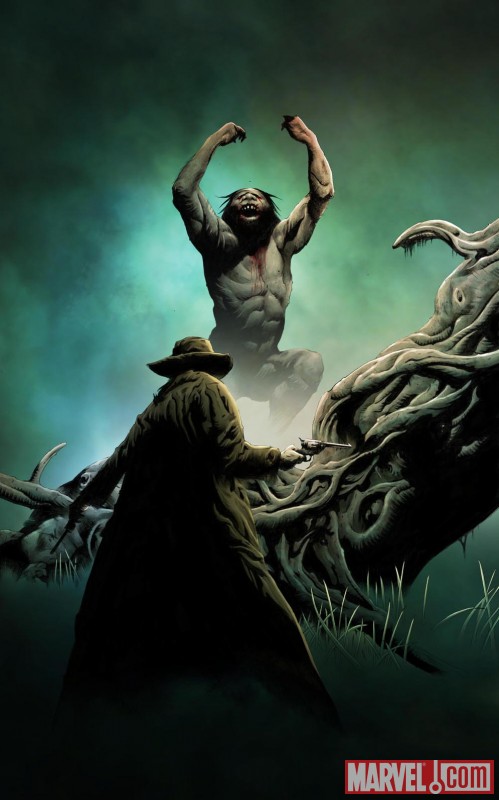 In 2007, I was EXTREMELY excited to FINALLY see a comic version of the Dark Tower books. However, MARVEL didn't start them out that way. Instead of Book One: The Gunslinger, MARVEL released, THE GUNSLINER BORN – a 7 issue set that told the story of Roland's early years in Gilead. With creators Robin Furth, Peter David, Jae Lee, Richard Isanove, and Stephen King himself as the Creative Director and Executive Director of the series. It was a smash hit and fans ran to the nearest comic store for the latest issue. With HUGE success of it's first run, MARVEL signed a deal with King and the story or Roland's early years were told. By Spring of 2008- THE LONG ROAD HOME, Fall of 2008-TEACHERY, June of 2009-THE SORCERER (a one-shot about the Crimson King himself), July of 2009-THE FALL OF GILEAD, Feb. of 2010-BATTLE OF JERICHO HILL, Fall of 2010-THE JOURNEY BEGINS (this was the TRUE beginning of the Dark Tower books themselves), Feb. of 2011-THE LITTLE SISTERS OF ELURIA(this story is told by Roland in BOOK 4 WIZARDS & GLASS and is also told in Stephen King's other book; EVERYTHINGS EVENTUAL), Fall of 2011-THE BATTLE OF TULL(this is a very good storyline, very violent, and is in the first book of the DT series), and Jan. of 2012-THE WAY STATION (this is a very exciting 5 issue storyline because this is when Roland FINALLY meets Jake Chambers, a very popular character in the DT book series.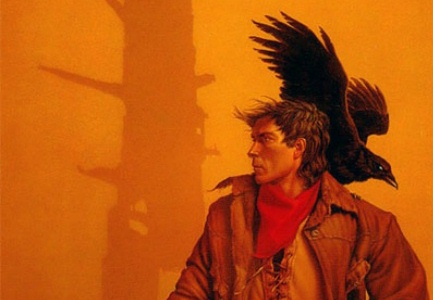 Although the Dark Tower comics will continue on till the long journey is told through 8 books, King decided to put other stories to comic form. One of his most famous books; THE TALISMAN, was adapted in 2009 by Del Ray comics. However, after only 5 issues, the company filed bankruptcy and all titles under that was gone with the company and the series was never picked up by anyone else (so if you have those, hold on to them, they are collectibles now). In 2010, King's Short Story, "N", which was a story only available on the Net upon it's release, was adapted in a four issue set (very hard to find). Also in 2010, King partnered with Scott Snyder and Rafael Alburquerque to work together on AMERICAN VAMPIRE. This is a comic with 2 different storylines going on and is very hip and stylish for a vampire comic. Stephen only help write the first 5 issues, however, it is a very popular title that is still on-going today.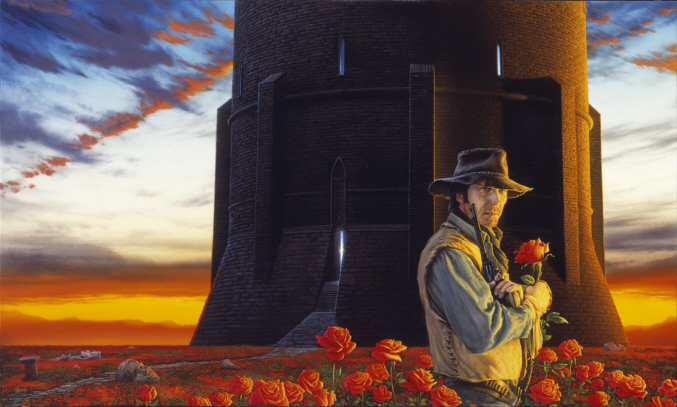 And finally, there is only one other book that fans around the world would agree is King's best work and is the most popular of all his work: THE STAND. It was in the Winter of 2008 that this very popular series was taken by storm and told King's classic tale of a killer flu that wipes out 99% of the population and then becomes a Good vs. Evil story of survival. It started with 5 issues called CAPTAIN TRIPS, Summer of 2009-AMERICAN NIGHMARES, Winter of 2009-SOUL SURVIVORS, Summer of 2010-HARDCASES, Spring of 2011-NO MAN'S LAND,and concluding in Fall of 2011-THE NIGHT HAS COME. It's 31st and final issue was released in Jan. of 2012 and the whole series didn't disappoint. Even tho we have read the book, seen the mini-series film in 1994 directed by Mick Garris- this comic adaptation goes into more detail, backstories, and added scenes not seen before. A very worth-while collection.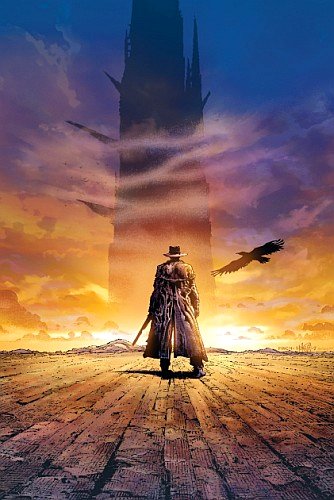 I think these titles are just the beginning for Stephen King. With his growing success and now in the comic world, more titles will be grabbed and we will be able to see finally adaptations of his greatest work. As of this writing, King has a new comic book coming out this month called, ROAD RAGE which he co-wrote with his son, Joe Hill who is also a writer. And rumor is that King's classic novel; SALEM'S LOT is the next comic book to be adapted later this year. But for now, you can enjoy Roland and his friends on their quest to find the Dark Tower at your local comic book store, I think for ANY comic book fan and especially Stephen King fan, this is a MUST. Enjoy and Happy Reading!