RANK: 9/10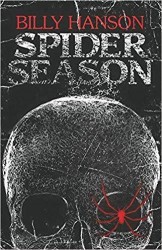 The Stephen King "It's A Dollar Baby", film program has been around since the late 1970′s. This program allows Independent filmmakers to direct a film adaptation based on one of Stephen King short stories. Director, Billy Hanson, took part in this program with his version of the Stephen King short story, SURVIVOR TYPE. This film was quite impressive, and has won many film awards.
Now, Billy Hanson can add a new title to his list of credits, that of published author. Even though Billy has worked on several comic style publications in the past, he has now written his first full length book, SPIDER SEASON. This is a collection of short stories that are sure to please horror fans, and book lovers alike. When I asked Billy what prompted him to take this avenue, he explained that he had a handful of ideas that never quite fit into film, nor television format. He then told me he really wanted to do something with these ideas, hence, a book. He couldn't take the full time off he needed to write exclusively, so between filming, comics, screenplays, music videos, and a web series, and most importantly, a new baby, he wrote whenever he could. Although it took him three years to finish his newest endeavor, it was well worth the wait!
I also asked Billy if it was more challenging to write, or direct, "they've both got their own unique challenges, so it's hard to say which is more difficult to actually do, but overall I'd say directing, only because there are so many real world things you have to consider, whereas when you're writing, you can do literally anything you want, because you don't have to pay any money for it". Now this sounds like a reasonable response to me Billy! I also asked Billy about the title… SPIDER SEASON, and why he decided upon it? He told me there's a reference to the title, in the first story, but more importantly, he found, "that the horror in most of these stories is something that always exists around the character, even if they can't see it, much like spiders are in our home, and in our walls, but we don't think much about them, until they're right there, in front of us".
With that being said, let's take a peek at… SPIDER SEASON, which is a collection of 10 short stories, and 3 scripts, all written to entertain and frighten you.
LIGHT SLEEPER… the first of the collection, is about things that "go bump in the night"! Billy has a personal connection to this story. THE CLEARING… is a creepy, investigative type of story, and written well, it leaves you wondering. I wanted more by the end! THREE SCREENPLAYS… Billy gives us a little insight to his personal life, and explains the backstories of his three screenplays, NYLAH'S MAGIC, ELECTRIC DETECTIVE, and THE RED HELPING HAND. These were all great stories. I had my personal favorite , but I'm not going to say a thing. I'll let you be the judge when you read them, as to which is your favorite! SHE WAS PERFECT… after this tale, you'll be more careful of who you go on your next date with! PARIS WITH THE LIGHTS TURNED LOW… an entertaining story that definitely piques your interest, and … your curiosity. MUSIC FROM THE GUN ROOM… the most realistic, and disturbing of all the stories. It was also the second story in this collection that Billy had a personal connection to. EVERYONE ELSE IS ASLEEP… an interestingly bizarre tale, reminiscent of something from, "Tales From The Darkside".
Billy Hanson has several projects in the works. He is currently filming, has pre-productions, and another anthology of his comic book… GRIMM TALES OF TERROR, all going on simultaneously, but I wouldn't be surprised if we see one or more of these short stories come to life on the big screen too! You can find SPIDER SEASON at the Amazon website, and local bookstores. It was officially released on October 9th, and is already selling out! Definitely grab yourself a copy soon, and start enjoying the many stories. I just know you will find one, or perhaps more, that will definitely be your favorites!
RANK: 9/10
Tags: Billy Hanson, Billy Hanson Spider Season
Posted in Horror by Tony Northrup on October 28th, 2018 at %I:%M %p.