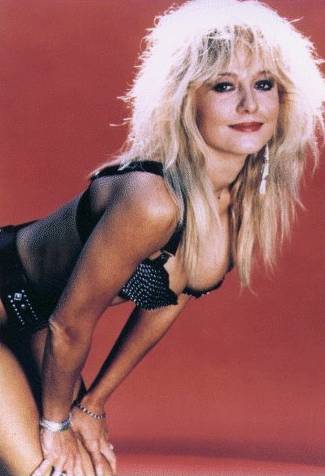 There is a long line of Horror film actresses known as "scream queens", Janet Leigh, Jamie Lee Curtis, Adriane Barbeau, Heather Langenkamp and Neve Campbell to mention a few. However there is only one who is known as "Queen of the B-movies" and that is the legendary Linnea Quiqley.
From her humble beginnings in Davenport Iowa, to the bright lights and big city of Los Angeles California, Linnea has traveled a long road to be ranked as one of the Top Queens of Horror. Linnea was born on May 27 1958, and grew up in Davenport Iowa, with her parents Dorothy and Heath Quigley.  Her mother was a housewife, her father a Chiropractor and Psychiatrist.  She moved from the Mid-West to the big city of Los Angeles in the late 1970′s. Her first job was working in a Jack la Lanne Health Spa.  She was also a member of an all girl band named THE SKIRTS.  It was however, through the encouragement of her friends that she eventually persued modeling and acting.  Standing only 5′ 2″, this blond beauty was destined to break onto the scene in a big way. Linnea's first experience in front of the camera was a toothpaste commercial.  After that she landed bit parts in films such as WHEELER, STONE COLD, SUMMER CAMP, and two CHEECH & CHONG films.  It was the horror film genre that really caught Linnea's attention.  With films such as DON'T GO NEAR THE PARK, GRADUATION DAY, SILENT NIGHT DEADLY NIGHT, it appeared horror films were Linnea's calling.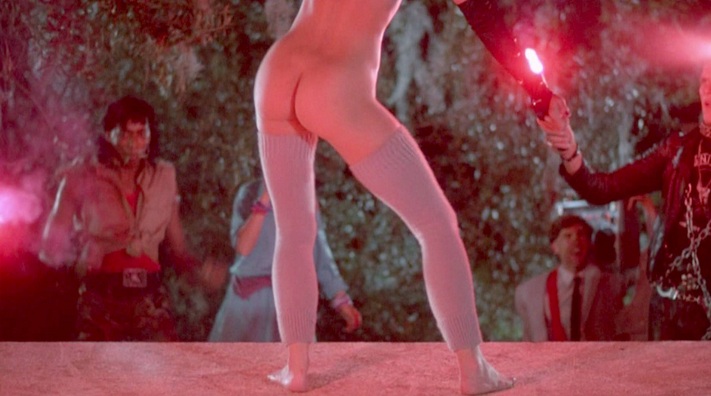 It was in 1985 that Linnea would not just star in her biggest role, but what some to this day deem her most popular role in a film that has now become a Cult Classic Return of the living dead. John Russo who co-wrote the 1968 horror classic Night of the living dead with writer/director George A. Romero, decided it was time to branch out in a new direction. Along with director Dan O' Bannon, John wanted to take the ever popular theme of Zombies and put a spin on it.  With Return of the living dead he did just that.
This horror classic is about a group of punk rockers who are partying in a graveyard while waiting for their friend to get off work.  With the release of a toxic chemical that causes the dead to come back to life, the horrors and laughs begin. In this film, Linnea stars as TRASH, a red-headed beauty who finds out first hand what it's like to be a zombie. This Cult Classic had won fans over world-wide, and to this day is considered one of the best horror films of the 80′s, and one of the best Zombie films of all time.
Linnea went on to do more horror films such as  CREEPOZOIDS, SORORITY BABES IN THE SLIMEBALL BOWL-O-RAMA, HOLLYWOOD CHAINSAW HOOKERS, and many others.  She also starred in NIGHT OF THE DEMONS in 1988, (and the later remake in 2009).  However Linnea became a part of horror history when she was offered the opportunity to star in the biggest horror movie franchise of all time A NIGHTMARE ON ELM STREET PART 4: DREAM MASTER.  She was one of the trapped souls inside of Freddy Krueger.  It would also be this film that would bring Linnea together with Special Effects wizard Steve Johnson. Sadly their marriage was short lived. While films such as VICE ACADEMY 2,  PUMPKINHEAD 2: BLOOD WINGS and more kept Linnea working throughout the 1990′s, she also added other avenues to her otherwise busy life.   In 1990, she put out the LINNEA QUIGLEY HORROR WORKOUT VIDEO.  She would go on to become a successful writer of two books, BIO & CHANISAW in 1992, as well as I'M SCREAMING AS FAST AS I CAN, in 1995.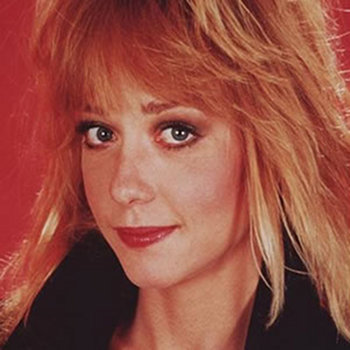 Linnea also became a very strong animal activist belonging to, and supporting PETA, (People for the Ethical Treatment of Animals).  Linnea is also known for PETA's,"Lettuce Ladies", campaign which helps educate people about becoming vegetarians. In the early 1990′s Linnea actually wanted to become an LAPD Police Officer, passing the written exam.  After long deliberation Linnea decided to stay with what she loved most, acting.
As her career in films moved into the 2000′s with films such as NIGHT OF THE DEMONS (remake), GIRLS GONE DEAD, DEMONICA, and TROUBLE WITH BARRY, Linnea has kept herself continually busy.  In 2003 she reunited with the all-girl group THE SKIRTS and relived a wonderful time.  She has also sang with such bands as Motorhead and The Ramones, and sang in some of the films she has starred in.  Linnea has done many documentaries such as SCREAMING IN HIGH HEELS: THE RISE & FALL OF THE SCREAM QUEEN, and several others.  She has also had the honor of rating #9 on Maxim Magazine's HOTTEST WOMEN OF HORROR MOVIES list.  Lately Linnea continues to act, travels the horror movie convention circuit, write, produce, and now lives in Florida to be closer to her parents. Linnea has worked with many greats in the film industry, including Robert (Freddy) Englund, of the NIGHTMARE ON ELM ST. films,  Linda Blair,THE EXORCIST to Kane (Jason) Hodder, of the FRIDAY THE 13th films.  She has starred in over 70 films, has been in the film industry for over 30 years,and is still going strong.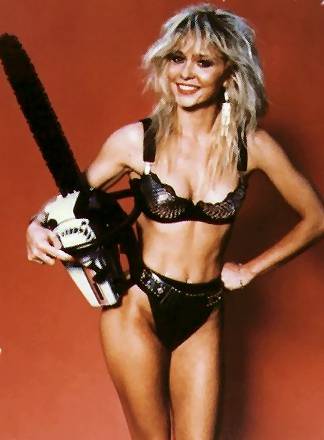 Linnea doesn't disappoint her fans as she is always kind and humble.  I had the good fortune to meet Linnea in 1990 at the FIRST ANNUAL HORROR HALL OF FAME hosted by Universal Studios California.  There is nothing she can't do, and I don't think we've seen the last of Linnea Quigley.  Even though she has many a credit in her acting career, it is still Return of the living dead that first boosted Linnea to the thresholds of horror filming making history, has coined her the phrase," Queen of the B films", and has endeared Linnea to her long time following of loyal fans.  In honor of  all things Halloween, here is my exclusive One-on-One Interview with Actress LINNEA QUIGLEY!
TN –  You are well-known as the QUEEN OF THE B FILMS.  Who were your female horror film inspirations?
LQ-    My horror inspirations were people like the strong female characters I loved in the old Hitchcock stuff,  Murder in the Rue Morgue, The Birds and such.  I thought Dark Shawdows Angelique was cool.
TN –  Coming from a Mid-West state like Iowa, how did horror films play a role in your youth?
LQ –  Growing up in the Midwest was great. I use to watch films at the drive-in; I got to see FLIES ON GREY VELVET which is a fav of mine there; and other great things, deranged and such.  Not tons to do, loved Saturday Creature Feature, my girlfriend over for horrid pizza, and the movies.
TN –  You were once in an all- girl music group called THE SKIRTS . Did you find it more challenging to become an actress than a singer?
LQ –   I think since I lipsinked in school,( I was soooooooo scared), that singing and playing guitar is much more chanllenging, and your live, even though I love to record.  But when you make a mistake, it really shows when your singing.  Also acting being shy is hard, but singing is harder.
TN –  In the 1970′s you moved to Los Angeles, California.  You were encouraged by friends to act and model. Tell us about your first acting experience?
LQ –   My first acting experience I think was at least with, Words Fairytales.  Oh was I scared.  I just had a few lines but I remember I really thought I was on my way, it was such a thrill.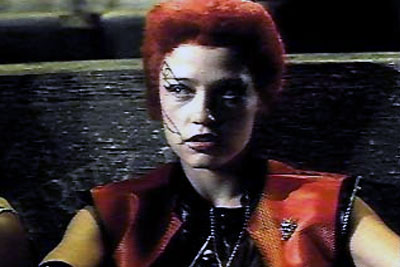 TN –   With a long list of "B" Horror films, your claim to fame was your role as TRASH in the Cult Classic RETURN OF THE LIVING DEAD.  What was your first reaction when you heard you would be part of the George A. Romero/John Russo LIVING DEAD series?
LQ –   Being in the movie was just first off, a cool job.  I actually got picked and then it set in.  Also being directed by Dan O' Bannon wow wow, and the cast was great, and my character, I loved.
TN –   In RETURN OF THE LIVING DEAD you were faced with many challenges such as rain, mud, and a lot of running.  What was the hardest challenge to overcome, and how did you prepare for it?
LQ –   It was such a challenge I felt like I was in the army.  Cold rain on you all night, and on makeup nights, cold rain plus long long makeups, and then trying to get it off, and back again being buried in mud and trying not to slip, which I didnt.  The makeup was rainproof.  Finally after mistakes, and trying to get it off at 6am, forget it, nothing really worked.  The first makeup guy handed me gasoline, AHHHHHHHHHHHH !
TN –   Linnea, in my interviews I always ask one of my readers to submit a question for my guest.   ROY RAMIREZ, of DARKSIDE TATTOO in Grand Forks, ND would like to know:  In the film RETURN OF THE LIVING DEAD you are attacked by Zombies at one place in the cemetary, but resurrected by the," weeping angel", why?
LQ – I figure I was attacked and crawled in my death throes, or they dragged me to the weeping angel knowing I wanted to be one of them.
TN –   You worked on NIGHT OF THE DEMONS and its recent remake. With remakes as the latest Hollywood trend, do you feel horror films lose their impact once the same story is retold?
LQ –    Remakes never really work, very few.  Piranha 3D and DD did, but real horror films, it rarely works.   Jaws and all, and the taking it to Freddy vs. Jason, dumb.  They lose their impact, then go to gore to fill it in.
TN –    If any, what were your parents reactions to the types of films you are known for throughout your career?
LQ –    I finally let my parents go (to see), and my mom just hated it when I died.  She got very upset about it.  They snuck into GRADUATION DAY, and I took them to the premiere of HOLLYWOOD CHAINSAW HOOKERS, which they loved.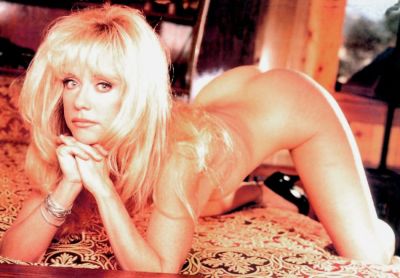 TN –    With film titles such as HOLLYWOOD CHAINSAW HOOKERS, CREEPOZOIDS, SORORITY BABES IN THE SLIMEBALL BOWL-O-RAMA, and BEACH BABES FROM BEYOND, do you feel there were any films that you thought were a bit , too much?
LQ –    I think the weirdest name besides SORORITY BABES IN THE SLIMEBALL BOWL-O-RAMA, is MARIE COOKIE AND THE KILLER TRANTULA, it was just a weird movie, I was in Spain and just weird stuff.  Funny, but they do get SPRING BREAK MASSACRE, in Illinios.
TN –   You were in NIGHTMARE ON ELM STREET: DREAM MASTER, a film which is part of the biggest horror franchise in horror film history.  What are some of your memories of working on that film?
LQ –   I think my memories, even though it was a minor thing was (Freddy's oversized FX chest), it fell over and that was not good with us, being in it.  Also I got engaged on set afterward to Steve Johnson.
TN –   You are a very active PETA (People for the Ethical Treatment of Animals) member.  Which other charities are you currently active with?
LQ –   Charities, I'm still doing PETA, and anything that needs me for animals.  I'm hands on and voice on a lot.  I'm also a part of Rottie (Rottweiler) Rescue.
TN –  You have held many titles during your career such as actress, writer, singer, documentarian, activist.  What's next for Linnea Quigley?
LQ –   I am co- producing a lot, and wanted to do a documentary,can't say what.  Want to do a movie, something like THE WALKING DEAD which I love.
Well I don't want a sugar coated life, but it could be a little sweeter right now hahahah! Love & screams!  Linnea. Well, there you have it … I would like to thank Ms Linnea Quigley for taking the time out of her schedule between conventions to do this interview.  Hope all of you enjoyed reading  it as much as I enjoyed bringing it to you.
Posted in Interviews by Tony Northrup on October 26th, 2012 at %I:%M %p.