RANK: 9/10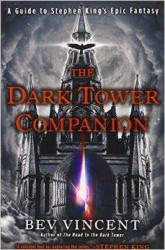 Stephen King. A writer that is without question, the "Master Storyteller of our Generation". He will go down in literature history along with the works of Edgar Allan Poe, H.P. Lovecraft, Ray Bradury, and Bram Stoker. Part of King's success is the writer's who bring his personal life and works to the spotlight for fans around the world to learn from. There are many books about King, his works, and specific Companions that help explain everything you ever wanted to know about that particular story.
One of those Companion's is The Dark Tower companion by author Bev Vincent. Bev is just one of many author's who have brought Stephen King's life and works to life. Author's like Stephen Spignesi, Robin Furth, Hans-Ake Lilja, and the late Rocky Wood have all written some amazing books that are truly worth reading by any King fan.
There are a lot of books about what Stephen King fans call "his masterpiece"…"epic"…"swan song", I'm talking about the journey-of-journeys: The Dark Tower. Writer's like Rocky Wood and Robin Furth have covered this epic journey in their own words. Bev Vincent has two books: The Road to the Dark Tower and The Dark Tower Companion. The Dark Tower series covers 8 books, comic books based on the series, and is mention or "connected" somehow to many of King's other works like The Talisman, Eyes of the Dragon, The Stand, and others. Being a major die hard Dark Tower fan myself, I immediately wanted to know more about the adventures of Roland of Gilead and even more about the details of Mid-World.
When you finish a series like the Dark Tower, you crave for so much more. Vincent gives it to you on a silver platter with The Dark Tower Companion. This book is the mega-ultimate must-have for all Dark Tower fans. In it, Bev covers every possible detail you'd ever want to know about the series and Mid-World. Some of the highlights include: What's it all about? – a quick summary on the core story of The Dark Tower, the Influences – what inspired King to write the series and some of his ideas, Bev goes into detail with each and every book in the series explaining the plot of every book. He lists and explains all the books in King's universe and how they are all connected to the DT series. There are plenty of interviews with Stephen King himself, writers and artists from the comic book series including Robin Furth, Ron Howard and the possiblities of a Dark Tower movie, and other interview surprises. There are detailed maps of Mid-World and parts of each town, landscape, and other locations mentioned throughout the series.
There is also the backstory of Mid-World along with details on People, Places, & Things in Mid-World so that you can always look up answers to questions you might have during or after reading the series. There's also Timlines, Words & Expressions which explains the language of Mid-World, and a section in detail on Roland's enemies. Even tho I enjoyed all of this super-sized bundle of info, it was "The End and What it Might Mean" section at the end of the book which really amazed me and I found it quite interesting. This is Bev's personal thoughts and his opinion of what the true meaning behind the Dark Tower and the whole series is.
I enjoyed it very much to read an outside opinion of the same thoughts I share as well. This was the biggest, most collected info on The Dark Tower I've ever read! This is not just a well-written history and bio on the series, but you could really tell Bev wrote this from the heart and as a fan. Die hards will love this book and new fans will get a little more understanding on why The Dark Tower means so much to us. I will say, this should be read only if you've read the series for there are tons of spoilers and you don't want that to ruin the ending for you. This was an enjoyable read and extremely informative. I highly recommend The Dark Tower companion.
RANK: 9/10
Posted in Nonfiction by Tony Northrup on March 14th, 2015 at %I:%M %p.