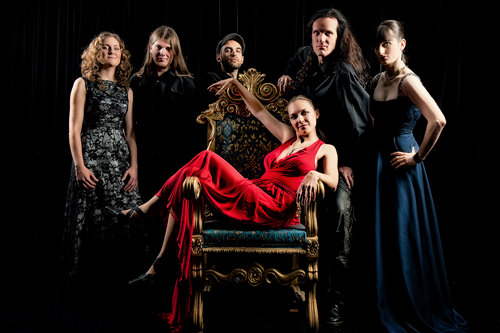 The fine ensemble Molllust, around soprano mistress Janika Groß from Germany, celebrates sophisticated opera metal with their last album Schuld, showing their most strongest, most aesthetic, most emotional and in substance most profound side.
You can reach the official website by clicking here and listen to some songs' preview, navigating through the updated band website.
Molllust short biography
Founded in 2010, the language of these wonderful formation from Leipzig, Germany, is Opera metal. On the new album "Schuld" the East German ensemble shows his most strongest, most aesthetic, most emotional and in substance most profound side. The percussion and driving, distorted sounds of guitar and bass form the basement. On that the classic instrumentation encounters, consisting of piano and cello as well as an e-violin which connects both styles with an interplay between classic play and distortion.
The warm, rather darkly colored lyrical soprano, occasionally supported through the straighter man's voice, crowns the sound of Molllust. With arrangements out of classic feather, the six Leipzig residents concern the interesting Crossover of a classic side, without neglecting at the same time the Metal. All together yields an organic sound, stratified, frequently demanding, and at the same time also emotionally and catchily. Interested ones make itself at best a picture of the moving music of the German group. Perhaps you feel then with Molllust, what enthuses and moves them. For Molllust, their music is passion and more than only an sequence of tones. Words can describe that only insufficiently.
Molllust line-up
Janika Groß – vocals, piano
Frank Schumacher – e-guitar, vocals
Sandrine B. – e-violin
Lisa H. – cello
Johannes Hank – bass
Tommaso Soru – drums
Posted in News by Giulio De Gaetano on January 27th, 2013 at %I:%M %p.