When it comes to horror films; one must have all the key elements to make the film work; besides a great story and director. There must always be a great cast, in particular a great leading lady. In the genere of horror, these leading ladies are many times referred to as, scream queens. Some of the best Scream Queens in film history have outsmarted, outwitted, and outrun that crazed psycho carrying a machete, or in some cases, a chainsaw, while being chased.
Hollywood legends such as, Janet Leigh, Jamie Lee Curtis, Linda Blair, Linnea Quigley, Sybil Danning, just to mention a few, have held this prestigious title. Today my interview is with another of those lovely ladies graced with the title, Scream Queen…Caroline Williams. She has faced the likes of Leatherface, Leprechan's, evil stepfathers, and crazed psycho's in the swamps of Louisana. However, Caroline's career isn't all about horror. Her career ranges from television, to box office blockbusters, but it wasn't always this way. Like most actors, Caroline came from a small town, with big city dreams, and in her case, her dreams became realities.
Caroline Williams was born on March 27th, 1957 in Rusk County, Texas, however her hometown was Little Rock, Arkansas where she attended school and graduated in 1976. Later she attended the University of Texas, in Austin. Caroline is best described as lovely, spirited, personable, and funny. While living in Texas she played in two local bands, but found herself yearning to go west to California, where she wanted to try her hand at acting. Caroline started her career with bit parts such as… LEGEND OF BILLIE JEAN,…but it was in 1986 that she landed her first leading role as sassy and spunky DJ "Stretch", in the horror film…TEXAS CHAINSAW MASSACRE PART 2… the sequel to the Cult Classic… TEXAS CHAINSAW MASSACRE… from the 1970′s.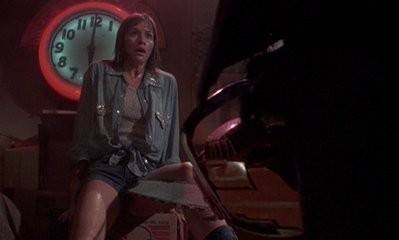 I had the pleasure of meeting Caroline at the Crypticon Horror Convention in Minnesota last September, 2013. After a bit of initial conversation she told me a funny little story of how she landed her role in TCM Part 2. Auditions were being held in a huge auditorium for the casting of the film. While she waited in the hall for her turn, she noticed it was extremely quiet in the room, almost unnervingly so. She knew if she really wanted to land a great part, she would have to do something over the top to get noticed. Caroline was known to be a bit of a risk taker, so when her time came to audition, Caroline took that risk. She ran down the hall screaming her head off, barging into the auditorium, closing and locking the door behind her, placing a chair in front of the door, scaring the director and another member of the crew half to death! Yes, it was a risk, but one that paid off, and the next thing she knew she was off to Texas to film. But not in just any role, it was the first leading role of her career, and in a major film as well.
Caroline and I spent a good deal of time talking. The conversation flowed easily, was interesting, and she shared several fascinating stories with me. One of those stories was of her experience of working with the legendary actor: Dennis Hopper,also in …TEXAS CHAINSAW MASSCRE PART 2. She shared that at the time, Dennis was just 18 months sober, and quoted to her, "never let go of sobriety…don't lose it." She described him as , "wonderful and refined", loving to share stories. She says they often talked in depth, and he shared his knowledge of culture, art, gave advice, and how it was a magical time in Hollywood at that moment. He also helped her improve her game of Golf.
Caroline believes as long as a script is really good, it doesn't matter what you're making, and has maintained that attitude pretty much throughout her career. This outlook has allowed her to star in some of the bigger horror sequels in that have come along. She also shared a story about her, "biggest scare". While filming TEXAS CHAINSAW MASSACRE PART 2, her first real scare came when she was required to stand on the edge of a cliff, 3 stories high, with nothing below but cardboard boxes! She had also never been around a real chainsaw in her life up to that point, and that was something else that completely frightened her, especially during some of the fight scenes. She said she was very thankful for TCM2, and has no regrets making this film.
While filming… DAYS OF THUNDER… in North Carolina, the crew threw a party, and Caroline was fortunate enough to be on the same stage with Country Music legends Willie Nelson, Waylon Jennings, and Johnny Cash – a lifetime thrill for her, indeed. Along with TEXAS CHAINSAW MASSACRE PART 2, Caroline has also worked on such films as… STEPFATHER 2, TEXAS CHAINSAW MASSCRE 3, DAYS OF THUNDER, LEPRECHAN 3, HALLOWEEN 2 (the remake), HATCHET 3, as well as televisions shows such as… L.A. LAW, HUNTER, ER, NYPD BLUE, NIP/TUCK, GREY'S ANATOMY, amoung many others.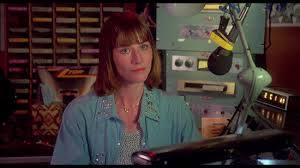 Caroline's future projects include… TALES OF POE, SEED 2, and CONTRACTED. You can also find Caroline making special appearances at…Horror Conventions… across the country, just one of her many favorite past times. You can find most of her films on DVD or Netflix to see this wonderful actress at her best. She is currently married and a mother of two who resides in the Los Angeles area. When asked what her experience was like working on these types of horror films, she replied, "Best experience of my life…it was like being a kid." Now I would like to take this opportunity to do a little one on one interview with Caroline Williams. Hope you enjoy reading it as much as I have enjoyed doing it, and bringing it to you.
Q. Tell us how your first acting role came about after graduating from the University of Texas?
A. Never graduated from UT, dropped out to pursue singing with bands and taking acting lessons, on and off.
Q. You played in two bands while living in Texas, do you find being a musican harder than acting?
A .I actually sat in and played with several bands over 4 or 5 years and loved it. It's a different part of the brain.
Q. I told our readers about your audition for…TEXAS CHAINSAW MASSACRE 2… would you say you are as, "spontaneous", while filming, as you are in real life?
A. Depends on the director, if the project requires, or is hospitable to improvisation, that's great fun. But most of the time, it's best to stick precisely to the script and get those words right.
Q. What specifically is it about the… Horror… genre you are so attracted to?
A. It was a sequel to TCM directed by Tobe Hooper, which, for a Texas girl, was a high-profile project for shooting on location. I just knew it was a unique and attention-grabbing opportunity. Wouldn't have mattered the genre, it just happened to be that one.
Q. You filmed a movie about NASCAR called… DAYS OF THUNDER… with Tom Cruise, were you a NASCAR fan before or after that film?
A. Not more, nor less. Once again, that was a studio picture for Tony Scott, the king of action at that time, and Tom Cruise, the biggest movie star in the world at the time. Loved the excitement of the track, learning the history of NASCAR, loved the people I met in NC. Looking forward to returning end of March for… Mad Monster Convention… in Charlotte!
Q. In …TEXAS CHAINSAW MASSACRE 2… you dealt with extremely hot temperatures, and in… HATCHET 3… you were in the Bayous of Louisiana, how do you cope and prepare while filming in such harsh conditions?
A. The conditions weren't so harsh that they were truly risky. It actually added to the authenticity of the scripts, which were heavily identified with their locations. I love the fact that regional identity, dialects, architecture play so prominently in films sometimes. You couldn't have Manhattan without . . . Manhattan!
Q. In 1986, you made… TEXAS CHAINSAW MASSACRE Part 2… what did you want to bring to this franchise that fans would remember you most by?
A. I simply knew that the sequel had to compete with the cinematic memories of a great classic. The script (by LM Kit Carson), was a masterwork of action, scares and humor. I feared that I wasn't well-developed enough as an actor to accomplish everything that the script demanded. But Tobe Hooper was such a strong, decisive director, I knew that by simply doing what was asked of me, moment by moment, that I could bring what Tobe and Kit wanted for the story.
Q. What is the main goal you would like to achieve with each new role?
A. To come up with something original and unexplored from previous roles. Even in revisiting… Stretch in Hatchet 3… (whether deliberate on Adam Green's part or not), the gift of age gave me a much more original take on a local blogger/reporter from bayou country than I expected. I also loved that Eric England wrote so expressively about the role of Sam's Mom in… Contracted. The fact that she was so challenged in her own life, informed everything about how she attempted to intervene in her own daughter's life.
Q. You have worked with Danielle (HALLOWEEN Part 4 & 5) Harris, Kane (FRIDAY THE 13th Part 7, 8, 9,) Hodder, Zach (GREMLINS) Galligan, and Malcolm (A CLOCKWORK ORANGE) McDowell, just to name a few in the horror genre. Can you share any memorable moments working with these legends?
A. I had no scenes with Malcolm McDowell in Halloween 2, so I can't address that. But the beauty of Danielle Harris (literally and figuratively), is her absolute professionalism and dedication. She's patient, inventive and steady. And strong! Kane and Zach were both wonderful. Zach helped me learn my 4 pages of dialogue in the jailhouse scene in Hatchet 3, so that was a wonderful gift. Diane Goldner walked me around the parking lot of the location, running lines with me so I felt secure and ready. Kane and I shared such limited camera time, that I came away more frustrated than anything. I look forward to working with him someday when he's not buried under latex and can talk!
Q. Who were your inspirations and what did you learn from them?
A. I've benefitted enormously from having my formative cultural years informed by the Golden Age of Hollywood films, right into the indie '70′s. There has never been a single actor or actress, director or writer that has influenced my creative life like those from the 30′s through 40′s. Currently, I'm most excited about many of the young creatives I've been blessed to work with. Bart Mastronardi, BJ McDonnell, Eric England, Mike Testin, Will Barratt, Dave Parker, Darren Lynn Bousman, Simon Barrett, Adam Wingard, Leigh Wannell, James Wan. These are exciting filmmakers in an exciting time.
Q. What would you say is your greatest moment in the success of your career so far?
A. There's not a single moment that stands out for me. I cherish the experience of bringing my best work to every opportunity I get. And I relish appearing on red carpets, screenings, festivals and all the other events that go into selling the films that I appear in. I get so much out of meeting and working with the remarkable talents I've been lucky enough to encounter. Each project feels like a new accomplishment.
Q. What film franchise or type of film would you like to do that you find appealing?
A. I just look for good writing and dedication of execution. That's what resonates for me.
Q. How do you feel you've developed as an actress from your early television roles to major film roles?
A. TV is so fast paced, there's usually a table reading before any larger roles in major TV shows. If not, you're just supposed to know your lines and show up prepared. It's like jumping out of a car going 20 miles an hour. You know you can do it, you just have to be ready. Movies are a lot more of a luxury. There's almost always rehearsal or prep period where you meet the director and other actors, either for a table read, or talking with the director and other actors about the scenes. Sometimes the most exciting time in a project, when it's just beginning to take shape.
Q. What is next for Caroline Williams?
A. Trying to get the next job!
I would like to take this opportunity to thank Caroline Williams for her time and effort for doing this interview, and also for her time spent at Crypticon last year answering even more questions. It was a pleasure visiting with her and a wonderful experience, indeed. I wish Caroline all the best in her career and in her personal life. Well that wraps it up for me this time around. I hope you've enjoyed this article and interview with Caroline Williams. Until next time … see you at the movies!
Posted in Interviews by Tony Northrup on March 8th, 2014 at %I:%M %p.