RANK: 8/10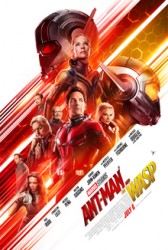 This review takes us back into the MARVEL Comics Universe with…ANT-MAN AND THE WASP. It's the sequel to the 2015 hit, ANT-MAN, and the 12th film in the MARVEL Universe. Director Peyton Reed, once again returns to bring this action-superhero film to the big screen.
Also returning from the first film are Paul Rudd, as 'Scott/Ant-Man', Evangeline Lilly, as 'Hope/Wasp', Michael Douglas, as 'Hank Pym', and Michael Pena, as 'Luis' Scott's friend, along with a few other characters returning as well. Our story begins with a flashback to 1987, with Hank and his wife, Janet (Michelle Pfiffer), trying to stop a Soviet missile. To do this, she must shrink herself to molecular size in order to pass through the mass and deactive it. In doing so, she slips into the quantum realm (a place between time and space). Having no way to return, Hank believes his beloved wife is dead.
Fast forward to present day, the events in ANT-MAN AND THE WASP, take place after the events in CAPTAIN AMERICA: CIVIL WAR, when Scott helps the Avengers, and in the process violates the Sokovia Accords, who put Scott on trial and house arrest, for two years. Scott struggles between entertaining his daughter, and itching to return to his Ant-Man superhero role of fighting crime. After a strange and vivid dream of Janet, he knows he must return to Hank and Hope, who are trying to find a way to bring Janet back from the quantum realm.
However, with heroes, come villains, and this time there are two! Sonny Burch (Walton Goggins), a black market dealer of high tech equipment and parts, which Hank and Hope need in order to reach the quantum realm, is just one. There is yet another, Ava (Hannah John-Kamen), also known as "ghost", who has her own agenda for fighting Hank, Hope, and Scott. With enjoyable characters, action-packed sequences, and plenty of laughs, this film delivers! If you want something that entertains the entire family, then I highly recommend…ANT-MAN AND THE WASP!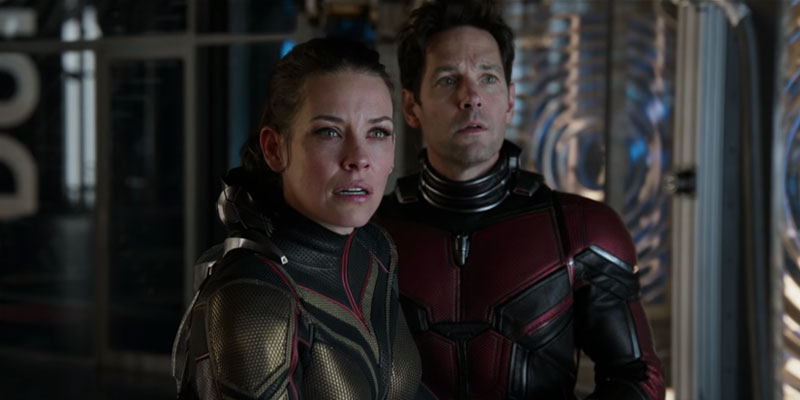 When I saw the first ANT-MAN, I wasn't sure if I was going to like it compared to the other MARVEL superhero films. In fact, I had never even heard of the comic book growing up. However, since it was part of the MARVEL Universe, I figured I had nothing to lose. It ended up being one of my favorites. ANT-MAN AND THE WASP, the sequel, definitely holds its own to the first film, in fact, I liked it even more! Plenty of action, more F/X's, and a lot more laughs! With my NO SPOILERS rule, I'll only say this, the "truth serum" scene, had me rolling with laughter, and I know you will too! With Michael Pena, Michelle Pfeifferr, and Laurence Fishburne, all adding to the fun, I hope you enjoy ANT-MAN AND WASP. But remember, there is a golden rule in the MARVEL UNIVERSE, there IS ALWAYS a scene during the credits, and at the end of the credits after that! I know you don't want to miss either of these, so stick around a few minutes longer! If your might remember, I called the first ANT-MAN film the most family friendly film of all the MARVEL films, and this sequel is no exception. Filled with a lot of action and laughs, it's not a bad way to spend a couple hours on a hot summer's day!
RANK: 8/10
Regista/Director: Peyton Reed
Cast: Paul Rudd, Evangeline Lilly, Michael Peña, Walton Goggins, Bobby Cannavale
United Kingdom, Usa 2018
Tags: Peyton Reed
Posted in Action by Tony Northrup on August 4th, 2018 at %I:%M %p.