RANK: 8.5/10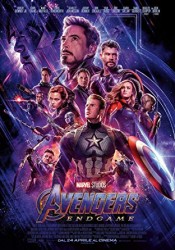 AVENGERS: ENDGAME is the sequel, and "final" (?) film to the MARVEL Universe AVENGERS franchise. It's also the 22nd film in the MARVEL Universe films. This is one of those releases that is so big, so important, and has been so anticipated, it makes it nearly impossible to review without revealing even the slightest events , but I will do my best to keep it spoiler free.
When I went to see AVENGERS: ENDGAME opening weekend, my excitement was through the roof! It has been a year since we saw the last AVENGERS film, AVENGERS: INFINITY WAR, which left off with a MAJOR cliffhanger: Thanos (Josh Brolin) ,snapped his golden gloved fingers with all the infinity stones, and half of the worlds population vanished, Superheroes included! Now, we find out what happened, and whether Thanos will pay for his evil deeds.
The house was already packed when I got to the theater. Although I got there early, nearly every seat was taken. Soon many were turned away because there was no more room. There were fans looking at their cell phones checking the time, all of us waiting for the film to start. There was a buzz in the air, and all the chatter was just what fans do: "I wonder who lives?", "I can't wait!", and "Spiderman is my fav!" and other fandom talk. I smiled and thought to myself, 'THIS is what going to the movies is all about." Lights go down, screen comes to life, and here we go!
AVENGERS: ENDGAME picks up three weeks after the events of AVENGERS: INFINITY WAR. Tony Stark and Nebula are still floating in space, left for dead, still hoping someone will come along and rescue them. The rest of our remaining superheroes are scattered across the globe, trying to cope with the loss of family and friends, and the events of the infinity war.
The heroes gather together to hunt down Thanos, in hopes of destroying him. Fast forward five years later, Scott Lang, aka Ant-Man (Paul Rudd), is somehow rescued from the quantum realm (where he was trapped at the end of the film, ANT-MAN & WASP), in 2018. Now free, Scott goes to the Avengers headquarters, where he explains his theory of how it may be possible to travel back in time with the use of the quantum realm, thus believing that time travel does exist, and would allow them to once again collect the stones, and alter the events that brings them to the infinity war. *Slight spoiler here: There are some major laugh out loud, 80's Pop Culture time travel movie jokes, and references, a few cameos, that had the crowd just roaring with laughter! Truly a great scene.
Now our heroes must go back in time to different years and locations, as the infinity stones are scatter in various places. Splitting up into teams, everyone must get the stones, come back safely, and get ready to end what Thanos started. However, when it comes to time travel, there are rules, and if not followed, the entire time travel continuum can be compromised. I really enjoyed this part of the film.
The third act of this three hour film begins, and I can say no more, other than it is an epic final act that will leave you on the edge of your seat! You will cheer, you'll be excited, and for those of you who are diehard Avengers fans, you will cry. As the film comes to an end, so does this epic story that has entertained us for 7 years total, and I can only say this: MARVEL did it right!!!! A perfect conclusion to an exciting and fun franchise.
Every generation, every decade, has a film franchise that they loved and grew up with: STAR TREK, STAR WARS, INDIANA JONES, horror film franchises, HARRY POTTER, LORD OF THE RINGS, and the MARVEL Universe films (all thanks to the late great Stan Lee, Mr. Marvel himself). I think that the MARVEL films came out at a perfect time in the big scheme of things. MARVEL has dominated the box office year after year, sold more ticket, DVD's, merchandise, toys, and everything in between. It is a part of our culture now, and a staple in film history. When I left the theater after seeing AVENGERS: ENDGAME, fans were literally cheering, applauding, and crying, and I mean CRYING! Crying for various reasons I can't say, but I think one of them is because this is "The End", and all good things do come to an end as they say. AVENGERS: ENDGAME has everything: laughs, excitement, fun, action, sadness, and a special feeling I personally haven't felt at the movies in quite awhile. There are very few franchises that are "perfect", and I think it is safe to say the AVENGERS franchise, and especially ENDGAME, is just that, PERFECT! They did it right, respected the fans, and gave us more than what we bargained for. The directors of the film, Anthony and Joe Russo, said recently that as far as they are concerned, they are done, period. However, IF someone down the road wants to pick the franchise up, well, we'll just have to wait and see.
I believe it should end here. MARVEL films are known for having scenes during and after the credits, and there are none this time, so no need to stick around, and it is a "three hour" film, so maybe skip that LARGE soda, haha! Seriously, AVENGERS: ENDGAME… is a truly perfect ending to what has been an amazing ride. So, for this fanboy, I say, "thank you MARVEL", for making it fun and exciting to go to the movies again. This film is a great start to the summer movie season, and I highly recommend you experience this final AVENGERS film with family, friends, and of course display that fandom we all share that keeps us going.
RANK: 8.5/10
Regista/Director: Anthony Russo, Joe Russo
Cast: Robert Downey Jr., Chris Evans, Mark Ruffalo, Chris Hemsworth, Scarlett Johansson
Usa 2019
Tags: Anthony Russo, Chris Evans, Chris Hemsworth, Joe Russo, Mark Ruffalo, Robert Downey Jr., Scarlett Johansson
Posted in Action by Tony Northrup on May 3rd, 2019 at %I:%M %p.