RANK: 7.5/10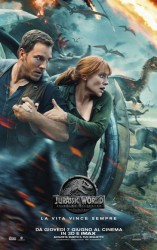 It's hard to believe that 25 years ago in June of 1993, the first JURASSIC PARK film was released in movie theaters world wide. I saw it with my family at the theaters across the boulevard from my home, in Sherman Oaks, CA. I remember the mind blowing experience of seeing the amazing dinosaur F/X for the first time. Steven Spielberg opened the door to a whole new world when he created JURASSIC PARK. That film made a zillion dollars, and was the number one film of all time, for a very long time.
Fast forward 25 years, and here we are, still riding the roller coaster thrill ride of those still amazing F/X, and even more amazing and menacing creatures. JURASSIC WORLD: FALLEN KINGDOM is the fifth installment in the 'Jurassic' franchise, and the second part to the JURASSIC WORLD series in this franchise. The story picks up after the events of JURASSIC WORLD. There is no park, the dinosaurs are on the loose, and chaos is about to begin in a whole new way (and location).
This story begins when a team of men dive to the depths of the deepest ocean, off the coast of Isla Nublar (where the theme park was). They are hoping to retrieve a bone sample from a Indominus Rex to begin new research on the species, and you can bet not everything goes right. That's when the scares begin!
Meanwhile, Dr. Ian Malcom (Jeff Goldblum), resurfaces for the first time since the first two films. He is addressing the U.S Senate in a debate of whether existing dinosaurs should be relocated from Isla Nublar, which is experiencing volcanic activity, or left to die off, making the species once again extinct. Claire (Bryce Dallas Howard), who is head of the Dinosaur Protection Group, is hired by Benjamin Lockwood (James Cromwell), John Hammond's former partner, to retrieve the dinosaurs. This includes an extraordinary Raptor named Blue. There is only one person that can help Claire, and can handle Blue, and that is Owen (Chris Pratt). Claire and Owen return to Isla Nublar to help save the dinos from impending doom, but they discover there is more at play than meets the eye. There are others there when they arrive, and it seems they have a completely different interest in the dinosaurs than Clair and Owen have. Things get chaotic, and the suspense begins!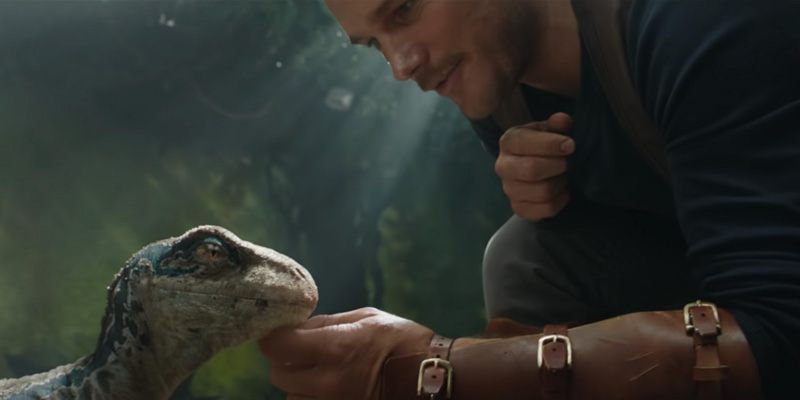 It's a race against time with the events that are unfolding on Isla Nublar. To find out what the future holds for these gigantic beasts, and to once again return to the 'Jurassic' era, I recommend…JURASSIC WORLD: FALLEN KINGDOM.
It almost wouldn't be a complete summer without a big fun blockbuster like JURASSIC WORLD: FALLEN KINGDOM. All the usual ingredients are there: great cast, suspense, thrills, scares, beautiful music, including the familiar theme, and of course…TONS and TONS of DINOSAURS! I enjoyed this film! It was entertaining, and I was happy to see it once again with my family! However, I couldn't help but feel like the franchise is losing a little steam. That magic of the first film is always going to be a bit hard to capture, but cameos of actors from some of the other Jurassic films, was certainly a plus.
I hope the final installment will kick it over the top in order to bring this fantastic franchise to a proper close, however, there are plans for more JURASSIC WORLD sequels, and the next one should be hitting the big screen June 11, 2021. Meanwhile, I suggest you go and see JURASSIC WORLD: FALLEN KINGDOM, and enjoy this new and exciting release with your family! Until next time, see you in line! I give JURASSIC WORLD: FALLEN KINGDOM…4 out of 5 stars
RANK: 7.5/10
Regista/Director: Juan Antonio Bayona
Cast: Chris Pratt, Bryce Dallas Howard, Rafe Spall, Justice Smith, Daniella Pineda
USA, Spagna 2018
Tags: Bryce Dallas Howard, Chris Pratt, Daniella Pineda, Juan Antonio Bayona, JURASSIC WORLD: FALLEN KINGDOM, JURASSIC WORLD: FALLEN KINGDOM review, Justice Smith, Rafe Spall
Posted in Action and Sci-fi by Tony Northrup on July 7th, 2018 at %I:%M %p.