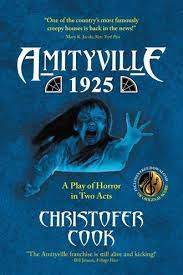 Sitting down with a good read is still something that many of us love to do. Picking up a book transports anywhere we want to go. Many of us love to be scared out of our wits by a great horror story. What better time than Autumn to read creepy tales of things that go bump in the night? Christofer Cook's two books, AMITYVILLE 1925, and HALLOW EVIL give readers plenty of scares through one creepy tale after another.
Christofer Cook has a long list of credits to his name. A native of South Carolina, Christopfer grew-up in the city of Columbia. He graduated in 1983 from A.C. High School. He continued his education at Winthrop University, graduating with a BA in 1987. He continued his education at Roosevelt University in Chicago, where he received an MFA in theatre in 1998. Christopfer has been featured on the A&E program, Paranormal State. He is an award-winning playwright, author of horror books, a film/theatre historian, and member of the Horror Writers Association, and the Dramatists Guild of America. With all these achievements to his credit, he still finds time to play Santa Claus during the holiday season in his local community.
Christofer is also the author of Dracula of Transylvania, and several stage productions such as Phantom of the Opera, Frankenstein, Night of the Living Dead, The Legend of Sleepy Hollow. His newest books are Hallow Evil, A Christmas Carolinian:A Play In Three Acts, and Amityville 1925. Christofer currently resides in Lexington, South Carolina with his wife, Carolina Rodriguez.
Here are my thoughts on two of Christofer Cook's new books: Hallow Evil and Amityville 1925.
HALLOW EVIL is a unique collection of poems, and other such frightening treats for those readers that would love it to be October, specifically Halloween, all year round. Each entry is numbered in coordination that follows the calendar dates of the month so the reader can enjoy following along each day, or if you can't wait…read it all at once! These short stories and poems range from creepy, funny, twisted, gory, and scary! There's something for every horror fan in this fine collection of chilling tales that makes the month of October, and Halloween even more fun!
Amityville 1925 – There are many famous houses in the horror genre: the house in Poltergeist, the farmhouse in Texas Chainsaw Massacre, Freddy's house in Nightmare on Elm St. and, of course, Norman Bates' eerie house in Psycho. However, there is one in particular that horror fans have been afraid of for decades: the Amity house from The Amityville Horror.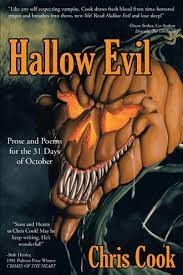 I remember seeing the film,The Amityville Horror in the late 1970′s. As a child it truly scared me! I watched the sequels that came after, but there was nothing more frightening than that first encounter seeing Amity house. However, Amityville has gone from book, to big screen to, and the stage with Christofer Cook's Amityville 1925 stage production, but now you can own the book version of that play.
Amityville 1925 is a prequel (of sorts) to the Amityville franchise. It takes place in 1925, and is about an Irish family from Dublin, the Moynahan family who has come to America to start a new life in the free world. However, horrors await the family as the famous "Amityville house" was built on evil ground that once had satanic rituals held upon it. The story is filled with paranormal activity, horrors at every turn, and a mystery that must be solved before evil overtakes the entire family forever!
I found Amityville 1925: A Play of Horror in Two Acts to be a unique, interesting, and terrifying read. It captures the feel of the famous house we all know, yet stands alone as a compelling story. I found it easy to envision how amazing the stage play must look and feel live, so this book is the next best thing at being there. For those looking for something new, and terrifying, and a fan of the Amityville franchise, I recommend adding Amityville 1925 to your collection today!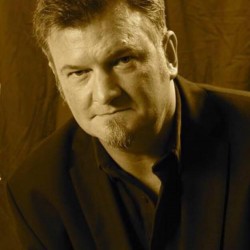 Here is my exclusive interview with author and playwright, Christofer Cook!
Anthony Northrup – Your books and playwright credits are from the horror genre, what were some of your favorite horror books, films, that have inspired your work while growing up?
Christofer Cook – When I was a kid I had absconded a library book that a friend of mine never returned. This was the early 1970's. We kept it in our home for decades, until the hardback cover was soiled, the spine split apart, and the aging pages yellowed into a brittle parchment. The thing began to smell like a musty old box of dog blankets. It was entitled Ghosts, Ghosts, Ghosts. It was a collection of classic yarns about vengeful spirits and mythic creatures. The illustrations were vivid and graphic, the tales dark, often disturbing. I've never forgotten the influence this book had on my earliest writings and musings. It taught me that the best way to tell a memorable ghost tale was to give it a tragic backstory. The book is now lost to time and out of print. I don't remember the editor's name and my attempts at finding it again are in vain. I can tell you that the late fee I owe to the library is now in the millions. I avoid going back into that same library for fear that I'll be recognized by some octogenarian behind the counter after several decades. (Old librarians frighten me). Other books that were highly inspiring to me as a kid; Horror Films by Alan Frank, Make-Up Monsters by Marcia Lynn Cox, and as I got older, back copies of Starlog, and Fangoria began filling up my sock drawer. Stephen King's Night Shift was the first of his that I'd read. I was then turned on to the works of Ramsey Campbell, Charles L. Grant, Clive Barker, and Joyce Carol Oates. The earliest tv shows that inspired me as a youngster were Night Gallery, Circle of Fear, Ghost Story, and The Night Stalker. The films that impacted me at an early age were these strange short films we'd watch in English Lit class that always had some element of the macabre in them… "An Occurrence at Owl Creek Bridge", "The Boarded Window", and "The Blue Hotel". We watched these from a clunky old reel-to-reel projector that kept breaking down. This was before the Audio-Visual guy introduced us to the cutting edge technology of Beta Max.
AN – While at university, which lessons learned were the most influential that helped form your career?
CC – That everything worth earning is a progressive process. It may take months, even years to complete a project, however, if the foundation isn't constructed, nothing can be built upward. Only by this piece by piece progress can we reap a reward in the end. A former favorite professor and mentor of mine used to say "Work hard for years and years, and then you might become an overnight success."
AN – When did you first begin writing and directing theatre? What do you enjoy most about working on plays?
CC – I wrote my first real script in 1976. I had already been performing as a child magician for three years by that time. I wrote a short play for me and my ventriloquist dummy. I think what I love most about playwriting is that magic moment when the characters somehow begin to write themselves. This can only happen when their backstory and personae have been fully developed in my mind. Also, theatre is simply the most immediate of mediums. My goal when I write and direct is that I want the audience to not simply be observers but rather participants of the experience. The Elizabethans didn't talk about going to "see a play". Rather, they talked about going to "hear a play". They had a cogent understanding that words create universes.
AN – Let's talk about your latest book, AMITYVILLE 1925. What inspired you to write about the most famous house in horror?
CC – "Amityville 1925" came out of a driving urge for me to explore what is known as one of America's most haunted houses in an untested medium. We'd read the books, seen the films, perhaps even heard radio programs about the house. We'd not yet seen a story play out on stage, live before an audience. I really wanted to tackle an Amityville story created for theatre.
AN – Did you watch all of the Amityville movies to prepare for your book?
CC – No, I didn't watch any of them as the 1925 story had absolutely nothing to do with these later stories in the canon. I've seen the first three and then stopped after that. I truly believe that the epitomized Amityville film has yet to be made. What Hollywood has shoveled out to us over the years has been commercial cash-grabs, void of quality narratives.
AN – Besides being a prequel story, what other connections does your story have with the Amityville universe?
CC – Well, "Amityville 1925" is based on a real family, the Moynahans. They were the first to own and take up residence in the home as John Moynahan (the father) commissioned the house to be built by Jesse Purdy in 1924 – 1925. A true part of the story is that John Moynahan was the first person to die in the house at 112 Ocean Avenue, decades before the DeFeo massacre.
AN – When did the play of Amityville 1925 first go into production and how long was that process from auditions to opening night?
CC – Production began in early August of 2021 and rehearsals continued until mid-October.
AN – Can you share with us some of your fond memories of opening night of Amityville 1925?
CC – Opening night of "Amityville 1925" exceeded my expectations in so many ways. We had a full house, reviewers were present, and we got genuine gasps from the audience at several chilling moments in the show. At play's end, we received a standing ovation. To say I was proud is an understatement.
AN – AMITYVILLE 1925 has a few twists in the story. What was your main goal when writing this story?
CC – Yes, twists and turns abound in the plot. What I wanted to do was not just keep the audience guessing, but my goal was to deliberately violate their expectations. This is what we do in horror… completely ambush the experiencer with actions and plot turns that seemingly come out of nowhere but that make sense in the end.
AN – In your other books/plays, you've covered some of the best and scariest in horror: Dracula, the Phantom of the Opera, Sleepy Hollow, and now Amityville. Which one did you enjoy most working on (book & play version)?
CC – I definitely enjoyed working on "Dracula of Transylvania" the most. I collaborated with Dacre Stoker, the great-grand nephew of Bram Stoker. It was a very exciting time. My fondest memory was working with Dacre at the Stoker home when a thunderstorm rolled through and we lost all power in the house. We had to work by the flame of candles while lightning flashed outside the windows. Now, can you imagine how immensely appropriate it was to write with paper and pen in the home of Stoker descendants with lightning and thunder raging outside the house? Incredible experience I'll never forget.
AN – Since you've tackled some of the best icons in horror, who is your favorite horror icon of all timem and which horror play would you like to do next?
CC – One of my all-time favorite horror icons is Gill-Man from Creature from the Black Lagoon. Would love to write a play about him, however, it would be extremely difficult and expensive technically. Also, Creature was one of the Universal tropes not based on previous public domain material, so getting rights to the Gill-Man from Universal would be next to impossible for me (at the present time).
AN – You also did a play version of the most classic zombie film of all time: Night of the Living Dead. How did you manage to pull that off, and how much fun was it?
CC – Night of the Living Dead was an amazing experience. Tons of fun. I adapted the public domain film by George Romero and John Russo into a stage play in 2013. We played the show in the basement of a former department store-turned-art gallery in Columbia, South Carolina. The limited performing space and audience seating area made the play that much more horrifying as everything felt claustrophobic. Lots of special fx make-up, stage blood, and firearms. An exciting show that became a local favorite.
AN – What is the general response to your plays? Have they been performed outside of your home state of South Carolina?
C – Across the United States and even in England, my plays have been loved, produced, and well-received. Unfortunately, as it has been said, 'a prophet is seldom respected in his own hometown'. I have found that the Columbia arts scene is fickle at best. We have (as many towns do), self-appointed gate-keepers who believe that their cache in the arts community goes up the more critical their reviews are of my work. The politics, the jealousy, the back-biting has really made the scene quite dysfunctional. It's a shame. I'm the most prolific playwright of horror in the southeast and Columbia still doesn't recognize that as anything special. Familiarity breeds content, though. So, I understand that since my hometown 'knew me when', it tends to regard me as a 'local author'. However, if Grady Hendrix were to pay us a visit, the red carpet would be rolled out. Haha. I've developed a sense of humor about it and thick skin. I just keep on keeping on and enjoy the success I've garnered nationwide.
AN – Your book, Hallow Evil is 31 short story/poem book to enjoy during the month of October. What are some of your own Halloween traditions you enjoy this time of year?
CC – My favorite Halloween traditions are nothing out of the ordinary, I suppose. I love carving a pumpkin. It is such a visceral thing to do. We take a large butcher knife, stab the gourd, carve it open, then pull the entrails out with our hands. It's always been such a blood and guts type of activity for me, and no one gets hurt. Lots of fun and lighting the candle inside is such a magical event.
AN – Lastly, where can readers find AMITYVILLE 1925 or see the play? What's next for Christofer Cook?
CC – "Amityville 1925" is available in softcover and on Kindle. It can be purchased worldwide at all major book-selling retail outlets; Amazon, Barnes & Noble, Books-a-Million, and Authorhouse. My two next projects; Out in December, An Edgar Allan Poe Christmas Carol, a play with music in two acts. Published by Authorhouse. It is a pastiche of Charles Dickens' beloved holiday tale blended with the macabre and poetic writings of Edgar Allan Poe. A staged reading is likely to happen this December in Columbia with a book-signing to follow. Out in the summer of 2013, Lurching Forward; Ted Cassidy's Career of Curious Creatures. (working title). It is the very first biography on Cassidy and is slated to be published by Bear Manor Media.
We certainly look forward to those projects and many more from Christopfer. It was a pleasure reviewing these fine books, and interviewing him as well. I hope all of you enjoyed this little peek into the two books, and a bit of insight into the world of Christopfer Cook
Tags: Christofer Cook